2023 Lucas Oil Late Model Nationals at Knoxville Raceway
What Caused Kyle Bronson To Flip At Knoxville Raceway? (VIDEO)
What Caused Kyle Bronson To Flip At Knoxville Raceway? (VIDEO)
Kyle Bronson flipped out of second place during the late stages of the Lucas Oil Late Model Knoxville Nationals at Knoxville Raceway.
Sep 19, 2023
by Kevin Kovac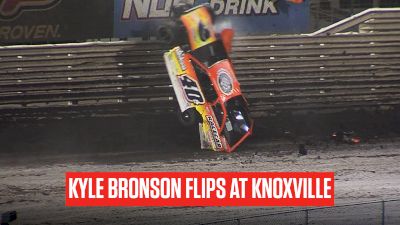 KNOXVILLE, Iowa — As Kyle Bronson stood in street clothes eyeballing his wrecked race car, he was asked again and again — by fans, fellow racers and media members — what had caused him to spectacularly flip out of second place late in Saturday's 75-lap Knoxville Lucas Oil Late Model Nationals.
The 33-year-old driver from Brandon, Fla., could have blamed lapped traffic and he wouldn't have been wrong considering his accident occurred as he was trying to deal with slower cars. He could have simply blown off the questions altogether and just dejectedly shrugged his shoulders considering the heartbreak he experienced while chasing a crown jewel victory worth $50,000 at the famed Knoxville Raceway.
But Bronson took full responsibility with a succinct statement.
"I totally overshot the corner trying to go for the win," Bronson said in his customary direct, matter-of-fact of tone.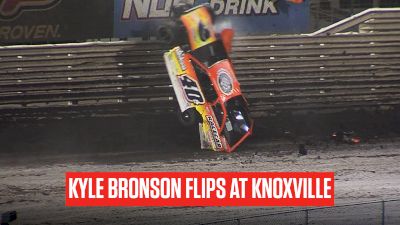 VIDEO: Kyle Bronson flips at Knoxville Raceway while running second.
Bronson boiled his cruel fate down to its essence: he just tried too darn hard in the 19th edition of the Lucas Oil Late Model Dirt Series-sanctioned event.
"It's all about winning for us and we come up short," Bronson said. "I made a couple mistakes myself and it cost us the race."
On lap 59 — the circuit that Bronson's hopes came to an abrupt halt with his orange Longhorn car's nose burrowed into the half-mile oval's black gumbo clay at the top of turns three and four after a high-flying tumble — he pushed the issue just a bit too hard. He felt his hopes of challenging leader and eventual winner Ricky Thornton Jr. of Chandler, Ariz., slipping away so he decided he would go down swinging with no regrets rather than settle for a runner-up finish.
Up to that point, Bronson's race couldn't have gone much better. He started seventh and was still running a calm-and-cool sixth on lap 31 before exploding up to second place four circuits later. By lap 40 Bronson was within striking distance of Thornton as he tore around the extreme outside of the track, looking very much like he was about to glide past the red-hot Lucas Oil Series points leader and assume command.
But then Bronson's march was stalled by a lap-40 caution flag and, on the ensuing restart, a lengthy red flag for a multicar tangle that provided Thornton's crew an opportunity to impress upon him the immediate need to rip the top of the speedway with Bronson coming on.
"I had an extremely fast car there," Bronson said. "I felt like I was gonna pass Ricky there, and then we had that yellow and (Thornton crew member Christopher) Jayko was over there (during the red flag) telling Ricky what to do" when the race resumed.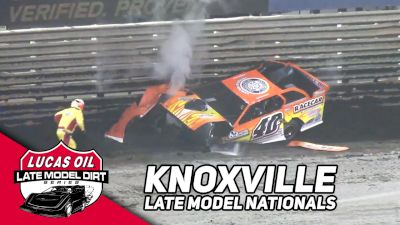 VIDEO: Highlights from the 2023 Lucas Oil Late Model Knoxville Nationals.
Bronson maintained control of second place but lost touch with Thornton once the feature went back under green-flag conditions, falling more than three seconds behind the pacesetter within a dozen laps. But Bronson proceeded to turn up the wick and, by the fateful 59th lap, had sliced Thornton's advantage almost in half.
"I felt like we had a strategy there," Bronson said. "I was trying to take care of my tires, and then finally I said, 'You know, you can't let Ricky keep leading these races.' He's so damn good, his car's good, he's doing a good job, his team's doing a good job, so I just told myself, 'If you're gonna go up there and win this race, you gonna have to go up there and give it all you got. Don't worry about tires — if they're there, they're there. If they're not, they're not.'
"I started inching back toward him," he continued. "I felt like I was gonna have to slide him (eventually), but my car was pretty good on the bottom of (turns) three and four."
Bronson never realized that opportunity he craved. On lap 59 he admittedly became too rambunctious while dealing with the lapped car driven by Todd Cooney of Des Moines, Iowa.
"I just overcharged the (third) corner and slid him," Bronson said. "I wanted to make sure I cleared him and was way ahead of him or whatever. I didn't want to just run the bottom and let him get back on the outside of me leaving the corner because the laps were winding down there and my chances were getting slimmer and slimmer, so I kind of had to go and not mess with lapped cars anymore.
"So I slid across the track there (between the third and fourth corners) and the nose got into the cushion and took me for a ride. It was pretty much like a ramp, and then it just stopped me and twisted me over there."
Bronson's car blasted the thick cushion and launched into the air like it was in a Days of Thunder action sequence. The machine attained considerable height as it gyrated wildly and and eventually nosed into the racing surface just in front of the track's tall steel guardrail.
The second red flag of the race was displayed so safety crews could rush to Bronson's car. He climbed out of his cockpit almost immediately upon the arrival of the track and series officials and angrily stomped away from the scene, clearly uninjured as he marched back to the pit area with an emergency worker trying to keep up with him just in case he didn't feel right after his adrenaline wore off.
Bronson attempted to focus on the positive side of his outing when he spoke after the race's checkered flag, noting that until the accident he was taking a clear step forward with the Longhorn Chassis he debuted with a fourth-place finish in Sept. 1's World of Outlaws Case Late Model Series event at Mississippi Thunder Speedway in Fountain City, Wis.
"This is the best I've felt in this (car)," said Bronson, who opted to make an in-season chassis switch after not being completely satisfied with his performance in his Rocket machines. "We went to Fairbury the other day (he finished fifth in the Illinois track's Castrol FloRacing Night in America 50-lapper) and we started trying some different stuff. I feel like we've been getting it better and better with every race. This was only like the sixth race we've run it. It is definitely totally different from anything I've ever drove. It drives totally different, but I feel like we're on the right track and with a little bit of work we'll be able to win a lot of dang races with it."
Bronson acknowledged, though, that he "can't do dumb s---" if he's going to put his new vehicle in victory lane.
"We just gotta move forward and I gotta make better decisions," Bronson said. "But you don't get these opportunities to win these big races a lot, so when you get at least a little bit of a chance … it was still gonna be tough to beat Ricky no matter what you did, but when you get close enough like that you gotta go full-bore and take every chance you can.
"It's all about winning these races. Second's cool, but it ain't like winning these races. You gotta strap your helmet on tight and go try to win the race. At least that's what I try to do anyways."
In the final analysis, Bronson felt fortunate to escape the wicked wreck without injury; the muscular driver said he didn't even feel sore after riding out the high-speed accident. He also was pleasantly surprised to find that his car wasn't as badly damaged as he initially feared when a flatbed truck dropped it off at his trailer.
"Overall, we ain't looked at the car too, too much, but it looks like a lot of bolt-on stuff so far," Bronson said. "The frame looks OK, but we really got to get home and get everything apart to see where we're at. The front clip looks pretty good right, but we gotta look at the back — the back hit pretty good one time. We just gotta strip it down to nothing and see what we got."
Bronson said he has a brand-new Longhorn frame sitting in his Wayne and Shirlene Hammond-owned team's shop — now located in Lake City, Fla. — but it still needs to be assembled. He was hoping that project would be his focus upon returning to the shop this week, but he now has more on his plate.
"We actually thought we were gonna have a little easy week next week to get our new car ready, but it never works out that way," Bronson said. "So at the end of the day we're gonna go home, we're gonna work our tail off, and we're gonna come back and try to win Brownstown," the Indiana site of his next planned action in Sept. 22-23's Lucas Oil-sanctioned Jackson 100 weekend.
"We're looking forward to the rest of the year," added the WoO regular who sits sixth in the national tour's points standings with nine races remaining on the 2023 schedule. "We got a fast car and we just gotta put all our ducks in a row, and the more we learn about it the better we'll get."
Bronson that his 22nd-place result in Knoxville's finale made him extremely disappointed for his crew that has "been working their tails off," but it didn't discourage him from continuing to pursue glory at the well-known fairgrounds track.
"I love this place," said Bronson, who made his sixth career appearance in the Knoxville finale after failing to qualify for last year's headliner (his best finish is fifth, in 2019). "A lot of people hate it. J.D. (Jonathan Davenport) said the other day he hates it. But I love this damn place and we ain't gonna give up on it. I swear I'm gonna tame it one day."