2023 Short Track Super Series Fonda 200 at Fonda Speedway
Stewart Friesen Beats Matt Sheppard For Third Career Fonda 200 Win
Stewart Friesen Beats Matt Sheppard For Third Career Fonda 200 Win
Stewart Friesen came out on top of a battle with Matt Sheppard to win his third career Fonda 200 at Fonda Speedway.
Sep 18, 2023
by Brandon Paul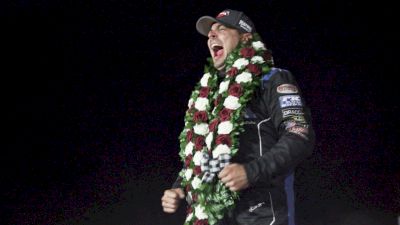 Stewart Friesen emerged victorious in a battle with defending race winner Matt Sheppard to claims his third Fonda 200 victory at Fonda Speedway on Saturday night.
Friesen took the lead from Sheppard on a late restart and pulled away to claim the $53,000 victory.
Sheppard finished in the runner-up position, collecting a nice $20,000 check for his efforts. Tyler Dipppel, who only makes a handful of Modified starts each season, completed the podium and earned a $10,000 payday.
Mat Williamson rebounded from a flat tire early in the race to finish fourth, while Tim Fuller charged from deep in the field to complete the top-five.
Fonda 200 Highlights
Winning Quote From Stewart Friesen
"That's pretty darn special right there. 53,000 reasons, baby! It feels so damn good. I'm just so proud of our whole race team. I don't know what to say. I'm speechless. The Fonda 200 is one of the most historical races in the Northeast and it's my home track. To keep this one at home for all of these great Fonda fans and my family and friends, it means the world."
Fonda 200 Results
1. Stewart Friesen
2. Matt Sheppard
3. Tyler Dippel
4. Mat Williamson
5. Tim Fuller
6. Anthony Perrego
7. Jessica Friesen
8. Matt DeLorenzo
9. Brian Calabrese
10. Danny Bouc
11. Max McLaughlin
12. Bobby Varin
13. Marc Johnson
14. Dillon Steuer
15. Steve Bernier
16. Cody Clark
17. Ancel Collins
18. Chris Curtis
19. Michael Parent
20. Alex Yankowski
21. Andy Bachetti
22. Mike Mahaney
23. Dave Constantino
24. Bobby Hackel IV
25. Billy Decker
26. Demetrios Drellos
27. Ronnie Johnson
28. Rocky Warner
29. Tucker O'Connor
30. Pep Corradi
31. David Schilling
32. JaMike Sowle
33. Darren Smith
34. Dave Camara
35. Ryan Odasz
36. J.R. Hurlburt
37. Danny Varin
38. Cory Costa
39. Brian Pessolano
40. Michael Trautschold
41. Neil Stratton
Short Track Super Series Elite Point Standings
Matt Sheppard leads Mat Williamson by 58 points in the Short Track Super Series Elite point standings with just one race remaining at Port Royal Speedway on October 14.
Last Race: September 3 - Short Track Super Series Elite at Utica-Rome Speedway
Up Next: October 14 - Short Track Super Series Speed Showcase at Port Royal Speedway