2023 USAC Haubstadt Hustler at Tri-State Speedway
Brady Bacon Takes Down $20,000 USAC Sprint Car Haubstadt Hustler
Brady Bacon Takes Down $20,000 USAC Sprint Car Haubstadt Hustler
Brady Bacon held off Kevin Thomas Jr to win the $20,000 Haubstadt Hustler at Tri-State Speedway. It was his 53rd career USAC National Sprint Car victory.
Sep 17, 2023
by Tyler Burnett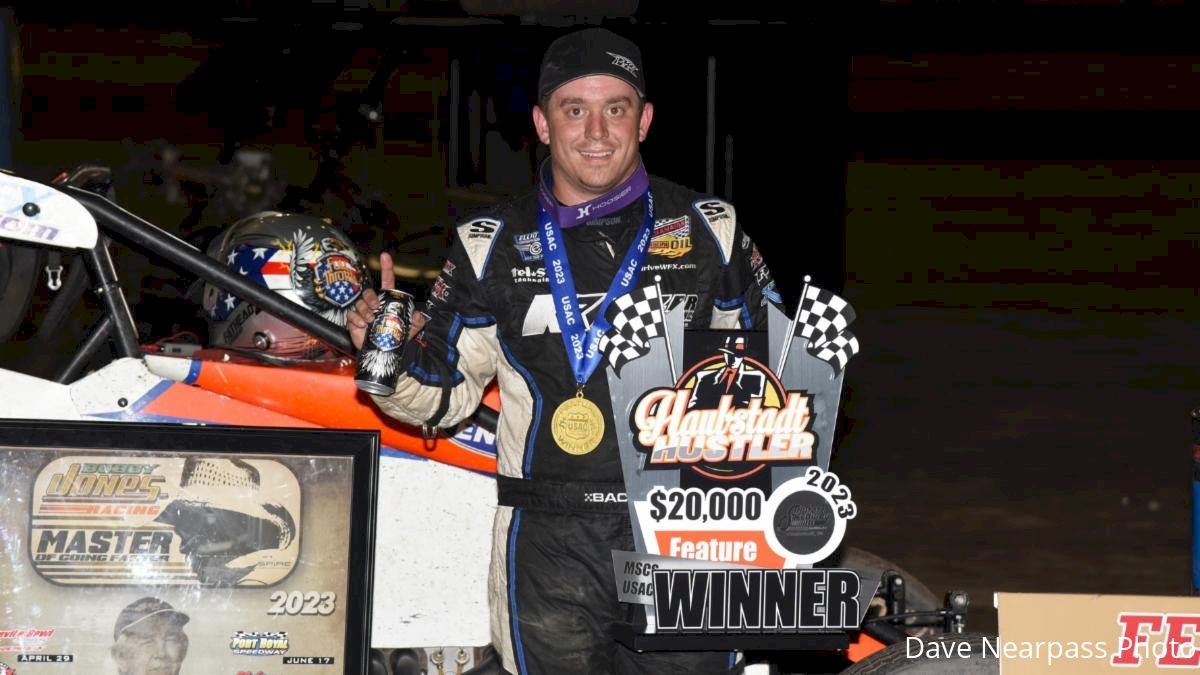 Tri-State Speedway has been very, very good to Brady Bacon in 2023.
In April, the Broken Arrow, Okla. native earned his first World of Outlaws NOS Energy Drink Sprint Car win at the track, and on Saturday night, he raced to a first career Haubstadt Hustler victory in the richest event ever held at the Haubstadt, Indiana dirt oval worth $20,000.
The 16th running of the event, co-sanctioned by the USAC AMSOIL Sprint Car National Championship and the Midwest Sprint Car Series, came down to a duel between Bacon and four-time Haubstadt Hustler victor Kevin Thomas Jr. en route to Bacon's 40-lap triumph at a track he's admittedly struggled at in the past and hadn't won a USAC race at since the spring of 2015.
Wheeling his Dynamics, Inc./4-Wide Salute Podcast – Tel-Star Technologies – DriveWFX.com/Triple X/Rider Chevy, Bacon's victory was a major milestone, providing him with his 53rd career USAC National Sprint Car feature win and giving him sole possession of second place on the all-time list ahead of 1978 series champion Tom Bigelow. Now, Bacon trails only Dave Darland's record of 62 series wins, which sits number one all-time.
Utilizing the MSCS format of group qualifying, a four-car heat race invert and a redraw for position to set the feature lineup, the USAC National Sprint Car points race was on hiatus for the evening with every licensed driver and entrant with the series receiving 50 appearance points across the board regardless of finishing position. For four-time USAC champion Bacon, it was a nice change of pace amidst the pressurized title race of which he trails Justin Grant by nine with only five events left to go.
USAC Sprint Car Haubstadt Hustler Highlights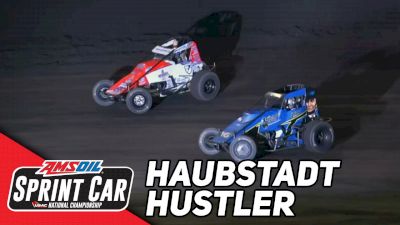 Winning Quote From Brady Bacon
"It was kind of nice, It's been pretty stressful I'm sure for him and I both to get through each night, but tonight, I finally got to try something different, and obviously, it paid off. It's the biggest race here and at a place where we have admittedly struggled in the past. It was good to me earlier this year with my first World of Outlaws win and this is a pretty special one tonight. It's been a lot of years since I've last won here in a non-wing sprint car."
USAC Sprint Car Results From Haubstaudt Hustler
1. Brady Bacon (1)
2. Kevin Thomas Jr. (9)
3. Dustin Beck (3)
4. Mitchel Moles (5)
5. Kyle Cummins (15)
6. J.J. Hughes (6)
7. Kendall Ruble (4)
8. Justin Grant (7)
9. Carson Garrett (10)
10. C.J. Leary (11)
11. Logan Seavey (20)
12. Chase Stockon (21)
13. Daison Pursley (12)
14. Emerson Axsom (13)
15. Brady Short (19)
16. Adyn Schmidt (14)
17. Kayla Roell (23-P)
18. Andy Bradley (16)
19. Jadon Rogers (18)
20. Carson Short (17)
21. Matt Westfall (22)
22. Robert Ballou (2)
23. Stephen Schnapf (8)
USAC National Sprint Car Point Standings
Justin Grant leads the USAC Sprint Car point standings by nine points over Brady Bacon. Emerson Axsom, Kyle Cummins and Jake Swanson complete the top five in the standings.
Full USAC Sprints Points Standings
Previous Race: USAC Sprints Circle City Raceway - September 15