2023 Lucas Oil Late Model Nationals at Knoxville Raceway
Ricky Thornton, Jr. Sweeps The Lucas Oil Late Model Knoxville Nationals
Ricky Thornton, Jr. Sweeps The Lucas Oil Late Model Knoxville Nationals
Ricky Thornton, Jr. completed the weekend sweep of the Lucas Oil Late Model Knoxville Nationals at Knoxville Raceway with a dominating win in the finale.
Sep 17, 2023
by FloRacing Staff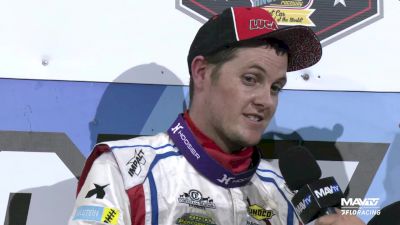 Amid two red flags, multiple brushes with the backstretch wall and an early back-and-forth battle with three-time race winner Mike Marlar, polesitter Ricky Thornton Jr. of Chandler, Ariz., was worried he was going to blow it in Saturday's bid to sweep the lucrative three-race Knoxville Lucas Oil Nationals weekend.
Instead of blowing it, he virtually blew the 31-car field away in collecting a $50,000 payday at the historic half-mile Knoxville Raceway as he matched Hall of Famer and Iowa native Billy Moyer in sweeping the sprint-car stronghold's lone Late Model weekend.
"I hit the back straightaway wall, it felt like 15 times, I thought I was going to give it away," the 32-year-old Thornton said after his 15th full-field Lucas Oil Late Model Dirt Series victory of the season. "But it worked out. It's pretty awesome."
Thornton, who earned $14,000 for a pair of 25-lap victories on Thursday and Friday, extended his series points lead in taking the checkers 4.781 seconds ahead of Winfield, Tenn.'s Marlar, who started fifth and led twice for a combined seven laps but never made a serious bid for the lead after briefly slipped back to fifth following a lap-27 restart.
Hudson O'Neal of Martinsville, Ind., improved seven positions in finishing third while 18th-starting Jonathan Davenport of Blairsville, Ga., last year's winner, was fourth. Brandon Overton of Evans, Ga., rounded out the top five.
Among drivers who weren't around at the finish was Kyle Bronson of Brandon, Fla., who started seventh but grabbed second from Marlar on lap-35. Bronson's bid to track down Thornton ended with violent thud against the catchfence between turns three and four on the 59th lap when, amid traffic, he hit the inside berm and shot to the outside, his car violently flipping before landing on its wheels. He wasn't injured but his Longhorn Chassis suffered significant damage.
Early in the 75-lapper, a battle developed between Thornton, who was trying to become the second driver to sweep the Knoxville Nationals, and Marlar, trying to become the first four-time winner of the finale.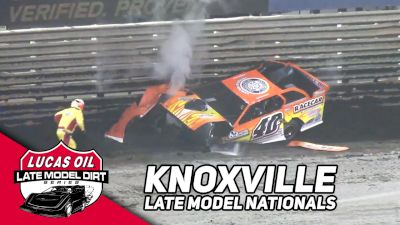 HIGHLIGHTS: Lucas Oil Late Model Nationals at Knoxville Raceway
Back and forth they went over the first 23 laps with Thornton leading the first 10 circuits, Marlar slipped ahead to lead a couple of laps and Thornton going back out front. Marlar regained the lead on lap 18, but Thornton went ahead on lap 23 for a lead he'd never given up, frequently holding three-second or more margins on his closest competitors.
Marlar slipped back to fifth on a lap-27 restart and by the time he picked his way back to second on lap 33, he was a straightaway behind the leading Thornton.
Bronson took second a few laps later and cut into Thornton's lead on a couple of occasions. The leader turned back one challenge by sliding between the slower cars of home-state drivers Todd Cooney and Daniel Hilsabeck on lap 49 in turn two, stretching a lead that was down to less than a second back out to a 3.4-second margin by lap 53.
"I didn't know if we're gonna be good enough honestly," Thornton said. "I saw Bronson come (up to second) and (crewman Chris) Jayko was telling move up and I realized I'd didn't have enough balls to get up there and do what I needed to at that point. I saw him getting closer and closer, and I was like, 'Man, sooner or later I've gotta move up.' I don't know. I just drove my heart out after that, and it worked out."
Bronson's wreck, of course, ended his chances, but the lengthy cleanup for his accident and an earlier red flag for multicar incident near the same spot on lap 41 tested Thornton's patience and left him wondering if his tires would refire when the race returned to green.
"I figured if my (tires) were going to seal up, everyone else's would, too," Thornton said.
With his tires holding out and his backstretch brushes harmless, he kept kept everyone in check, even on a final restart with eight laps remaining.
"The only thing up my sleeve was that last restart." Marlar said, "and he went where I wanted him to, but he kind of slid up a little early in the corner and I couldn't get that run I wanted. But he was better. He deserves the win. I passed him twice and he passed me back and drove away. You can't blame a man for that. He done a good job and he's on a hot streak and his team is really doing good right now. So he's the man to beat — we're close though."
O'Neal, who finished 17th and ninth on preliminary nights, was happy to settle for third and a last-night improvement.
"I felt like I had something maybe a little bit for (Marlar). I just couldn't quite get a good enough run leaving the corner to get close enough to be able to clear him," said O'Neal, a week removed from his World 100 victory at Eldora Speedway in Rossburg, Ohio. "I could get off in there and get to his door, but that was about the extent of it. So man, we'll take it. You know, we had a trying week all week. We didn't have the greatest of nights in our prelims, but I felt like we made gains all weekend long, which is what I'm really proud of."
He added that "whenever you're racing Ricky and them guys, they've been tough all year, and Mike Marlar is almost the king of this place, it seems like. I don't know. We'll jot down some notes and maybe when we come back we'll be just a couple of spaces forward."
The race was slowed four other times besides Bronson's rollover, the first caution on the 27th lap when Spencer Hughes pulled his smoking PCC Motorsports entry to the infield with a loose oil line, which was quickly corrected.
The second yellow flew on the 40th lap when Daulton Wilson slowed on the backstretch and pulled to the pits and the caution then red light blinked on a lap later for a four-car pileup between turns three and four that left Tyler Bruening's car up on two wheels against the catchfence. Cory Hedgecock (in Jason Rauen's No. 98), Chris Ferguson and Wilson were also involved.
Bruening hobbled away from the wreck and briefly leaned over the hood of Hedgecock's car before safety workers helped him into the ambulance. He later complained of lower back pain but decided to head home with his family. The total cleanup time was about 15 minutes and Wilson was the only driver involved who continued.
The final caution appeared on the 67th lap when Ryan Gustin got out of shape trying to pull into the infield.
Thornton ended his victory lane suggesting that the fans heading for the infield should drop by the SSI Motorsports pit area.
"I think we're going to celebrate a little bit and then get back to work," he said.
Notes: Thornton's 20th career full-field victory moves him one past Tyler Erb on the all-time series list. ... He's the 14th Knoxville winner. ... Chase Junghans of Manhattan, Kan., finished a career-best sixth in rallying from his 21st starting spot. ... Tim McCreadie of Watertown, N.Y., rallied from 26th to ninth. ... Devin Moran pitted on the 59th with right-rear suspension damage but ended up eighth. ... Thirteen of 31 starters completed 75 laps and 20 were running at the finish.
Lucas Oil Late Model Knoxville Nationals Results
1. Ricky Thornton Jr. (20rt), Chandler, Ariz., Longhorn, $50,000
2. Mike Marlar (157), Winfield, Tenn., Longhorn, $25,000
3. Hudson O'Neal (1), Martinsville, Ind., Rocket, $10,000
4. Jonathan Davenport (49), Blairsville, Ga., Longhorn, $8,750
5. Brandon Overton (4), Evans, Ga., Longhorn, $7,500
6. Chase Junghans (18), Manhattan, Kan., Rocket, $7,000
7. Brian Shirley (8), Chatham, Ill., Team Zero, $6,500
8. Devin Moran (99), Dresden, Ohio, Longhorn, $6,000
9. Tim McCreadie (39), Watertown, N.Y., Longhorn, $5,500
10. Brandon Sheppard (B5), New Berlin, Ill., Longhorn, $5,000
11. Tyler Erb (1), New Waverly, Texas, Rocket, $4,500
12. Garrett Alberson (58), Las Cruces, N.M., Longhorn, $4,000
13. Chad Simpson (25), Mount Vernon, Iowa, Longhorn, $3,500
14. Daulton Wilson (18D), Fayetteville, N.C., Longhorn, $3,400
15. Chris Simpson (32), Oxford, Iowa, Longhorn, $3,300
16. Spencer Hughes (11), Meridian, Miss., Longhorn, $3,200
17. Earl Pearson Jr. (46), Jacksonville, Fla., Longhorn, $3,100
18. Daniel Hilsabeck (22), Earlham, Iowa, Capital, $3,000
19. Max Blair (111B), Centerville, Pa., Rocket, $3,000
20. Tim Lance (48), Brimfield, Ill., Longhorn, $3,000
21. Ryan Gustin (19R), Marshalltown, Iowa, Rocket,, $3,000
22. Kyle Bronson (40B), Brandon, Fla., Longhorn,, $3,000
23. Todd Cooney (30), Des Moines, Iowa, Longhorn,, $2,700
24. Chris Ferguson (22), Mount Holly, N.C., Team Zero,, $2,700
25. Tyler Bruening (16), Decorah, Iowa, Longhorn,, $2,500
26. Cory Hedgecock (98), Loudon, Tenn., BMF, $2,500
27. Justin Zeitner (62), Malvern, Iowa, Longhorn, $2,500
28. Ross Robinson (7), Georgetown, Del., Rocket, $2,500
29. Frank Heckenast Jr. (99jr), Frankfort, Ill., Rocket, $2,500
30. Matt Furman (51), Iowa City, Iowa, Longhorn, $2,500
31. Boom Briggs (99B), Bear Lake, Pa., Rocket, $2,500