2023 Lucas Oil Late Model Nationals at Knoxville Raceway
Chad Simpson Scores Fulfilling Home State Runner-Up Finish At Knoxville
Chad Simpson Scores Fulfilling Home State Runner-Up Finish At Knoxville
Chad Simpson claimed a fulfilling runner-up finish in his home state of Iowa during Friday's Lucas Oil Late Model Knoxville Nationals at Knoxville Raceway.
Sep 16, 2023
by Kevin Kovac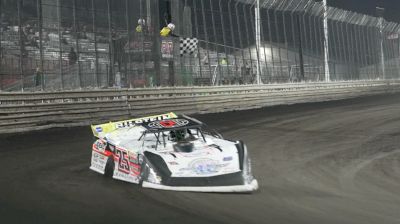 Finding Chad Simpson outside his trailer in Knoxville Raceway's pit area after Friday's Lucas Oil Late Model Knoxville Nationals preliminary program was a difficult task. He was simply engulfed by the thick crowd in his pit stall.
Simpson, 44, of Mount Vernon, Iowa, stood somewhere in the middle of the mass of humanity, talking, constantly talking, as he sipped on postrace beers. He had finished second in the 25-lap feature, but the dozens of bodies surrounding him made it seem like a victory party.
"You stand back here and look at all the people," Simpson said, "you would've sworn we had won the race."
Ricky Thornton Jr. of Chandler, Ariz., who completed a sweep of the weekend's twin preliminary features with a dominant flag-to-flag triumph worth $7,000, had a long line of fans waiting to meet him at the other end of the pits. But it was a far different scene from that at Simpson's pit stall near the first-turn side of the infield, where the throng was largely connected to Simpson and just there to hang out.
For Simpson, his family members, friends and sponsors — as he noted, "a lot of people that have been around us for a long time" — the Late Model Knoxville Nationals is their World 100 and they relish the chance to revel in their home state.
While Simpson lives more than two hours from Knoxville — a half-mile oval famous for being the Sprint Car Capital of the World — the people close to him flock to the little town in central Iowa like it's right in their backyard.
"This is the big Iowa race," Simpson said. "This is our crown jewel in Iowa, so all of our fans, all of our friends, all of our family, this is where they come, this is where they spend three days to camp out for the big race. This is home. So when we run good, it's fun."
Last year's Nationals wasn't very enjoyable for Simpson and his supporters, though. As he savored his solid runner-up finish in Friday's A-main, the painful memory of 2022 still wasn't removed from his mind. He failed to qualify for all three features, an anomaly for a driver who has a Nationals preliminary victory on his resume (2015) and had only missed the starting field for the weekend finale once before (2008, the second of his 15 career attempts at the event).
"We had such a terrible three days here (a year ago) that it was just miserable, so that's what makes tonight that much sweeter," Simpson said, the relief of rebounding from '22 written on his face. "As bad as we were last year, and as bad as we struggled, to have a good couple nights (he finished 12th in Thursday's opener) and get ourselves locked in with a real good spot means a lot."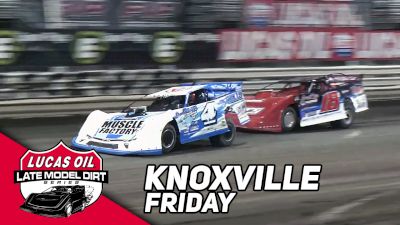 VIDEO: Watch highlights from Friday night's preliminary feature at Knoxville.
Simpson couldn't pinpoint the difference between his performance at Knoxville last year and this year. He remarked that "we really have changed a lot on the race car," but he is fielding a different Longhorn by Wells machine that he debuted earlier this season and he's had some technical assistance that's picked up his speed.
"Eric (Wells) has just been awesome," Simpson said of the former national touring series regular from Hazard, Ky., who now sells Longhorn Chassis out of the Wells & Sons Motorsports shop that he oversees. "I called and talked to him on the phone today and we chatted about some things. Eric, he's been second to none helping me out, talking me through things."
Simpson said he's also fortunate to be receiving help at Knoxville from Justin Adams, a veteran wrench who is close to Black Diamond Race Cars owner Ronnie Stuckey and in recent years has helped Iowa driver Jeremy Gray. "Just to have that guy to bounce some ideas off helps," he said.
Even Simpson's soon-to-be 15-year-old son, Clay, earned a shoutout from dear old dad.
"A lot of the crew-chiefing I do myself, but my boy watches me on TV because he don't get to go (on trips) a lot and he can usually pick me apart pretty good now on video," Simpson said. "He's 14, he's really starting to get into it and starting to understand it. We actually got him started racing here about a month ago … got a IMCA Late Model Crate car for him, and we took him to his first race at Dubuque (Iowa)."
Simpson also happens to have entered the Nationals riding some momentum. He appears headed to his fourth Lucas Oil Midwest LateModel Association championship this season — a title that would his 13th in regional series competition since 2007 — and has won three times over the past month, including back-to-back Hoker Trucking Series shows in August and an $11,000 MLRA score on Sept. 2 at Lucas Oil Speedway in Wheatland, Mo., that was his first five-figure triumph in more than five years.
With his recent strength, Simpson made sure he pulled through Knoxville's gate with guns blazing.
"I knew we had a good race car," Simpson said. "We've won some races here in the last couple weeks and the car's felt as good as I ever felt, so everything was just really good, and I was like, 'You know what? I'm just gonna spend the extra time (preparing for Knoxville).' We were doing a little bit of thrashing trying to get it all put together but it's paid off.
"Wednesday night, 9 o'clock at night, I was still out in the shop trying to put all the finishing touches on everything because I just wanted to make sure that my stuff was perfect coming here."
Simpson couldn't hang with the red-hot Thornton in Friday's feature — he was 3.815 seconds behind the victor at the race's conclusion — but he had a firm grip on second place for all but one circuit (lap 16 when Brandon Overton of Evans, Ga., briefly nosed ahead) and understood that his run was no small accomplishment.
"The sport is so dang competitive right now," Simpson said. "It's tough. For us to do it as a regional deal, go to work during the week and run with these guys on weekends, it's a big deal to run up front like this."
Simpson locked himself directly into Saturday's 75-lap, $50,000-to-win finale, which he'll start from the outside pole alongside Thornton. It will be just the third time in 14 Nationals feature appearances that he'll start better than 13th, following a pole start in 2015 (he went on to finish a career-best sixth in the then 100-lap headliner) and sixth in '18 (he finished ninth, tied for the second-best Nationals result of his career).
Can Simpson grab his first top-five finish in the Nationals? Or, better yet, contend for the biggest victory of his career that would certainly set off an even more lively postrace scene at his pit stall?
"You know, at the end of that 25-lapper I felt really, really good," said Simpson, who had his 17-year-old daughter, Peyton, was at the track on Friday and will have his wife, Katie, and son Clay on hand for Saturday's action (his boy was absent Friday because he had a high school football game). "Honestly, (Saturday's) gonna change with the tires — we're all gonna be playing with the (harder-compound) 4's (on the right-rear) and that's gonna change things it a bit. But as balanced as my car was tonight, I'm pretty excited. After the checkers I kind of went through the middle (lane) and stuff where it was slick, and man, I felt really good there too.
"I don't know if we got anything for Ricky, or a couple of them guys, but those guys are really, really good and they're professionals at this deal. We're gonna do out best and see what we can do."
Simpson paused. He considered the disappointment of his 2022 Nationals and then added with a broad smile: "The confidence level is definitely there for us. The race car's good and I feel good, and everything's running good. I'm looking forward to (Saturday)."