2023 ValleyStar Credit Union 300 at Martinsville Speedway
Entry List: See Who Is Racing The ValleyStar 300 At Martinsville Speedway
Entry List: See Who Is Racing The ValleyStar 300 At Martinsville Speedway
Martinsville Speedway officials have released the pre-entry list for the ValleyStar Credit Union 300 on September 23.
Sep 15, 2023
by Rob Blount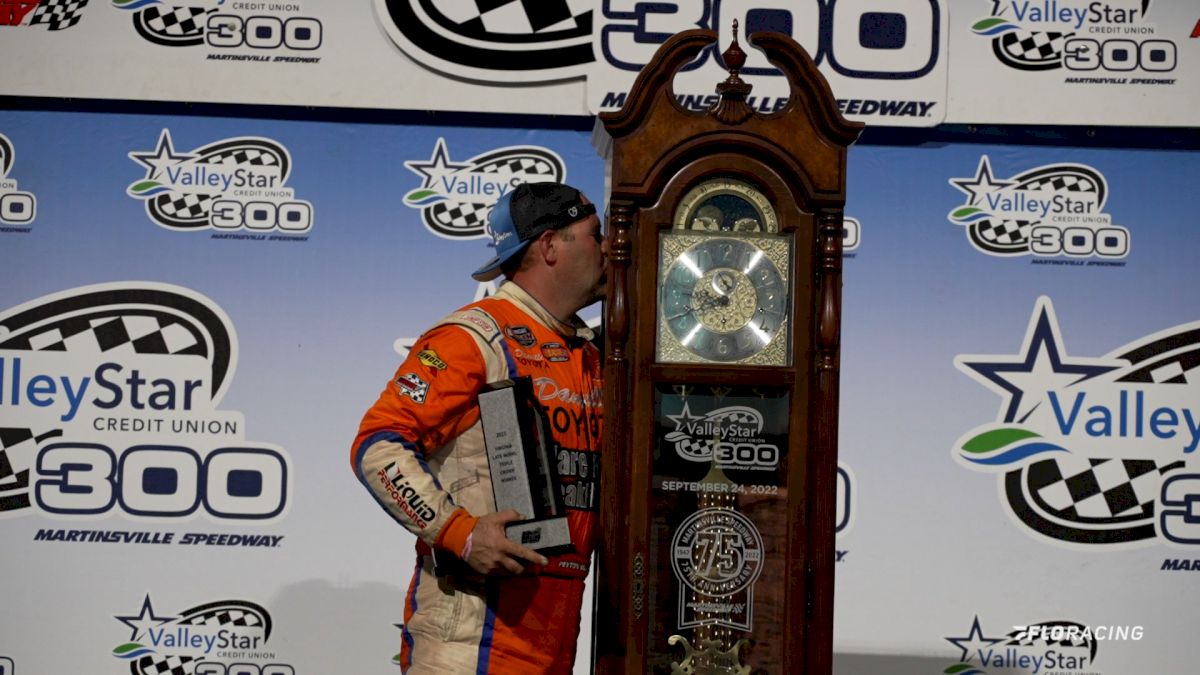 The 2023 ValleyStar Credit Union 300 at Martinsville Speedway is just a week away, and finally we have gotten to see the entry list for the biggest Late Model Stock Car event of the year. And calling it massive would be a massive understatement. Nearly 80 teams and drivers have already filed entries with more expected.
Headlining the pre-entry list is the defending winner, Danville, Virginia's Peyton Sellers. After trying for so many years to take home a grandfather clock from Martinsville, Sellers finally got to do so last year. Sellers held off CARS Tour champion Carson Kvapil on a green-white-checkered finish to finally seal the deal. Sellers also won the Virginia Triple Crown last year thanks to his victory at Martinsville.
Sellers is one of just three previous winners who are entered for this year's race, meaning there's an extremely good chance that we see a first-time grandfather clock owner at the end of the 200-lap feature.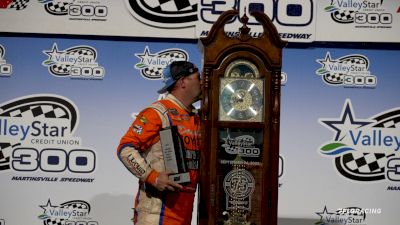 Watch: After 15 Years, Sellers Finally Captures Martinsville Glory
The most recent previous winner aside from Sellers is young Landon Pembelton from Amelia, Virginia. Pembelton shocked the Late Model world when he went out and dominated the 2021 race. Pembelton struggled last year, however. He still made the feature, which is always an accomplishment in itself, but he finished 27th after starting eighth.
The driver that Pembelton beat in 2021 to score his win is the third and final previous VSCU 300 winner on the pre-entry list, and that is Mike Looney. Looney's victory was nearly as stunning as Pembelton's, the only differences being their age and experience levels. Looney's win came in 2016 when he led 120 of the 200 laps, but had to hold off a hard-charging Lee Pulliam over the final circuits to score the win. Looney won with a team that came to the track with an open trailer and just a handful of volunteer help the day he became a LMSC immortal at Martinsville.
Speaking of Lee Pulliam, the two-time winner of the VSCU 300 as a driver is now a car owner with two cars ready to fight for a grandfather clock. Making up the Lee Pulliam Performance tandem is CARS Tour regulars Brandon Pierce, and Brenden "Butterbean" Queen.
Pierce, from Oak Ridge, North Carolina, has been hit-or-miss at Martinsville. In six attempts, Pierce has made the race just twice. But in those two feature appearances, Pierce has scored a top 10 (ninth-place in 2017) and a top-five (third-place in 2018).
Meanwhile his teammate Queen will be making his ninth Martinsville attempt next week. Queen has qualified for the 200-lap feature in seven of those nine attempts, with his best finish coming in his rookie year back in 2013. Queen started 31st, but drove all the way to seventh that year. Queen has made all nine attempts driving for his family-owned team, but this year he'll be with LPP, the team he drives for on the CARS Tour. Queen has scored two CARS Tour wins this season, at North Wilkesboro Speedway in May, and at New River All-American Speedway just last week.
Queen also leads the Virginia Triple Crown standings, thanks to a second-place result at the Thunder Road Harley-Davidson 200 at South Boston Speedway in early July, and his victory in the Hampton Heat 200 at his home track of Langley Speedway in late July.
Speaking of the Virginia Triple Crown, the driver hot on Queen's heels is the 2021 Triple Crown champion, Bobby McCarty. The Summerfield, North Carolina driver was ruled the winner of the Thunder Road Harley-Davidson 200 at South Boston Speedway after Carson Kvapil was disqualified in post-race technical inspection. McCarty then finished third in the Hampton Heat 200 at Langley a couple weeks later.
McCarty is still searching for his first Martinsville grandfather clock. McCarty has made the 200-lap feature in each of the last six years, but the three-time CARS Tour champion has yet to find victory lane. His best finishes came in 2019 when he finished fourth, and in 2021 when he finished sixth. McCarty started the race from the pole position one year ago, but faded back to finish 13th after leading 63 laps.
One driver missing from the entry list is soon-to-be NASCAR Advance Auto Parts Weekly Series national champion, Connor Hall. Hall has confirmed to FloRacing that he will be racing at Martinsville Speedway in the ValleyStar Credit Union 300, though his pre-entry was not received at the time of publication.
The Hampton, Virginia driver enters the final week of the NAAPWS points season with a 58-point lead over Maryland's Doug Barnes Jr. with 18 total victories on the season. Hall has 14 wins at his home track of Langley Speedway, plus wins at Hickory Motor Speedway and Southern National Motorsports Park. This would be Hall's first NASCAR national championship.
Hall has made two attempts at the ValleyStar Credit Union 300 in the past with both of those attempts coming in the last two years. Hall has made the feature in both of those attempts, finishing 16th in 2021, and 12th in 2022.
The full pre-entry list can be found below.
The 2023 ValleyStar Credit Union 300 will be streamed live on FloRacing. FloRacing will be live for qualifying on Friday, September 22, as well as all four 25-lap heat races and the 200-lap feature on Saturday, September 23. Fans can subscribe to FloRacing by clicking here.
2023 ValleyStar Credit Union 300 Pre-Entry List (As of September 14)
| | |
| --- | --- |
| Car No. | Driver |
| 7 | Dylan Ward |
| 31 | Chase Robertson |
| 77 | Trevor Ward |
| 88 | Brad Housewright |
| 51 | Matt Cox |
| 95 | Sam Yarbrough |
| 8 | Thomas Scott |
| 17 | Jason Myers |
| 2 | Brandon Pierce |
| 90 | John Goin |
| 0 | Landon Pembelton |
| 95 | Jacob Heafner |
| 04 | Ronnie Bassett Jr. |
| 24 | Mason Diaz |
| 2 | Josh Kossek |
| 5 | Dexter Canipe Jr. |
| 1 | Trent Barnes |
| 88 | Doug Barnes Jr. |
| 03 | Brenden Queen |
| 42 | Chris Horton Jr. |
| 8 | Carson Kvapil |
| 33 | Dillon Harville |
| 19 | Jessica Cann |
| 18 | Anthony Adams |
| 08 | Brody Doggins |
| 32 | Zack Miracle |
| 06 | Terry Dease |
| 99 | Austin "Willie" Somero |
| 31 | Cole Bruce |
| 87 | Mike Looney |
| 14 | Jared Fryar |
| 5 | Carter Langley |
| 57 | Jimmy Mullins |
| 25 | Derrick Lancaster |
| 25 | Jacob Borst |
| 15 | Logan Clark |
| 6 | Bobby McCarty |
| 43 | William Sawalich |
| 77 | Blake Stallings |
| 14 | Jonathan Worley |
| 07 | Chase Dixon |
| 7 | Blayne Harrison |
| 97 | Daniel Silvestri |
| 51 | Jamey Caudill |
| 15 | Kres VanDyke |
| 11 | Buddy Isles Jr. |
| 97 | Michael Faulk |
| 44 | Conner Jones |
| 2 | Matt Waltz |
| 51 | Ryan Matthews |
| 4 | Mike Chambers |
| 50 | Ross "Boo Boo" Dalton |
| 88 | Dustin Rumley |
| 24 | Blaise Brinkley |
| 01 | Camden Gullie |
| 1 | Jamie York |
| 09 | Riley Gentry |
| 01 | GR Waldrop |
| 41 | Davey Callihan |
| 8b | Chase Burrow |
| 59 | Heath Causey |
| 23 | Kade Brown |
| 91 | Steve Zacharias |
| 97w | Magnum Tate |
| 22 | Landon Huffman |
| 99 | Colby Higgins |
| 24 | Chase Ratliff |
| 87 | Tate Fogleman |
| 26 | Peyton Sellers |
| 71 | Katie Hettinger |
| 15b | Tristen Barnes |
| 26 | Tony Housman |
| 91 | Justin S. Carroll |
| 9 | Bruce Anderson |
| T38 | Riley Neal |
| 4 | Kyle Dudley |
| 61 | Justin Hicks |
| 81 | Adam Murray |
| 15 | Ryan Millington |