2023 Lucas Oil Late Model Nationals at Knoxville Raceway
Ricky Thornton, Jr. Wins Lucas Oil Knoxville Opener With Last-Lap Pass
Ricky Thornton, Jr. Wins Lucas Oil Knoxville Opener With Last-Lap Pass
Ricky Thornton, Jr. used a last-lap pass on Brandon Overton to win Friday's Lucas Oil Late Model Knoxville Nationals opener at Knoxville Raceway.
Sep 15, 2023
by FloRacing Staff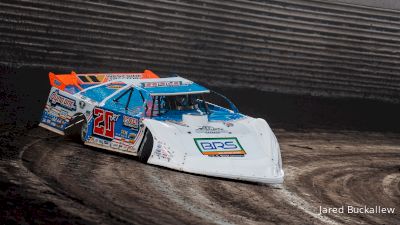 Executing a slider on Brandon Overton at the exit of turn two, eighth-starting Ricky Thornton Jr. of Chandler, Ariz., led the final lap to win Thursday's first $7,000 Lucas Oil Late Model Knoxville Nationals preliminary night at Knoxville Raceway. Thornton notched his 14th full-field Lucas Oil Late Model Dirt Series victory of the season and the 18th of his career as the last among four leaders of the 25-lapper.
Pole-starting Daulton Wilson led twice for 19 laps (1-16, 18-20) before slipping to third on lap 24, then rebounding to claim the runner-up spot by 0.003 of a second over Brandon Overton; Wilson finished 0.517 of a second behind Thornton.
Eleventh-starting Overton, of Evans, Ga., led laps 21-24 before settling for third. Fourth-starting Jonathan Davenport overtook Wilson exiting turn four on lap 17, made slight contact with the wall exiting the corner and then believed he had a cut right-front tire when he entered turn one and made heavy contact with the guardrail on lap 18; his Double L car suffered significant damage.
Devin Moran and three-time Knoxville Lucas Oil Nationals winner Mike Marlar completed the top five.
Lucas Oil Late Model Knoxville Nationals Thursday Highlights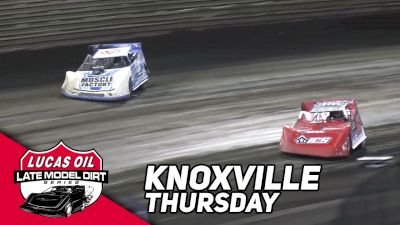 Winning Quote From Ricky Thornton, Jr.
"I was driving pretty hard, I was a little too tight there early. Right when I got by (Chris Ferguson), Hudson (O'Neal) and Earl (Pearson Jr.), I just kinda blew through the middle of (turn) one and it suck pretty good, so I figured if we had a late restart, I was gonna try it. I felt like I got a good run and (Overton) blocked me there in turn three after the restart, let Daulton (Wilson) get by and I thought Daulton was gonna drive by both of us. In the end it worked out, it's pretty awesome, I've always wanted to be here (at Knoxville Raceway victory lane)."
Lucas Oil Late Model Knoxville Nationals Results From Thursday
1. Ricky Thornton Jr.
2. Daulton Wilson
3. Brandon Overton
4. Devin Moran
5. Mike Marlar
6. Chris Ferguson
7. Tyler Erb
8. Ryan Gustin
9. Brandon Sheppard
10. Earl Pearson Jr.
11. Chris Simpson
12. Chad Simpson
13. Spencer Hughes
14. Billy Moyer
15. Tim McCreadie
16. Tim Lance
17. Hudson O'Neal
18. Max Blair
19. Kyle Bronson
20. Daniel Hilsabeck
21. Tyler Bruening
22. Chase Junghans
23. Jonathan Davenport
24. Brian Shirley
Lucas Oil Late Model Dirt Series Point Standings
With his win on Thursday, Ricky Thornton, Jr. now leads Hudson O'Neal by 320 points at the top of the Lucas Oil Late Model Dirt Series point standings. Jonathan Davenport continues to hold on to the third position, while Brandon Overton leads Tim McCreadie by 80 points for the all-important fourth position.
Last Race: Lucas Oil Hillbilly Hundred at Tyler County Speedway - September 3
Next Race: Lucas Oil Late Model Knoxville Nationals at Knoxville Raceway - September 15-16