2023 Castrol FloRacing Night in America at Fairbury Speedway
Clash Between Leaders Opens The Door For Bobby Pierce At Fairbury Speedway
Clash Between Leaders Opens The Door For Bobby Pierce At Fairbury Speedway
A clash between Hudson O'Neal and Garrett Smith opened the door for Bobby Pierce to win Castrol FloRacing Night in America at Fairbury Speedway.
Sep 13, 2023
by Kevin Kovac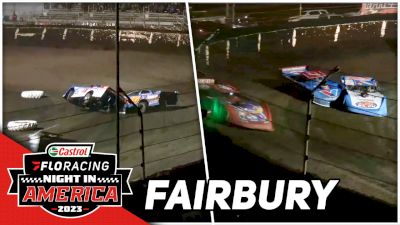 Bobby Pierce exclaimed into his helmet when, just in front of him, Hudson O'Neal's Rocket Chassis house car bicycled into turn three on lap 17 of Tuesday's Castrol FloRacing Night in America-sanctioned One for the Road 50-lapper at Fairbury Speedway.
"I saw him on his side, and I was like, 'S---!' " Pierce said. "I was expecting Hudson to start flipping."
So did O'Neal. As the 23-year-old sensation from Martinsville, Ind. — fresh off his first-ever World 100 victory four days earlier — made a bid to grab the lead from Garrett Smith of Eatonton, Ga., he found himself bracing for a wild ride.
"Truthfully, I think I just got off in there, like, with my right side all the way down in that brown (moisture) on the bottom and it just caught me," O'Neal said. "Just traction … I really thought I was gonna turn over on top of (Smith)."
That was also the 19-year-old Smith's inkling.
"Yeah," Smith said. "He was a few more inches from going."
O'Neal's machine came crashing back down on all four wheels after briefly showing its underbelly to the infield, but contact with Smith caused both drivers to lose momentum between the third and fourth corners of the quarter-mile oval. And while O'Neal managed to gather his car back up and lead lap 18, Pierce charged by Smith exiting turn four, slid under O'Neal through turns one and two to grab the lead, and, with Smith driving into O'Neal in turn two to effectively end any opportunity for them to contend for the win, the race was Pierce's to lose.
Pierce, 26, of Oakwood, Ill., never looked back, rolling to a $23,023 first-place prize for his 30th overall triumph of an amazing 2023 season. It was a checkered flag that he knew came much easier without having to deal with O'Neal, who slipped to an 11th-place finish, and Smith, who faded before retiring on lap 32.
RESULTS: Castrol FloRacing Night in America at Fairbury
"It's a good thing it happened for me, because I think Hudson … I said down there (in victory lane) Hudson didn't have the right tires, but I think he did have the right tires on," Pierce said. "Most of the field was (running) soft (3-compound rubber on the right-rear). We had a (harder) 4 on the right-rear. This place is tricky in a 50-lap race, because it's kind of in the middle where it's like, 'What are you gonna do?' "
Pierce figured that O'Neal, at least, would have been in the mix to the finish. O'Neal was confident of his staying power as well.
"We had, I felt like, the best race car," said O'Neal, who started seventh, directly behind Pierce. "I drove up through there, we were good everywhere — good on the bottom, good in the middle, good on the top — and now we have nothing to show for it."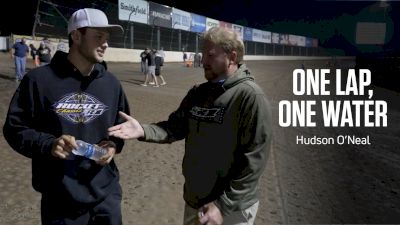 VIDEO: Hudson O'Neal discusses the early stages of his career and more during "One Lap, One Water" at Eldora.
O'Neal's hopes of backing up his victory in Dirt Late Model racing's most prestigious event spiraled out of his grasp in the wake of his near-flip. That particular lap around the Fairbury bullring not only deflated his joy but put him and Smith at odds.
After surging ahead of Pierce for second on a lap-16 restart, O'Neal immediately closed in on Smith, who had overtaken Tanner English of Benton, Ky., for the lead on lap six. O'Neal dove to the bottom of turn three on the 17th lap, reared up onto his car's right side, and then made contact with Smith.
"After that restart I found a little bit of something right through the middle and I got a run on (Smith), and I think he just seen me down there (in turn three) and decided he was going to the bottom," O'Neal said. "He'd been running the top for the entirety of the race, and then the one lap that I get a run on him, he decides he's going to the bottom.
"I don't know … I felt like if I wouldn't have about turned over there wouldn't have been no issue, but I just got in there and backed up and he was there."
Smith blamed O'Neal for the encounter.
"I just got straight-up killed," Smith said. "He came across from the left-rear quarter all the way over the hood. It doesn't look that bad, but he hit me wheel-to-wheel, and when it does that it bends the suspension up front. It sucks to handle a race car after you get hit wheel-to-wheel like that.
"Whatever he wants to say," he added, disputing O'Neal's contention that Smith's move to the bottom played into the tangle. "But obviously you can't see the guy behind you. It sucks. The same thing happened last time here (during July 29's World of Outlaws Case Late Model Series-sanctioned Prairie Dirt Classic) with him and Dennis (Erb Jr.). And I get it, this place is really racy and stuff, but man, we're not that far into the race."
Pierce had an up-close view of the O'Neal-Smith theatrics. He made the right moves to avoid it all.
"I had just slid Garrett for the lead (on lap 16) and a caution comes out, and I gotta start side-by-side with third (place O'Neal) and I fell back to third," Pierce said. "(Smith) kind of restarted a little earlier than I wanted him to so it kind of made it hard for me to fire on that top side when that bottom row went.
"Then it got crazy after that (on lap 17). It seemed like (O'Neal) got a pretty good run off of two and started to get under Garrett there (in three), and I don't know, I think a racing deal really … I think Hudson might have been going in for a slider and Garrett just so happened to be turning to the bottom that time.
"I noticed they both went to the bottom, so I charged into three hard, and by the time they made contact I was almost, like, beside them but, like, way up (on the track). I saw it so I braked, and I was gonna turn down the hill in case they started flipping or whatever they were doing. I kind of did that and I went under Garrett, but I had a good run down the frontstretch and I slid Hudson into one.
"After that, I don't know," he added. "I was expecting either one of them to be there the next corner, but we came around another lap and neither one of them was on the scoreboard in second or third."
That was because, just after Pierce surged ahead of O'Neal on lap 18, Smith slid across turn two and nailed the driver's side of O'Neal's No. 1. O'Neal got out of shape, losing multiple positions before regaining racing speed while Smith, sporting a crushed right-side door and front-end damage to his Rocket Chassis, remained in the top five for a few more circuits before beginning a steady fade backward that ended with him retiring.
"The right-side damage is when I got back into him," Smith said.
"I guess he retaliated, would be the words," O'Neal said.
The controversial turn of events short-circuited what could have been a tide-turning outing for Smith, who has struggled through a difficult 2023 season on the heels of his breakthrough $100,000 Dirt Track World Championship victory last October.
"Maybe we could've won, maybe we could've ran second," said Smith, who planned to head home after Fairbury's action and doesn't know when his next race will be. "I don't know, but you can't tell when you get hit on lap 20 of a 50-lap race. I really wasn't pushing it too hard, which is what kind of sucks, too.
"I think I'm 4-for-4 in coming here and winning a heat race. This place has been really good to me. It seems me and the car like this place for sure."
O'Neal was looking at a "long day tomorrow" with his Rocket1 crew to repair his battered car and acknowledged that he had experienced the rapid change in fortunes that is part of racing.
"This is the highs and the lows of the sport, that's for sure," O'Neal said. "I hate that it ended up the way it did, but at least we got speed. We'll go to Knoxville (for this weekend's Lucas Oil Late Model Dirt Series-sanctioned Knoxville Nationals) and see if we can do something."
Pierce, meanwhile, rebounded quickly from his bitter ending in the World 100, where he crashed out of third place on lap 47 to a blown right-front tire in turn three. His victory put him near the $830,000 mark in 2023 earnings, including more than $110,000 he's collected just at Fairbury.
And with Pierce moving into the Castrol tour's points lead — to go along with his first-place positioning in the WoO and XR Super Series standings — he knows that he's closing in on a million-dollar campaign.
"It's definitely a relief, because it's hard to make money in this sport, and obviously I own everything, so it's not like I'm a hired driver and I get a percentage," said Pierce, who would earn $300,000 in points-fund cash if he holds on to win all three titles. "It's not all about the money, but the hard work definitely pays off when you're able to have a year like that. It definitely demolishes my two best years, when I was in the mid-$500,000s.
"It's pretty crazy to think we can make a million dollars this year."
Castrol FloRacing Night in America at Fairbury Results
1. Bobby Pierce
2. Dennis Erb Jr.
3. Shannon Babb
4. Tanner English
5. Kyle Bronson
6. Ricky Thornton Jr.
7. Brandon Sheppard
8. Mike Marlar
9. Jonathan Davenport
10. Daulton Wilson
11. Hudson O'Neal
12. Ricky Weiss
13. Tim McCreadie
14. Ryan Unzicker
15. Jason Feger
16. Tyler Erb
17. Mike Mataragas
18. Kevin Weaver
19. Garrett Smith
20. McKay Wenger
21. Garrett Alberson
22. Mike Harrison