2023 USAC Sprints at Devil's Bowl Speedway
Brady Bacon Moves To Second All Time In USAC Sprint Win At Devil's Bowl
Brady Bacon Moves To Second All Time In USAC Sprint Win At Devil's Bowl
It was a historic night for Brady Bacon as he claimed his 52nd USAC Sprint Car win, putting him in a tie for second all-time.
Sep 8, 2023
by Tyler Burnett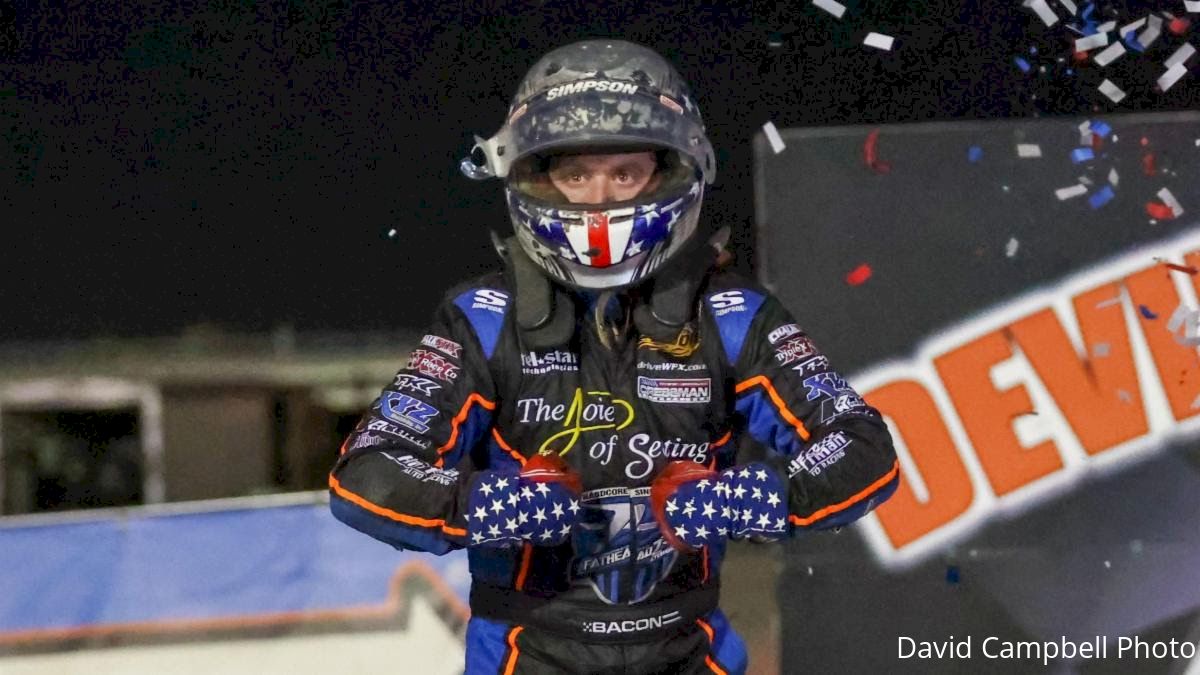 For Brady Bacon, Devil's Bowl Speedway was sort of like a Kokomo of the south. Both are tracks he'd competed at extensively but had long come up empty handed in the win column after an extensive number of runner-up finishes.
Not anymore.
The Broken Arrow, Okla. driver led all 30 laps on Thursday night at the 4/10-mile in Mesquite, Texas, prevailing following a late-race duel with Robert Ballou to earn a milestone victory in the first USAC AMSOIL Sprint Car National Championship feature held in the Lone Star State since 1985 – 38 years ago.
The triumph was the 52nd of Bacon's USAC National Sprint Car career, tying him for second all-time with 1978 series champion Tom Bigelow. Now only Dave Darland stands ahead of Bacon with 62 career victories
With Bacon sharing the spot with Bigelow, it's also interesting to note that both currently reside in the same city even though both originally hail from other states – Wisconsin for Bigelow and Oklahoma for Bacon.
USAC National Sprint Car Highlights From Devil's Bowl Speedway
Winning Quote From Brady Bacon
"Winning at Devil's Bowl is pretty big for me, this place was a little bit like Kokomo for me earlier in my career. I ran second a bunch to a lot of really good guys like Jason Johnson, Gary Wright, Shane Stewart and Brian Brown. We could never quite get the job done with the wing here, so I'm glad to finally get it done with the non-wing car. I actually ran second in a non-wing car here about 13 years ago too and I haven't been back since. I'm glad to get it done."
USAC Sprint Car Results From Devil's Bowl Speedway
1. Brady Bacon (1)
2. Jake Swanson (2)
3. Kyle Cummins (13)
4. Jadon Rogers (8)
5. Justin Grant (5)
6. Brody Roa (14)
7. Kevin Thomas Jr. (16)
8. Emerson Axsom (21)
9. Mitchel Moles (11)
10. Kyle Jones (10)
11. Logan Seavey (4)
12. Chase Stockon (12)
13. Matt Westfall (15)
14. Robert Ballou (3)
15. Daison Pursley (17)
16. Jack Hoyer (20)
17. Brandon Mattox (19)
18. Eddie Tafoya Jr. (22)
19. Dalton Stevens (18)
20. Justin Zimmerman (7)
21. C.J. Leary (6)
22. Charles Davis Jr. (9)
USAC National Sprint Car Point Standings
Brady Bacon leads Just Grant in the overall points standings by 18 points. Emerson Axsom, Kyle Cummins and Jake Swanson complete the top five in the standings.
Full USAC Sprints Points Standings
Previous Race: Kokomo Sprint Car Smackdown - Saturday, August 26
Up Next: USAC Sprints at Texarkana 67 Speedway - Saturday, September 8-9