2023 Locked In 150 at Florence Motor Speedway
Dale Earnhardt, Jr. Enters Locked In 150 At Florence Motor Speedway
Dale Earnhardt, Jr. Enters Locked In 150 At Florence Motor Speedway
Dale Earnhardt, Jr. will race a NASCAR Late Model Stock Car in Friday night's Locked In 150 at Florence Motor Speedway.
Sep 1, 2023
by Brandon Paul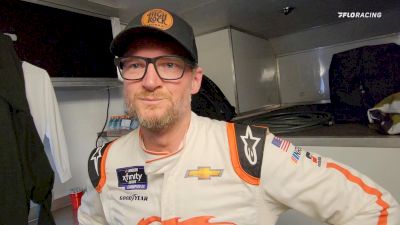 A surprise entry has been filed for the Marty Ward Memorial Locked In 150 at Florence Motor Speedway. NASCAR Hall of Famer Dale Earnhardt, Jr. and his JR Motorsports Late Model Stock Car team arrived at the Florence, SC race track unexpectedly Friday morning to compete in the event.
Earnhardt, Jr. is no stranger to Florence Motor Speedway. He competed in the South Carolina 400 at the track in 2022 before returning this past February to compete in the traditional Icebreaker event.
The Locked In 150 is taking place ahead of the Southern 500 NASCAR Cup Series event at Darlington Speedway, which is located approximately 13 miles north of Florence.
In addition to being a big race on the NASCAR Late Model Stock Car schedule, the winner of the inaugural Locked In 150 will be awarded the pole position for November's South Carolina 400.
September 1, 2023
Earnhardt, Jr. joins a field of nearly 30 drivers including NASCAR Cup Series driver Chase Briscoe, NASCAR Truck Series driver Rajah Caruth, CARS Tour star Brenden "Butterbean" Queen and Super Late Model standout Stephen Nasse.
NASCAR Advance Auto Parts Weekly Series national championship contenders Doug Barnes, Jr. and Connor Hall will also be in attendance.
Fans can watch Dale Earnhardt, Jr. battle Late Model Stock Car stars in the Locked In 150 by subscribing to FloRacing. The live broadcast on FloRacing is scheduled to begin at approximately 7 p.m. ET.