2023 Short Track Super Series at Georgetown Speedway
Stewart Friesen Drives To Short Track Super Series Win At Georgetown
Stewart Friesen Drives To Short Track Super Series Win At Georgetown
Stewart Friesen overcame a bad pill draw and drove to the front in Thursday's Short Track Super Series Blast at the Beach at Georgetown Speedway.
Aug 30, 2023
by Brandon Paul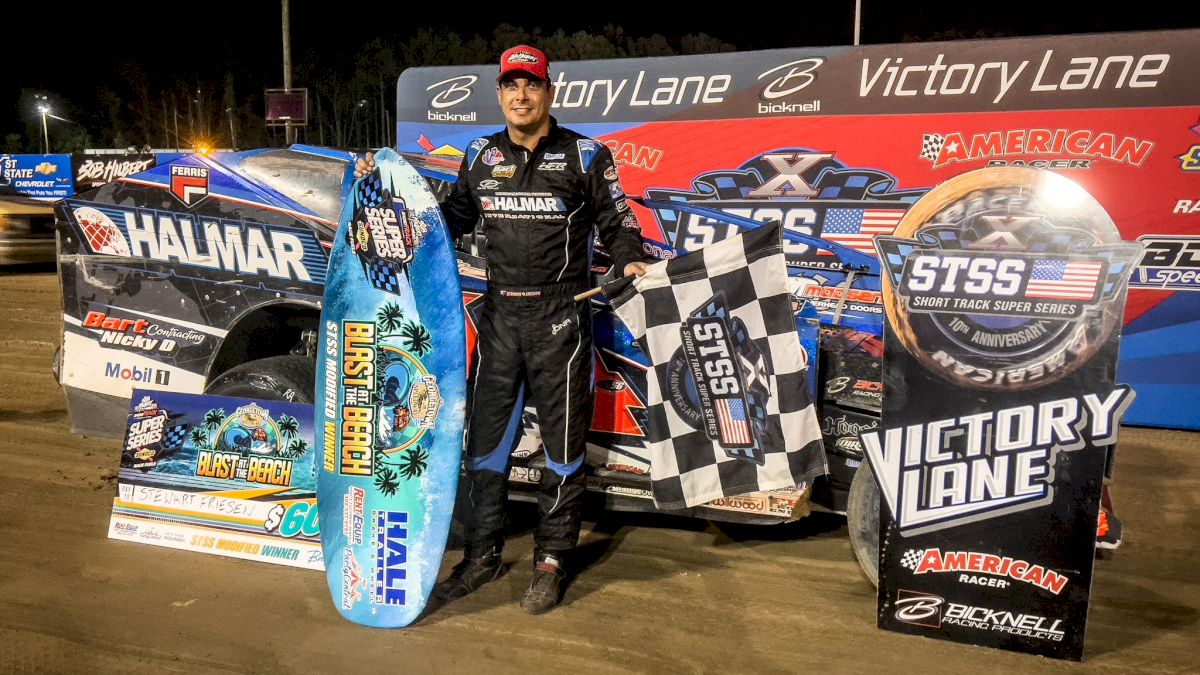 After drawing 72 at the Dirt Draft pre-race draw, Sprakers, N.Y.'s Stewart Friesen got his third Bob Hilbert Sportswear Short Track Super Series (STSS) Fueled By Sunoco victory of the 2023 on Tuesday night.
Friesen claimed the $6,000 Hale Trailers 'Blast at the Beach' title, his third win in the 10-year history of the event in Round No. 4 of the Rent Equip/Party Central South Region.
The win was also the 39th of Friesen's STSS career, the most all-time.
Friesen raced by Ryan Godown on a lap-18 restart and never looked back, taking home the $6,000 triumph.
Godown settled for the runner-up spot.
Matt Sheppard rounded out the podium but was unable to make it to Victory Lane as the rear broke on his No. 9s and he was towed over the scales.
Neshanic Station, N.J.'s Ryan Krachun took home fourth and Montgomery, N.J.'s Brandon Grosso rounded out the top five.
Short Track Super Series Highlights From Georgetown Speedway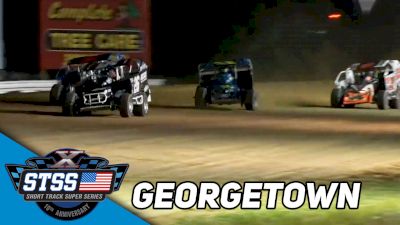 Winning Quote From Stewart Friesen
"The track was tricky tonight, trying to pick your lanes and make your way around. It was definitely a lot of fun though."
Short Track Super Series At Georgetown Speedway Results
1) Stewart Friesen
2) Ryan Godown
3) Matt Sheppard
4) Ryan Krachun
5) Brandon Grosso
6) Danny Bouc
7) HJ Bunting
8) Billy Pauch Jr.
9) Mike Gular
10) Anthony Perrego
11) Mike Mahaney
12) Ryan Watt
13) Austin Hubbard
14) Justin Grosso
15) Danny Hieber
16) John Willman
17) Norman Short Jr.
18) Rick Laubach
19) Ryan Riddle
20) Alex Yankowski
21) Jordan Watson
22) Louden Reimert
23) Matt Stangle
24) Shawn McPhee
Short Track Super Series South Point Standings
Matt Sheppard leads Billy Pauch, Jr. by 23 points in the Short Track Super Series South Region point standings following the event at Georgetown Speedway.
Last Race: August 8 - Short Track Super Series at New Egypt Speedway
Up Next: October 12-13 - Short Track Super Series Speed Showcase at Port Royal Speedway