2023 USAC Jason Leffler Memorial at Wayne County Speedway
Flyin' Illini: Six Storylines For Wayne City & Macon USAC Midget Weekend
Flyin' Illini: Six Storylines For Wayne City & Macon USAC Midget Weekend
From southern Illinois to central Illinois, the USAC NOS Energy Drink Midget National Championship truly becomes the Flyin' Illini this weekend.
Aug 17, 2023
by FloRacing Staff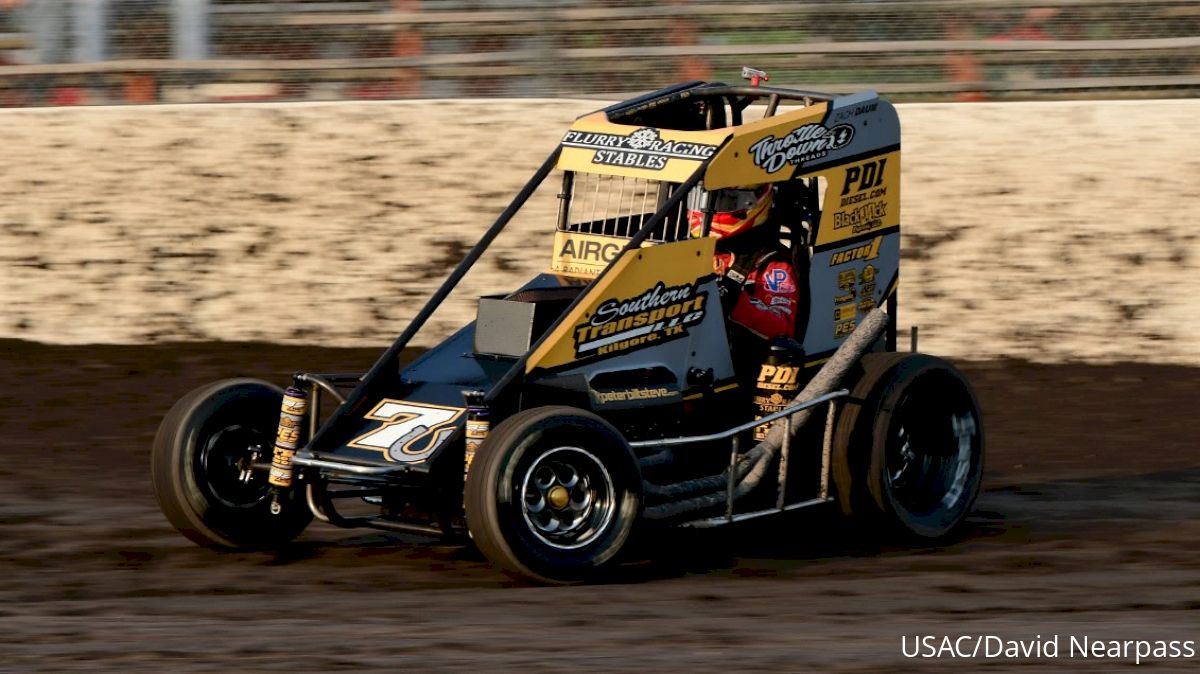 From southern Illinois to central Illinois, the USAC NOS Energy Drink Midget National Championship truly becomes the Flyin' Illini this weekend.
Two dates await drivers and teams, starting with Friday's 10th running of the Jason Leffler Memorial Presented By Peoples National Bank at Wayne County Speedway in Wayne City, Illinois, followed by the series' first visit to Macon Speedway in six seasons on Saturday night.
"Unpredictability" is the word on these two dirt bullrings.
Wayne City's 1/8 mile and Macon's 1/5 mile may be short of stature, but they're most definitely big on excitement.
In 19 combined USAC National Midget events at these two venues dating back to 1959, never has there been a repeat winner. That's all you need to know.
However, after a monthlong layoff for the series, there's so much more to talk about.
We dig in right here with these six storylines for an Illinois doubleheader weekend for the USAC National Midgets.
Dauminating In Illinois
There have been nine previous runnings of the Jason Leffler Memorial since 2013. There have been 12 appearances of USAC National Midgets at Macon since 1959. Neither has seen a repeat winner.
Zach Daum and Tanner Thorson, however, will try to change that narrative this weekend at Wayne City.
Daum (Pocahontas, Illinois) was the inaugural Jason Leffler Memorial winner in 2013 and the runner-up a year ago in 2022. Thorson, meanwhile, was first in 2020 and second in 2016.
Macon likely will see a first-time USAC Midget winner, unless Donnie Beechler or Brad Kuhn burst out of retirement to return to competition. But the magic eight ball says "Don't count on it."
Daum has won with the POWRi Midgets and MOWA Sprint Cars in recent years at Macon and also owns the track's qualifying record with a time of 10.325 seconds. Thorson also is a winner in the POWRi Midget ranks at Macon, scoring one win in 2016.
Astonishingly, no driver has won twice in either event, though some have come close.
Jason Leffler Memorial winners Daum (2013), Tyler Thomas (2018), Thorson (2020) and Christopher Bell (2021) all have finished second. Daum took runner-up honors last year, as did Thorson in 2016, Thomas in 2019 and Bell in 2014.
Macon winners Leroy Warriner (1959), Jimmy Davies (1960) and Tony Elliott (1992) also came within a hair of becoming multi-time victors. Warriner and Davies grabbed second-place results there in 1959, while Elliott nearly captured the 1991 race, before winning the following year.
T.E.A.M = Together Everyone Achieves More
While the high majority of drivers are chasing their first USAC National Midget wins at either Wayne County or Macon, there are several teams who've enjoyed the spoils of victory.
CB Industries, RMS Racing and Tom Malloy all have seen their teams win the Jason Leffler Memorial during the decade of the 2020s.
CBI scored at Wayne City with Mitchel Moles in 2022, RMS in 2021 with Christopher Bell and Malloy with Tanner Thorson in 2020. While only Thorson is expected to repeat his triumphant performance, those teams are champing at the bit to see their car return with a new gun.
CBI will field Bryant Wiedeman (Colby, Kansas), who recently captured his first career USAC victory in July in his home state of Kansas at the Mitchell County Fairgrounds.
RMS will have the talents of Justin Grant and Thomas Meseraull at the wheel of their machines. Grant (Ione, California) and Meseraull (San Jose, California) share a best career Leffler Memorial finish of fourth. Grant achieved it in 2014 and 2018, while Meseraull did the same in 2022.
Malloy will have two-time 2023 series winner Jacob Denney (Galloway, Ohio) in the seat as well as Jake Andreotti (Castro Valley, California) who sits second in the Rookie of the Year standings at press time.
A Statistical Oddity For KKM
Oddly enough, Wayne County Speedway is the only track on this year's schedule at which a Keith Kunz/Curb-Agajanian Motorsports car has never won a USAC National Midget feature event.
KKM, the owner of a record 142 USAC National Midget entrant wins, has finished in second place on four occasions at the Jason Leffler Memorial: Christopher Bell (2014), Rico Abreu (2015) and Tanner Thorson (2016).
A victory in the Jason Leffler Memorial would be a major one for Kunz and KKM CEO Pete Willoughby.
Leffler captured the first USAC National Midget championship for both Kunz and Willoughby in 1997.
Willoughby also was the recipient of USAC's Jason Leffler Award in 2014 in recognition of his intense appreciation of the sport's history reflected in his professionalism and outstanding representation as an ambassador of the United States Auto Club, exhibiting the same standard of ideals upheld by the late Jason Leffler during his USAC racing career.
With all that said, the team does enter Macon's round as the defending winner when Christopher Bell raced to victory back in 2017.
KKM will have in its stable the likes of Jade Avedisian (Clovis, California), Ryan Timms (Oklahoma City), Taylor Reimer (Bixby, Oklahoma) and rookie point leader Gavin Miller (Allentown, Pennsylvania) throughout the weekend.

Logan Streaky
By all estimates, Logan Seavey is on a roll. He carries a streak of seven straight USAC National Midget podium finishes into the weekend.
That makes him only the fourth driver in the last 10 years to have seven or more consecutive top-3 feature results with the series.
The only other drivers in that timeframe to accomplish the feat are Abreu (nine straight in 2014 and eight straight in 2015); Tyler Courtney (nine straight in 2020); and Buddy Kofoid (seven straight in 2022 and eight in 2022).
With two more top-3 results this weekend, Seavey would tie the best run of its sort in this decade. The 2018 series champion's latest finishes of first, third, third, second, third, first and second have pushed him into the point lead by a healthy 76-point margin.
The Shortest Short Track Challenge
In the entire 68-year history of USAC National Midget racing, no driver has won more often on dirt tracks shorter than a quarter mile in size than Tanner Thorson, with eight.
Thorson (Minden, Nevada) is not only the victor of the most recent round of the 2023 USAC National Midget season in July, it also just so happened to occur at the 1/5-mile Jefferson County Speedway in Nebraska.
Thorson will attempt to repeat his 2020 Jason Leffler Memorial victory on Wayne City's 1/8-mile.
Justin Grant is second all-time in that category with six victories in his career. However, three such events on the shortest short tracks this season have hosted victories by Thorson, as well as Jacob Denney at the 1/6-mile Sweet Springs Motorsports Complex in Missouri and Logan Seavey at Jefferson County.
Picking The Lock To The Key Of Illinois Success
Is experience the key? Well, it's not a lock, but it sure does help.
A handful of drivers at least have some fresh perspective and a successful baseline to run with this weekend.
Zach Daum swept both nights of Xtreme Outlaw Midget racing earlier this season at Wayne City. There, Gavin Miller ran second and third across both nights. Cannon McIntosh (Bixby, Oklahoma) took a third and a sixth, while Chance Crum (Snohomish, Washington) scored a fifth.
Taylor Reimer (Bixby) ran inside the top-10 with a seventh, as did Chase McDermand (Springfield, Illinois) with a ninth and Jade Avedisian with a 10th, all of whom will be in Friday night's field.
In POWRi action at Macon during June's Illinois Midget Week a couple months ago, Thomas Meseraull (San Jose, California) captured a dramatic victory over McIntosh, which brought about its share of dramatic on-track fireworks and a few post-race barbs from the two, as they crossed the stripe first and second, respectively.
Avedisian, meanwhile, pocketed a solid fourth that same night.
Furthermore, Macon hosted a pair of USAC AMSOIL National Sprint Car events in the early part of July.
Of the drivers on this Saturday's midget roster, Logan Seavey was the best finish, turning in a fast-qualifying time on Night 1 and a fifth-place finish on Night 2. Daison Pursley advanced from 12th to eighth, while Daum jetted from 18th to 10th.
Race Details
The 10th running of the Jason Leffler Memorial featuring the USAC NOS Energy Drink Midget National Championship, along with Non-Wing Outlaw Micros, Restrictors & Junior Sprints takes place on Friday night at Wayne County Speedway in Wayne City, Illinois.
Adult general admission tickets are $25. Kids 12 & under are free. Pit passes are $40. Pits open at 3 p.m. Central, grandstands open at 5 p.m. and the drivers' meeting will be at 6 p.m. Hot laps will be 6:30 p.m., with qualifying and racing immediately following.
On Saturday night at Macon Speedway in Macon, Illinois, the pits will open at 4 p.m. Central, and the front gates will open at 5 p.m. The drivers' meeting will be at 5:30 p.m., and cars will take the track at 6 p.m.
Adult tickets are $25 with children age 11 and under free. Pit passes and tickets will be sold at the gate on race day. Red's Place Modifieds and Hornets are also on the event card.