2023 High Limit Sprint Series at Huset's Speedway
Rico Abreu Slides Robbie Price For High Limit Sprint Car Win At Huset's
Rico Abreu Slides Robbie Price For High Limit Sprint Car Win At Huset's
Rico Abreu passed Robbie Price on a restart with seven laps to go to win Tuesday's High Limit Sprint Car Series race at Huset's Speedway.
Aug 16, 2023
by Kyle McFadden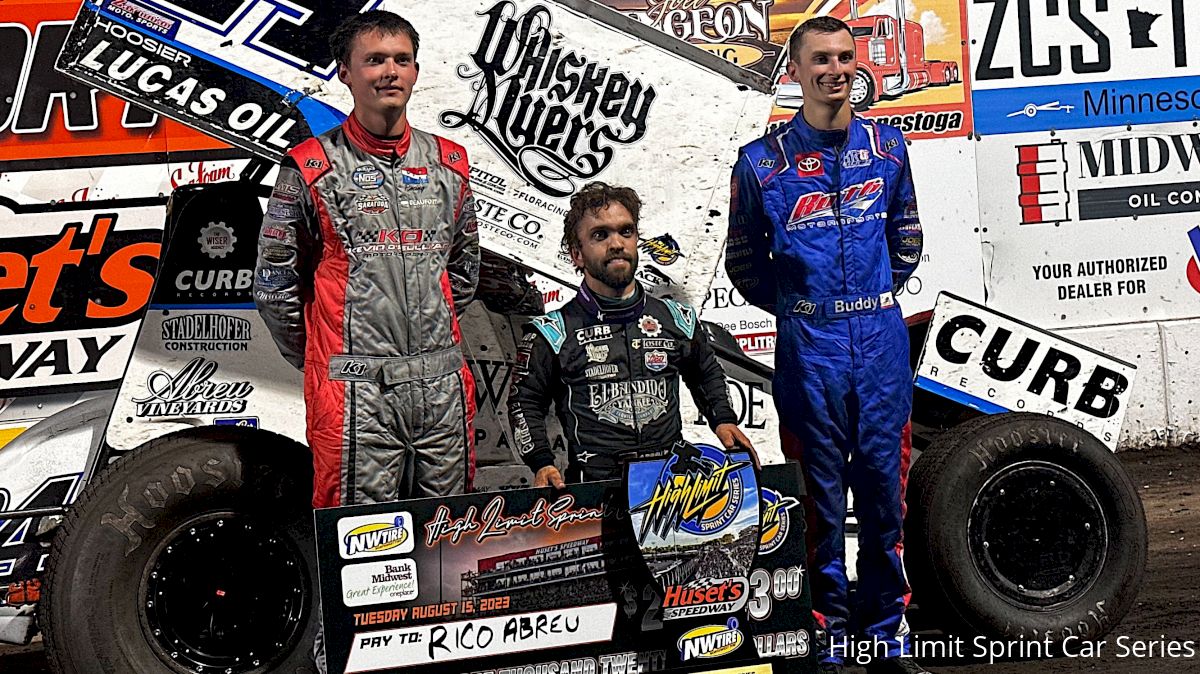 Rico Abreu overpowered race-long leader Robbie Price on the final restart with seven laps remaining to win Tuesday's High Limit Sprint Car Series race at Huset's Speedway in Brandon, S.D.
Price, the pole-sitter by virtue of winning the seven-lap Dash earlier in the program, led the first 28 circuits of the 35-lap, $23,023-to-win event before Abreu stormed onto the scene. Buddy Kofoid finished second, 1.397 seconds behind, also making his way around Price in the final laps.
.@Rico_Abreu climbs up top and celebrates his second High Limit Sprint Car win — the second man to strike twice with the new series.

Arguably the hottest driver in the land, he cashes another $23,023 at @HusetsSpeedway and closes on the championship lead! pic.twitter.com/WhpjLTddSz

— High Limit Racing (@HighLimitRacing) August 16, 2023
For Abreu, it's his second High Limit Sprint Car Series win of the season, adding to his July 25 triumph at Grandview Speedway in Bechtelsville, Pa., where he used another late-race move to deny Kyle Larson from victory.
Larson, meanhwhile, finished sixth from the 17th-starting spot on Tuesday, a night which he fell behind in qualifying (16th of 47 cars).
Tim Kaeding was the night's hard charger, rallying from the 23rd-starting spot to finish eighth.
While Tuesday's High Limit Series feature ended in riveting fashion, it didn't start the smoothest with three red flags on laps within the first five laps. The first stoppage on lap two wiped out the drivers of ninth-running Chase Randall, 11th-running Scott Bogucki, 12th-running Justin Peck, and 13th-running Kasey Kahne.
Seventh-starting Ryan Timms, Sam Hafertepe Jr., and Cole Macedo were involved in the latter two red flags.
All drivers escaped the carnage unharmed. The 35-lap featured lasted a 49 minutes, with 15 drivers completing all the laps.
High Limit Sprint Car Series Highlights At Huset's Speedway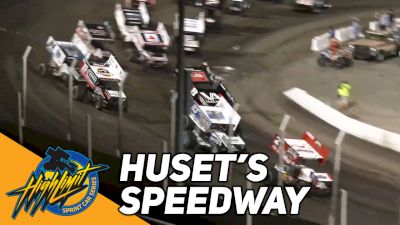 WATCH: Highlights from Tuesday's High Limit Sprint Car Series race at Huset's Speedway.
High Limit Sprint Car Series Results At Huset's Speedway
| | |
| --- | --- |
| Finish | Driver |
| 1 | Rico Abreu |
| 2 | Buddy Kofoid |
| 3 | Robbie Price |
| 4 | Kerry Madsen |
| 5 | Justin Sanders |
| 6 | Kyle Larson |
| 7 | Aaron Reutzel |
| 8 | Tim Kaeding |
| 9 | Kaleb Johnson |
| 10 | Cory Eliason |
| 11 | Justin Henderson |
| 12 | Brooke Tatnell |
| 13 | Cole Macedo |
| 14 | Dusty Zomer |
| 15 | Kasey Kahne |
| 16 | Christopher Thram |
| 17 | Corey Day |
| 18 | Austin McCarl |
| 19 | Ryan Timms |
| 20 | Brendan Mullen |
| 21 | Chase Randall |
| 22 | Scott Bogucki |
| 23 | Justin Peck |
| 24 | Sam Hafertepe Jr. |