2023 High Limit Sprint Series at Kokomo Speedway
Justin Peck Bests Kyle Larson For High Limit Sprint Win At Kokomo Speedway
Justin Peck Bests Kyle Larson For High Limit Sprint Win At Kokomo Speedway
Justin Peck took advantage of Kyle Larson's misstep to win Tuesday's High Limit Sprint Car Series race at Kokomo Speedway.
Aug 2, 2023
by Kyle McFadden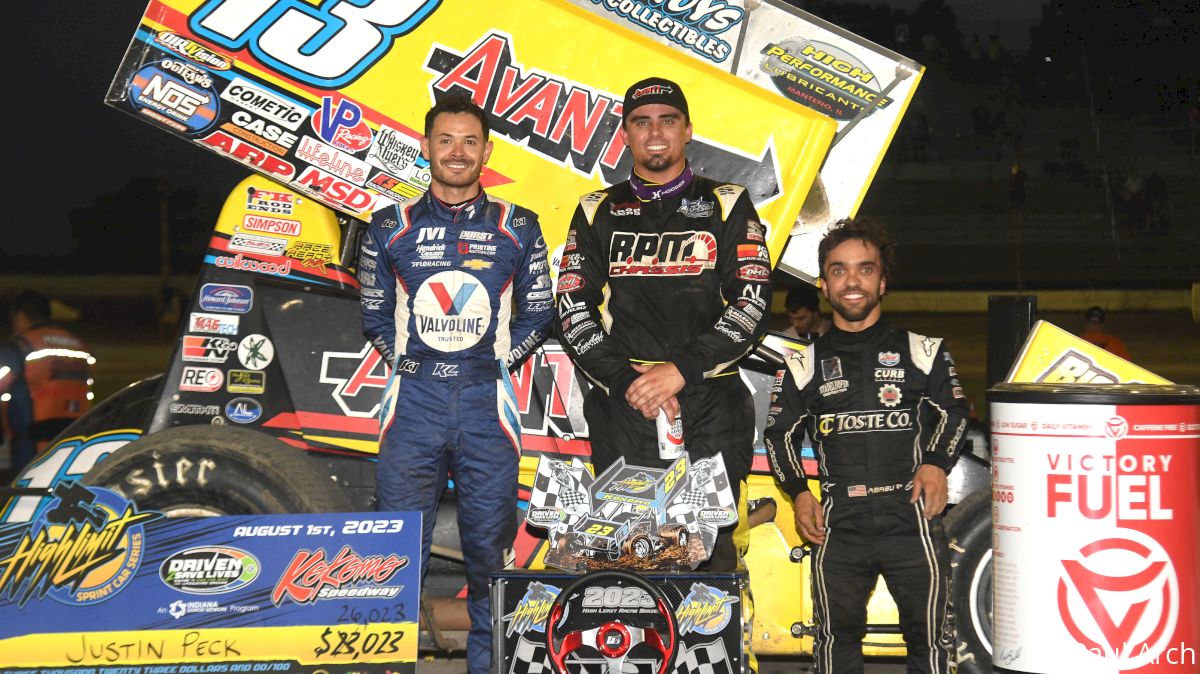 Justin Peck surged to one of the biggest wins of his career on Tuesday by outdoing Kyle Larson in High Limit Sprint Car Series competition at Kokomo Speedway, the very place he spent many childhood nights as a Monrovia, Ind., native.
Peck, who grew up an hour south of the quarter-mile, led the final 10 laps for the $23,023 payday. Larson appeared on his way to a fourth series victory upon slapping the turn two wall on lap 25 as he navigated traffic. That allowed Peck to make his go-ahead move in the following corner for his second overall win of the season.
Rico Abreu of St. Helena, Calif., rounded out the podium in third. Seventeen-year-old rising talent Corey Day, filling in Tyler Courtney's No. 7BC at Clauson Marshall Racing, led the opening seven laps and faded to finish fourth.
Anthony Macri of Dillsburg, Pa., raced from the B-main and 21st-starting position to finish 13th in his season debut aboard Bernie Stuebgen's No. 71.
WATCH HIGH LIMIT SPRINT CAR FEATURE REPLAY
High Limit Sprint Car Series at Kokomo Speedway Results
| | | |
| --- | --- | --- |
| Finish | # | Driver |
| 1 | 13 | Justin Peck |
| 2 | 57 | Kyle Larson |
| 3 | 24 | Rico Abreu |
| 4 | 7BC | Corey Day |
| 5 | 21 | Cole Macedo |
| 6 | 39M | Justin Sanders |
| 7 | 21H | Brady Bacon |
| 8 | 2MD | Cap Henry |
| 9 | 24S | Logan Seavey |
| 10 | 9P | Parker Price-Miller |
| 11 | 11 | Cory Eliason |
| 12 | 16TH | Kevin Thomas Jr. |
| 13 | 71 | Anthony Macri |
| 14 | 17AU | Jamie Veal |
| 15 | 9 | Chase Randall |
| 16 | 5R | Byron Reed |
| 17 | 50YR | J.J. Hickle |
| 18 | 47BC | Emerson Axsom |
| 19 | 71x | Shane Stewart |
| 20 | 55 | Jake Swanson |
| 21 | 19 | Dylan Norris |
| 22 | 19W | Trent Pigdon |
| 23 | 26 | Zeb Wise |
| 24 | 5T | Ryan Timms |