2023 Tezos All Star Circuit of Champions at Knoxville Raceway
Nationals Favorite: Rico Abreu Dominates All Stars At Knoxville
Nationals Favorite: Rico Abreu Dominates All Stars At Knoxville
Rico Abreu dominated a strong field during the Tezos All Star Circuit of Champions race at Knoxville Raceway ahead of the upcoming Knoxville Nationals.
Jul 30, 2023
by FloRacing Staff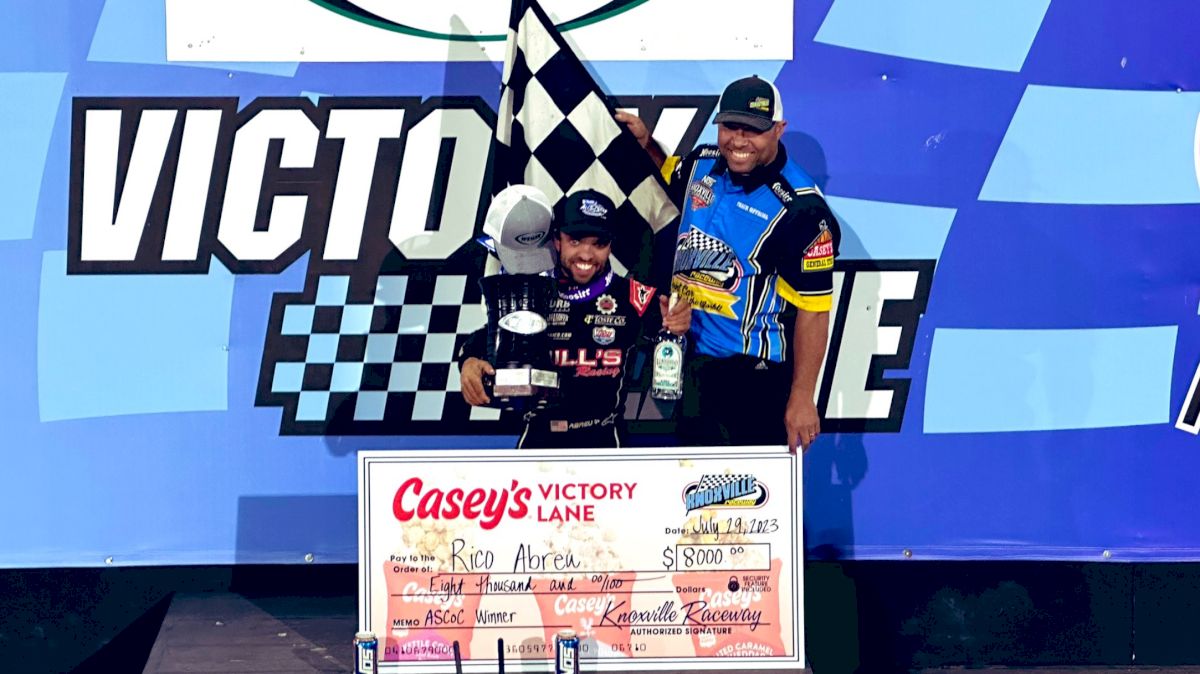 Solidifying his name as a sure-fire favorite to capture the 2023 Knoxville Nationals crown, St. Helena, California's Rico Abreu put on a show Saturday night at the Sprint Car Capital of the World, not only conquering Tezos All Star Circuit of Champions presented by Mobil 1 competition for the second time this season, but collecting an $8,000 payday in the process, ultimately etching his name as a Knoxville Raceway winner for the sixth time in his career. Abreu, ace of the ever-familiar Rico Abreu/Curb Agajanian Racing No. 24 sprint car, started sixth on Knoxville's All Star grid, surging to the front in a hurry before taking command on lap 12 of 25.
Once earning the top spot, blasting by I-70 Motorsports Park winner and race-long leader, Buddy Kofoid, it was game over for the rest of the field, as even a caution three circuits later would not halt Abreu's momentum. The recent Rayce Rudeen Foundation Race champion would cruise on to win by over three seconds.
Roth Motorsports' Buddy Kofoid would race on to finish second, followed by Tea, South Dakota's Justin Henderson, the "Big Unit" Austin McCarl, and "Blackjack" Brian Brown.
Tezos All Star Circuit of Champions Highlights From Knoxville Raceway
Tezos All Star Circuit of Champions Results From Knoxville Raceway
1. 24-Rico Abreu[6]
2. 83JR-Michael Kofoid[1]
3. 1-Justin Henderson[3]
4. 88-Austin McCarl[10]
5. 21-Brian Brown[9]
6. 7BC-Anthony Macri[2]
7. 39M-Justin Sanders[4]
8. 2M-Davey Heskin[14]
9. 24W-Garet Williamson[5]
10. 15H-Sam Hafertepe Jr[8]
11. 2KS-Chase Randall[19]
12. 55-Kerry Madsen[24]
13. 7TAZ-Tasker Phillips[21]
14. 26-Zeb Wise[25]
15. 3J-Dusty Zomer[18]
16. 3P-Sawyer Phillips[17]
17. 25-Lachlan McHugh[11]
18. 4M-Ian Madsen[7]
19. 17AU-Jamie Veal[13]
20. 2-Lynton Jeffrey[22]
21. 4-Chris Windom[26]
22. (DNF) 9-Kasey Kahne[20]
23. (DNF) 16TH-Parker Price Miller[16]
24. (DNF) 3-Tim Kaeding[15]
25. (DNF) 10-Scott Bogucki[12]
26. (DNF) 4W-Jamie Ball[23]
Tezos All Star Circuit Of Champions Point Standings
Zeb Wise leads Chris Windom by 80 points in the driver point standings, while Rudeen Racing leads the owners points by just eight markers over Clauson Marshall Racing Racing.
Full ASCoC Driver Point Standings
Previous Race: July 23 - Tezos All Star Circuit of Champions at I-70 Speedway
Up Next: August 18 - Tezos All Star Circuit of Champions at Outlaw Speedway