2023 High Limit Sprint Series at Grandview Speedway
Rico Abreu Continues Joy-Filled Season In High Limit Win At Grandview
Rico Abreu Continues Joy-Filled Season In High Limit Win At Grandview
Rico Abreu can't praise his team enough after a hard-fought High Limit Sprint Car Series win over Kyle Larson at Grandview Speedway.
Jul 27, 2023
by Kyle McFadden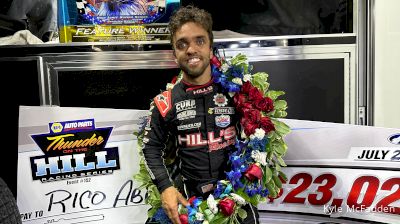 Ricky Warner snapped open a can of Busch Light and extended it to his driver, Rico Abreu, who approached the crew chief not just for a celebratory drink Wednesday night at Grandview Speedway in Bechtelsville, Pa.
With arms spread wide, Abreu had to embrace Warner before anything else. The two hugged for a long second, then split off to take interviews with two reporters from separate media outlets that wanted to know the meaning of their seventh win in a stellar 2023 season.
Deep down, Abreu's wanted to beat Kyle Larson in head-to-head combat all summer, and on Wednesday, that came true when he overturned the High Limit Sprint Car Series points leader's perfect night.
Now, Abreu joins Larson and Anthony Macri as the only drivers in the country this season to have wins on all three Sprint Car national tours: the World of Outlaws, All Star Circuit of Champions, and High Limit.
"I have an unbelievable race team this season and we've been building toward that as a team," the 31-year-old Abreu said. "It comes down to very candid conversations and leadership that Ricky's experience has brought. And a mentor that Ricky's become to my whole team, Zack (Middlebrooks) and Brady (Forbrook). Everybody's doing an unbelievable job working on this race car."
WATCH: Highlights from Wednesday's High Limit Sprint Car Series race at Grandview Speedway.
Abreu is supercharged in every vital this season: in raw speed, confidence, love and gratitude. He's contended in every big race to date, winning an Eldora Million semifeature and finishing runner-up in last month's $250,000-to-win High Bank Nationals at Huset's Speedway in Brandon, S.D.
Though Warner's supplied Abreu the fastest Sprint Cars he's ever driven — applying the wealth of knowledge from the dynasty he built with 10-time WoO champion Donny Schatz at Tony Stewart Racing — love and gratitude are Abreu's key ingredients.
"He's a very positive person to work for," Warner said moments after he and Abreu shared an embrace. "That makes it easy so everybody stays in a good mood. Everybody does their job. As long as we execute the way we need to, the outcomes usually pretty good."
The outcomes have been exceptionally good for Abreu. Beyond his seven wins, which are tied for seventh-most nationally, a case could be made that he's the top Sprint Car driver in the country. He has seven runner-up finishes and six additional podiums. That's 20 top-three finishes in 41 races.
Larson can't be upset how he lost Wednesday's race — not even close — because his friend is back to his truest form.
"It's been a lot of fun seeing Rico run as competitive as he is this year," Larson said. "Not that he's been bad or anything like that the last few years. Now you're seeing, like, the Rico of old, where he's hammering the s--- out of it. And racing with a lot of confidence.
"You can see his attitude. He's definitely having fun. It's nice to have that Rico back behind the wheel. Winning Outlaw races, High Limit races, All Star races … I feel like him and I are probably the two top guys in the country, maybe, this year."
When Abreu snatched the lead from Larson via the bottom lane after the choose cone on a lap-18 restart on Wednesday, it maybe looked like Larson was losing air pressure in one or both rear tires. But that wasn't the case.
"I thought I could take off up top, but obviously it was the wrong choice. I thought I launched as good as I could," Larson said. "Then I ran the top through one and Rico had a good launch and cut a bunch of distance. … From there, I had another shot, but I pulled the trigger a little too soon."
Abreu outdoing Larson at the top of his game on Wednesday showcases what Warner's seen out of his driver most vividly this season.
"What I've been impressed with is he's done a lot of thinking while he's racing and he gets in position where his car works good," Warner said. "That comes with confidence and racing more and more. And racing the really good guys.
"I just always tell him to be calm and confident and run his race, run where his car is good or what feels right to him, not because somebody is running somewhere. He's getting more confident in where his car works right. And how to be in position in traffic and stuff. Just little stuff like that we talk about. The rest of it, he knows how the racing goes. He's just getting better and anticipating what's going to happen."
The reason Abreu's seen an explosion of success is because of the advancements the Warner-led team made over the offseason. They were able to win six times last year — a respectable number — but nothing like what they've built so far this season.
"Last year, we didn't have a chance to change a lot with the cars and stuff. But over the winter, we did," Warner said. "Now it's paying off. We're just honing in on what he likes and what he has to race the right way. It's getting second nature to me right now. Just keep racing and it gets better. It's like practice. You have to practice to get better."
Abreu said he isn't all that focused on trying to overcome Larson's 44-point lead in the High Limit standings with five races remaining. He only shaved five points off Larson's lead on Wednesday night because Larson still managed second.
One unfortunate night for Larson could change that, though, but Abreu isn't wishing for it. He and his team have their sights on next Tuesday's High Limit race at Kokomo (Ind.) Raceway before they venture west for the Ironman 55 at Federated Auto Parts Raceway in Pevely, Mo., and Aug. 9-12's Knoxville Nationals.
In 2006, Warner was able to win his first of 10 Knoxville Nationals in a 12-year span with Schatz after his first season with Tony Stewart Racing. Can he also help Abreu to his first Knoxville Nationals crown with one full year in the books?
Whatever the result, the team has what it takes to beat anyone, anywhere, on any given night.
"I think it's coming along. Our team is really good with Zack and Brady," Warner said. "They're really smart guys and take their jobs very serious. Just interacting with (Rico) and getting more feedback on the car. Everybody gets more confident as we go. The races we win and who we have to beat to win the race, it's always a confidence booster when you can beat Kyle. I mean, he's one of the best to ever wheel on these things.
"And Paul (Silva) is really good at his program. You always want to go up against the best and beat the best. To me, it's very gratifying to be able to do that."