2023 Eldora Million at Eldora Speedway
Rico Abreu, Brad Sweet Move One Step Closer To Eldora Million Glory
Rico Abreu, Brad Sweet Move One Step Closer To Eldora Million Glory
Rico Abreu and Brad Sweet prevailed in Wednesday's Eldora Million prelims at Eldora Speedway.
Jul 13, 2023
by Kyle McFadden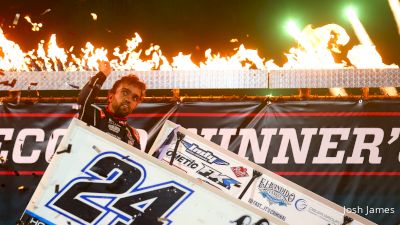 Rico Abreu took a pivotal step toward life-changing success on Wednesday's Eldora Million preliminary night at Eldora Speedway.
The 31-year-old of St. Helena, Calif., led 15 of 25 laps to win the second semifeature and deliver on the hype that surrounds his popular name at the richest event in the sport's history.
It's Abreu's fifth overall win of a season that continues to develop as his best ever in a Sprint Car. He'll now have a clear shot at the coveted prize, the record-paying $1,002,023 winner's purse, on Thursday night when he rolls off on the outside front row of the second heat race.
"We had to win that race to be in position to win tomorrow night," Abreu said. "These guys have been doing an unbelievable job this year on my car. It's a special time in my racing career just to be a part of something like this where it's consistent results and you have things to build off of after every night. These guys, like I said, all this year and all last year, they just don't give up on me. You can see it in them. It's a bonding friendship we've created over time. It's a special time in my career."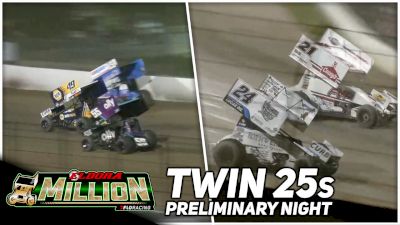 WATCH: Highlights from Wednesday's Eldora Million prelims at Eldora Speedway.
Abreu's Ricky Warner-prepared machine only grew stronger as the laps clicked away on Wednesday, so perhaps that's a sign of what's to come in Thursday's 50-lap grand finale.
Abreu wasn't noticeably faster than the rest for much of the night. He qualified ninth of 41 cars in Group A, roughly three-tenths off David Gravel's quick-time mark. In his heat race, he could only advance one position to finish fifth. But thanks in large part to the eight-car inversion via the Wheel of Misfortune, Abreu started the second semifeature from the outside pole.
The winning move came on lap 11 while early leader Brian Brown and David Gravel battled for the top spot. Abreu eventually topped Carson Macedo by 3.536 seconds.
"This victory lane is a really, really special place for a race team," Abreu said. "Just got to thank Ricky (Warner) and Zack (Middlebrooks) and Brady (Forbrook). … These events with the formats can really fluster you at times when you get in really critical moments. I just know my car gets better and better as the races go on."
This has become a familiar sight lately.@Rico_Abreu controls the second #EldoraMillion prelim for his 8th career win at The Big E — his third win in his last six starts at the track.

He, "Tricky" Ricky Warner and Co. now focus on the $1,002,023 payday tomorrow on @FloRacing! pic.twitter.com/6ZxG5WDN4Z

— ELDORA SPEEDWAY (@EldoraSpeedway) July 13, 2023
Before Abreu sets his sights on Thursday's 50-lap, $1,002,2023-to-win spectacle, he has business to take care of in his 10-lap heat race. He'll share the front row with Logan Schuchart — one of the fastest cars at the Big E on Wednesday — with Buddy Kofoid, Dylan Cisney, Tyler Courtney and Cole Macedo in the rows behind.
Only the top three advance to the main event. More critically, a top-six starting spot is guaranteed with a heat win.
"I think it's going to be (about) race pace. It's going to be torrid in the beginning," Abreu said. "It's 50 laps. A lot of Sprint Car drivers aren't used to something like that. It takes a lot of patience to win these races. It takes a team like this of mine to put yourself in position. And that's all I ask for all week, all year, is just to put ourselves in position to win one of these Crown Jewels.
"Knoxville, as I've said, I have a lot of work to do as a race car driver. Here, this place has really developed in my driving style. It's a place from the first day of my career when I won my first USAC Midget race — one of them. It's been a very special place to me."
The Big Cat Pounces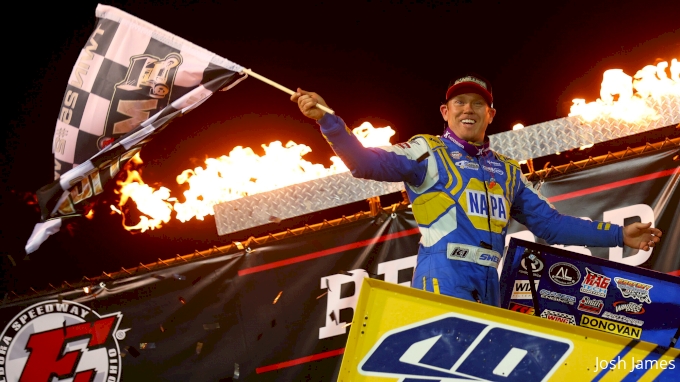 Brad Sweet twirls the checkers after his first Eldora victory since the 2019 Kings Royal. (Josh James/joshjamesartwork.com)
The same steadiness that's lifted Brad Sweet to four straight World of Outlaws NOS Energy Drink Sprint Car Series titles propelled the sport's golden standard to victory lane Wednesday at Eldora Speedway.
Sweet of Grass Valley, Calif., led 13 of the final 25 laps to capture the first semifeature of the evening, a race ultimately won on the second attempt of a lap-13 restart. Aaron Reutzel led the first 12 laps but couldn't execute two straight clean restarts and that opened the door for Sweet to prevail.
"My car was great. My guys gave me a great race car. Yeah, those restarts are tricky," the 37-year-old Sweet said. "(Reutzel) carried a lot of pace, which I thought kind of gave me the advantage. I was surprised he chose the top (on the lap-13 restart). There wasn't a lot of meat up there. I wasn't sure how it was going to play out.
"He won the first (restart on lap 13). The second one he waited a little longer and it gave me a little more of an advantage. Once I got into clean air, my car was really good. I felt like we were going to race them there in lapped traffic. My car would work on the cushion, off the cushion. Pretty happy to get it in victory lane. We struggled a few times. This is tough. This is a tough field of cars. And it's all about tomorrow, that million dollars. Obviously tonight getting the win puts you in a good position."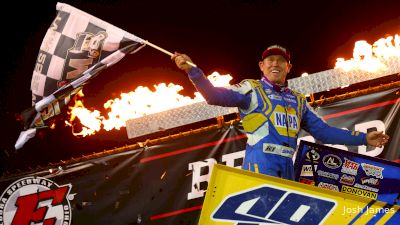 WATCH: Brad Sweet breaks down his Eldora Million prelim victory.
Sweet, who will start from the pole of Thursday's fourth heat with Giovanni Scelzi outside, actually hadn't visited Eldora victory lane since he won the 2019 Kings Royal. For a refresher, Sweet celebrated the win boisterously and didn't hold back revealing what the Kings Royal crown meant to him.
If he wins a million dollars, another memorable celebration would likely be had.
"It's really real. It's life-changing for us dirt racers to race for this kind of money," Sweet said. "I can't thank Tony Stewart. I can't thank FloRacing. I can't thank all you fans. It's not possible without all you fans and we sure recognize that coming out here on a Wednesday and Thursday allowing us to race for a million dollars. It's pretty special. I know I'll have some nerves tonight. You still have to come back and run through that heat race. We'll see where we shake up. My car is really good, so that gives us confidence coming back tomorrow. Obviously, I hope the stars align and I hope we're a million dollars richer."
Odds and ends
Carson Macedo of Lemoore, Calif., exited Wednesday as the high point man, putting himself on the pole of the first heat Thursday; Macedo earned top honors by qualifying fourth-quickest in Group B, winning his heat from eighth, and finishing second from eighth in the semifeature.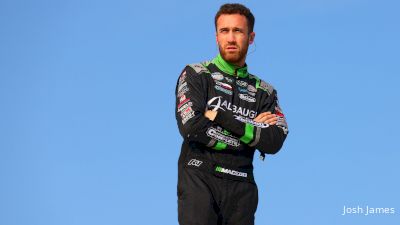 WATCH: Carson Macedo assesses his Eldora Million prelim night.
Shane Stewart of Bixby, Okla., was slated to start from the pole of the second semifeature but never took the green because of a braking failure: "I wanted to take the green but also didn't want to crash Bernie's car or someone else's by being stupid," Stewart wrote in a Twitter post. "I had no brakes at all. Part of racing, timing wasn't the best. Try again tomorrow."
💔 for sure. You've been great so far, looking forward to the next few days.

— Indy Race Parts/Bernie (@IndyRaceParts) July 13, 2023
Last year's Eldora dominator, reigning Kings Royal and Historical Big One champion, Brent Marks, started 22nd and finished sixth in the first semifeature; Marks will start third in Thursday's first heat.
Aaron Reutzel of Clute, Texas, said the second lap-13 restart didn't help him because "we've been struggling getting our motors to take off." … "That's why I tried to have a fast restart there," Reutzel added. "The first one, I felt like I just got it to take off enough. And the second one, I don't know if Brad changed up what he did or what, but mine just didn't take off and he beat me. It is what it is. You have to be 100 percent to beat these guys. I think we were 95 percent."
After leading the opening 12 laps, Aaron Reutzel scores a runner-up finish aboard the RSR #8 in the opening #EldoraMillion preliminary Feature! pic.twitter.com/gzS48i5UNi

— ELDORA SPEEDWAY (@EldoraSpeedway) July 13, 2023
After finishing third in the first prelim, Kyle Larson of Elk Grove, Calif., and will lead Thursday's fifth heat to green and with an opportunity to win a fourth career million-dollar race (2019, '22 and '23 NASCAR All-Star Race): "That's good and sets us up for tomorrow. My car felt really good in the feature. It just got so top dominant that whoever got the lead would check out and we'd all run the same pace until he caught traffic. … Much longer race tomorrow, so should be good. I'm sure the top will probably slow down some. I'm sure they'll probably smooth the track out. So it'll probably be a lot different. But all in all, I thought my car handled good all night long. The balance was really good."
In Case You Missed It