2023 High Limit Sprint Series at Eagle Raceway
Snakebitten Brent Marks Not Dejected After High Limit Sprints Mishaps
Snakebitten Brent Marks Not Dejected After High Limit Sprints Mishaps
Brent Marks appeared en route to Tuesday's High Limit Sprint Car Series victory at Eagle Raceway until disaster struck.
Jun 7, 2023
by Kyle McFadden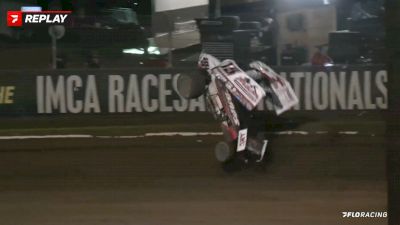 EAGLE, Neb. — Nobody would have argued Brent Marks as a bona fide High Limit Sprint Car Series title contender from the tour's outset in April. The Myerstown, Pa., driver delivered not only his career best season a year ago, but Sprint Car racing's best on the whole: 18 wins accentuated by the Kings Royal crown and more than $640,000 in winnings; the sport's most
But as the 12-race tour heads for summer, Marks is well out of High Limit's championship race, positioned in 12th and 111 points behind leader Kyle Larson.
What's gone wrong? Tuesday's fifth High Limit race of the season at Eagle (Neb.) Raceway, where Marks suddenly caught a rut and flipped out of the lead, explains the offbeat state of affairs.
Marks appeared on his way to the $28,023 victory a week after wrecking in the lead battle at Tri-City Speedway in Granite City, Ill. A third DNF (did not finish) in five series races came instead. Last year, Marks took five DNFs in 83 races.
"Fortunately, I still feel like we're fast and we're competitive and compete for wins," Marks said. "Just need a little bit of luck on our side. That's racing. That's just how it goes. We'll just keep trying, you know? And come back next week swinging hard and see what we can do."
Postrace with @bmracing19, who saw another High Limit win vanish because of misfortune.

Wrecked in the lead battle last week at Tri-City. Flipped out of the lead tonight at Eagle after bicycling off the cushion of turns one & two.

Luck may not be there right now but speed is. pic.twitter.com/R8U0JaU3Gm

— Kyle McFadden (@ByKyleMcFadden) June 7, 2023
Marks's season hasn't been entirely bad. He has three wins outside the High Limit Series: with the All Star Circuit of Champions on April 15 at Attica (Ohio) Raceway Park; an $8,000 payday at Williams Grove Speedway in Mechanicsburg, Pa., on April 21; and $5,000 victory at BAPS Motor Speedway in York Haven, Pa.
Things just haven't been smooth sailing in the way they were last year. Tuesday's shipwrecked result with 15 laps to go wasn't due to a complete miscalculation by Marks. Under the caution period four laps prior to Marks's exit, he lost air pressure in his right-rear tire, enough to throw his discernment for a loop.
"The car was just pretty low," Marks said of how the loss of air pressure affected his car's ride height. "I got in there and caught (the rut in turns one and two) wrong, and it just started to bounce. I tried to save it, but ultimately couldn't. I don't know. Just a mistake on my part and Eagle bit us tonight."
Hi 👋 pic.twitter.com/1oh4sDCYKK

— Brent Marks (@bmracing19) June 7, 2023
"We had a fast car and I was really happy with the progress we made throughout the night and all the changes that we made," he added. "I felt like we definitely we had a shot to win that race. Just didn't happen."
Marks's High Limit finishes are now 24th at Lakeside Speedway in Kansas City, Kan.; fourth at 34 Raceway in West Burlington, Iowa, in which he led nine of 35 laps; eighth at Wayne County Speedway in Orrville, Ohio, after starting 26th; and 23rd at both Tri-City and Eagle.
The good part for Marks, whose Murray-Marks Racing team is in its second full season together (longtime car owner and dirt-track racing supporter Allen Murray came on as a co-owner of Marks's family team toward the end of 2021), is that the bulk of his goals are still in sight this year.
Heartbreak for @bmracing19 😩

He bicycles out of the lead with 14 laps to go. An absolute nosedive, he'd been checked out.

Rico retakes control. pic.twitter.com/WYTwQFeNd4

— Kyle McFadden (@ByKyleMcFadden) June 7, 2023
Atop that list of goals, needless to say, is July 13's Eldora Million at the Rossburg, Ohio, half-mile that granted Marks $275,000 in total winnings.
Marks says he'll take this weekend off and pick up business again at some point during next week's Ohio Speedway, which visits Wayne County next Monday, Sharon Speedway that Tuesday, Atomic Speedway that Thursday, Eldora Speedway that Friday and Portsmouth (Ohio) Raceway Park next Saturday. And even though Eagle took another toll on the Pennsylvania Posse linchpin, the night wound up as a worthwhile experience at the third-mile racetrack putting on its first 410 Sprint Car race since 2017.
"I had fun. I thought the track was a lot of fun," Marks said. "The heat races were a little iffy. Once the track got a little more slick and widened out, it got to be a lot of fun. I love the short-track racing. To go to all these places like we did tonight with all this banking to them, it's just a lot of fun. It really brings the driver out in you. Makes for one heck of an exciting race for the fans. I'm happy that we were able to get back here to Eagle.
"It's great they brought a series like this back and pack the stands and support that the fans showed was absolutely amazing. Hopefully we'll be back soon."