2023 High Limit Sprint Series at Eagle Raceway
Kyle Larson Rolls In High Limit Sprint Car Series Thriller At Eagle Raceway
Kyle Larson Rolls In High Limit Sprint Car Series Thriller At Eagle Raceway
Kyle Larson claimed his third straight High Limit Sprint Car Series win during Tuesday's electric 410 Sprint Car return to Eagle Raceway.
Jun 7, 2023
by Kyle McFadden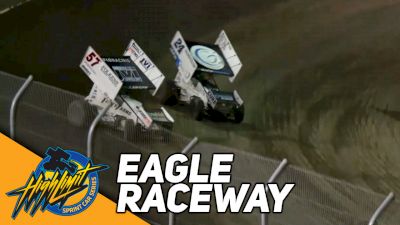 Kyle Larson of Elk Grove, Calif., continued his dominance of the High Limit Sprint Car Series on Tuesday at Eagle (Neb.) Raceway, overpowering his nearest competitors once again for a third straight victory on the tour worth $28,023.
For the second straight week, it was Rico Abreu of St. Helena, Calif., that stood as Larson's greatest challenger. Abreu led the opening 18 laps and finished on the losing end of a thrilling head-to-head battle in the final laps that riveted Eagle's packed house. Abreu finished 0.489 of a second behind Larson at the checkers, while 17th-starting Giovanni Scelzi of of Fresno, Calif., delivered an all California podium.
Larson led the final 14 laps, assuming control when mid-race leader Brent Marks stunningly flipped after catching a rut in the curb-building racing surface through turns one and two. It's the second race in a row Marks, who led laps 18 through 26, wrecked while either in the lead or making a move for the lead.
Postrace with @bmracing19, who saw another High Limit win vanish because of misfortune.

Wrecked in the lead battle last week at Tri-City. Flipped out of the lead tonight at Eagle after bicycling off the cushion of turns one & two.

Luck may not be there right now but speed is. pic.twitter.com/R8U0JaU3Gm

— Kyle McFadden (@ByKyleMcFadden) June 7, 2023
Buddy Kofoid of Penngrove, Calif., the night's overall fast qualifier, finished fourth and Anthony Macri of Dillsburg, Pa., the fastest qualifier in Group B, finished fifth. Kofoid, Dusty Zomer of Brandon, S.D.; Macri and Tyler Courtney of Indianapolis, Ind., won the heats while Abreu won the dash.
Kasey Kahne, Jake Swanson and Carson McCarl were among drivers that failed to qualify for Tuesday's 40-lap main event.
High Limit Sprint Car Series At Eagle Raceway Highlights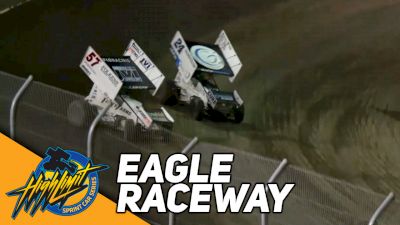 VIDEO: Watch highlights from the High Limit Sprint Car Series at Eagle Raceway.
Winning Quote From Kyle Larson

"I hope you fans enjoyed that. (Eagle owner) Roger Haden, they did a great job. I was worried when we saw it so fast in the heat races. But, man, that track was great. Thanks to everybody at Eagle Raceway; everybody in the pits, everybody in the stands to get back here and watch some 410s. I'm glad Rico and I could put on a show."
High Limit Sprint Car Series At Eagle Raceway Results
Kyle Larson
Rico Abreu
Giovanni Scelzi
Buddy Kofoid
Anthony Macri
Chase Randall
Zeb Wise
Jake Bubak
Aaron Reutzel
Corey Day
Cory Eliason
Ryan Timms
Austin McCarl
Brady Bacon
Danny Dietrich
Robbie Price
Brian Brown
Riley Goodno
Blake Hahn
Sam Haftertepe Jr.
Dusty Zomer
Cole Macedo
Brent Marks
Tyler Courtney
Lachlan McHugh
Jack Dover
High Limit Sprint Car Series Standings After Eagle Raceway

Kyle Larson pads his lead to 49 points over Anthony Macri and Rico Abreu (-49) with his third straight victory.
Brian Brown (-79) and Buddy Kofoid (-81) are the top-five. Zeb Wise jumps from 10th to sixth, 95 points behind, after his 14th-to-seventh performance. Cory Eliason (-98), Tyler Courtney (-103), Aaron Reutzel (-106) and Brady Bacon (-108) make up the top-10.
Last Race: June 6 - High Limit Sprint Car Series at Eagle Raceway
Up Next: July 25 - High Limit Sprint Car Series at Grandview Speedway