2023 Tezos ASCoC Rayce Rudeen Foundation Race at Plymouth Dirt Track
Rico Abreu Earns Big All Star Sprints Win At Plymouth Dirt Track
Rico Abreu Earns Big All Star Sprints Win At Plymouth Dirt Track
Rico Abreu went wire-to-wire to win Saturday's Rayce Rudeen Foundation Race for the Tezos All Star Circuit of Champions at Plymouth Dirt Track.
Jun 4, 2023
by Brandon Paul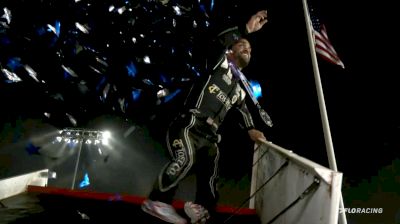 PLYMOUTH, Wis. -- It was a special evening in the Badger State for Rico Abreu and Rico Abreu/Curb Agajanian Racing, not only being presented with the Rayce Rudeen Foundation Award for Abreu's contributions and dedication to sprint car racing and the Rayce Rudeen Foundation, but the St. Helena, California, native will leave Wisconsin as a Tezos All Star Circuit of Champions presented by Mobil 1 winner, securing the Rayce Rudeen Foundation Race title at the Plymouth Dirt Track in Plymouth, Wisconsin, on Saturday, June 3. The score, resulting in a $26,000 payday, was the 12th All Star victory of Abreu's career, simultaneously increasing his season's overall win total to five.
Relatively unchallenged despite a few conflicts with slower traffic, Abreu, driver of the ShopRico.com/Curb Records/The Wiser Agency No. 24 sprint car, led all 35 circuits of the annual blockbuster, officially becoming the fifth different winner of the prestigious event.
Surviving a late-race restart, and a late-race tango with "Big Daddy" Chris Windom and the "Concrete Kid" Anthony Maci, Myerstown, Pennsylvania's Brent Marks held on to finish second, followed by Windom, Macri, and two-time and defending All Star champion, Tyler Courtney.
Tezos All Star Circuit of Champions At Plymouth Highlights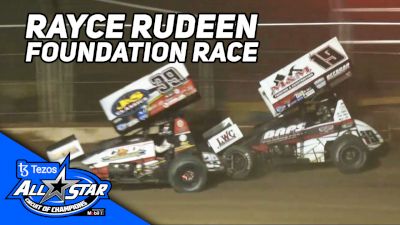 VIDEO: Watch highlights from the 2023 Rayce Rudeen Foundation Race.
Winning Quote From Rico Abreu
"Man, hats off to this team. Every decision they made paid off. We hit our marks all night long. The car was comfortable and I was confident. A big thanks to Kevin Rudeen and everyone from the Rayce Rudeen Foundation Race. They work so hard in putting an event like this together and I'm very proud to be a part of it.
Tezos All Star Circuit of Champions At Plymouth Results
1. 24R-Rico Abreu[1]
2. 19-Brent Marks[2]
3. 4-Chris Windom[5]
4. 39M-Anthony Macri[6]
5. 7BC-Tyler Courtney[4]
6. 69K-Lance Dewease[15]
7. 71-Michael Kofoid[11]
8. 25M-Lachlan McHugh[3]
9. 26-Zeb Wise[16]
10. 11-Cory Eliason[13]
11. 1-Brenham Crouch[10]
12. 55-Hunter Schuerenberg[12]
13. 45-Tim Shaffer[7]
14. 70-Scotty Thiel[17]
15. 17B-Bill Balog[9]
16. 23-Russel Borland[19]
17. 97-JJ Hickle[18]
18. 49-Josh Schneiderman[8]
19. 9P-Parker Price Miller[14]
20. 25T-Travis Arenz[24]
21. 10W-Mike Reinke[23]
22. 15H-Sam Hafertepe Jr[22]
23. U2-Jack Vanderboom[20]
24. 65-Jordan Goldesberry[21]
25. 87A-Austin Hartmann[25
Tezos All Star Circuit of Champions Point Standings
A third-place finish on Saturday night helped Chris Windom trim four points off Tyler Courtney's lead in the championship standings. Courtney, the two-time defending champion, enters the all-important Ohio Sprint Speedweek with a 100-point advantage over Windom.
Last Race: June 2 - Tezos All Star Circuit of Champions at Dodge County Fairgrounds

Next Race: June 9 - Tezos ASCoC Ohio Speedweek at Attica Raceway Park