2023 High Limit Sprint Series at Tri-City Speedway
Kyle Larson Goes Back-To-Back With High Limit Sprint Car Series At Tri-City
Kyle Larson Goes Back-To-Back With High Limit Sprint Car Series At Tri-City
Kyle Larson banked $31,023 via the DURST Dice Roll in Wednesday's High Limit Sprint Car Series win at Tri-City Speedway.
Jun 1, 2023
by Kyle McFadden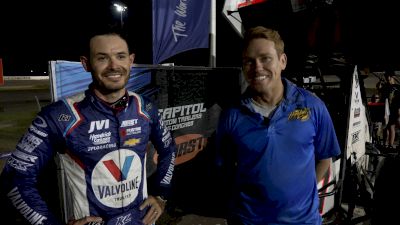 Kyle Larson of Elk Grove, Calif., overtook Rico Abreu with eight laps left of Wednesday's 35-lap feature at Tri-City Speedway in Granite City, Ill., to win his second straight High Limit Sprint Car Series event.
The eighth-starting Larson banked $31,023 with the victory via the DURST Dice Roll, capturing the $8,000 bonus after he elected to give up his front-row starting spot to start from the outside of the fourth row.
Larson's path to victory lane became easier when early leaders Parker Price-Miller (led the first lap) and Danny Dietrich (led laps 2-8) retired from the race prematurely because of separate incidents. Dietrich and second-running Brent Marks tangled in the lead battle gone awry exiting turn two on lap, which effectively ended both Pennsylvania drivers' nights.'
Price-Miller, meanwhile, rolled over when he overstepped the cushion in turns three and four running second on lap 22. Abreu, who led laps nine through 27, finished 1.655 seconds behind Larson. Cory Eliason, Anthony Macri and 10th-starting Sam Hafertepe Jr. rounded out the top-five.
Jake Swanson, driving Alex Bowman's No. 55 Sprint Car, was among drivers failing to qualify.
High Limit Sprint Car Series At Tri-City Speedway Highlights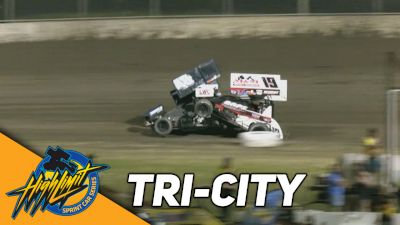 VIDEO: Watch highlights from the High Limit Sprint Car Series at Tri-City Speedway
Winning Quote From Kyle Larson

"It means a lot. Great crowd tonight. I told Brad before this race when we were picking tracks over the offseason, man, Tri-City was packed every night last year. It's great to see a great crowd. It was another fun night of racing."
High Limit Sprint Car Series At Tri-City Speedway Results
Kyle Larson
Rico Abreu
Cory Eliason
Anthony Macri
Sam Hafertepe Jr.
Zeb Wise
Austin McCarl
Lachlan McHugh
Brady Bacon
Brian Brown
Aaron Reutzel
Buddy Kofoid
Blake Hahn
Ryan Timms
Chase Randall
Justin Sanders
C.J. Leary
Joe B. Miller
Ricky Stenhouse Jr.
Conner Morrell
Parker Price-Miller
Danny Dietrich
Brent Marks
Tyler Courtney
Cole Macedo
High Limit Sprint Car Series Standings After Tri-City Speedway

Kyle Larson extends his lead to 37 points over Anthony Macri as Rico Abreu (-44), Brian Brown (-51) and Justin Sanders (-57) conclude the top-five. Tyler Courtney drops from third to sixth, 68 points behind, following Wednesday's 24th-place finish. Buddy Kofoid (-71), Cory Eliason (-76), Brent Marks (-77) and Zeb Wise (-79) round out the top-10.
Last Race: May 16 - High Limit Sprint Car Series at Wayne County Speedway

Up Next: June 6 - High Limit Sprint Car Series at Eagle Raceway