2023 Castrol FloRacing Night in America at Florence Speedway
Ricky Thornton Jr. Bests Bobby Pierce, Wins Castrol's $23,023 At Florence
Ricky Thornton Jr. Bests Bobby Pierce, Wins Castrol's $23,023 At Florence
Ricky Thornton Jr. got redemption during Castrol FloRacing Night in America at Florence Speedway just days after failing post-race tech at the Show-Me 100.
Jun 1, 2023
by Kyle McFadden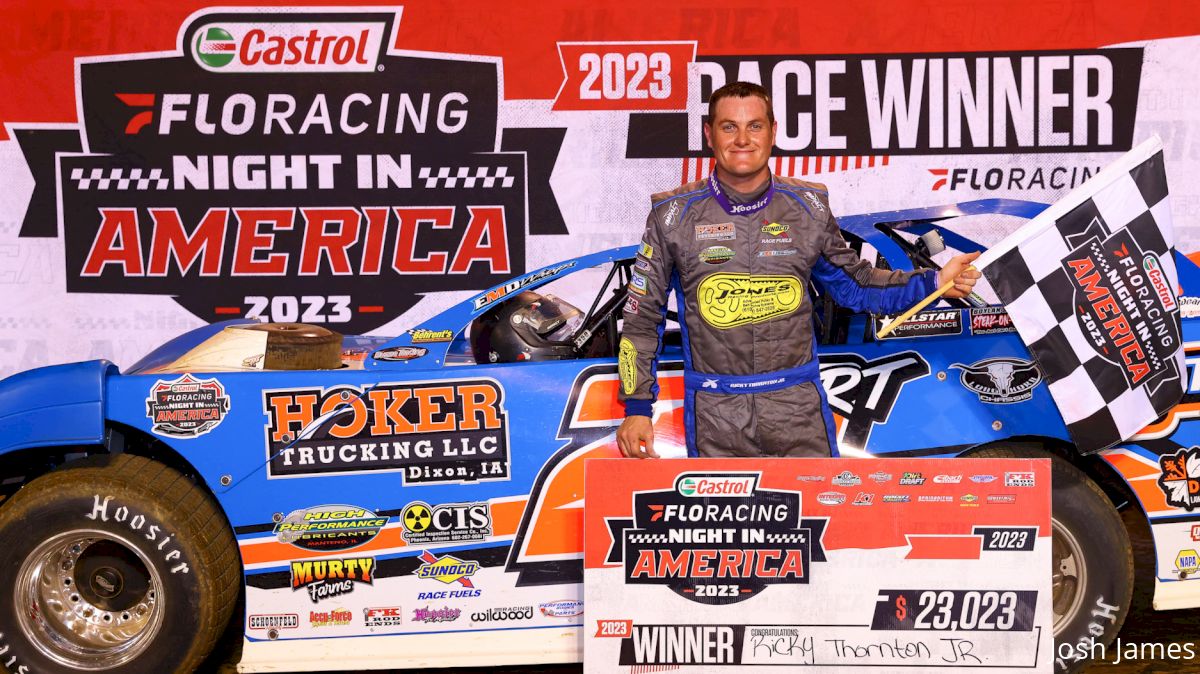 Ricky Thornton Jr. of Chandler, Ariz., overpowered race-long leader Bobby Pierce with seven laps to go to win Wednesday's Castrol FloRacing Night in America event at Florence Speedway in Union, Ky. Thornton topped Pierce by 1.538 seconds for the $23,023 payday.
Thornton is now tied for the most Castrol Series wins (three) in the tour's three-year history. Thornton's ninth overall victory of the season is also a sense of redemption, coming four days after he was stripped of Saturday's Show-Me 100 victory at Lucas Oil Speedway in Wheatland, Mo., for failing the so-called droop rule.
Pole-starting Bobby Pierce of Oakwood, Ill., led laps 1-43 before a miscue off turn two's cushion with seven laps to go proved detrimental. Jonathan Davenport, Tim McCreadie and 16th-starting Hudson O'Neal rounded out the top-five.
Florence Speedway ace Josh Rice (more than $80,000 in race winnings since 2021) finished 20th and dropped out of the race on lap 25.
Castrol FloRacing Night In America At Florence Speedway Highlights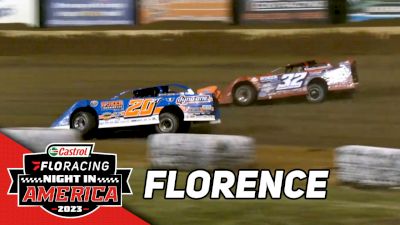 WATCH: Highlights from Wednesday's Castrol Series FloRacing Night in America feature at Florence Speedway.
Winning Quote From Ricky Thornton Jr.

"I feel like it's kind of redemption from last week. We're excited. I thought I was going to run third before all those yellows. They just helped me. The track kept getting trickier and tricker. I had a good shot at him. I threw a bomb. I kept throwing bombs at him. It just worked out for us. Just excited."
Wednesday's Castrol FloRacing Night in America Results At Florence Speedway

Ricky Thornton Jr.
Bobby Pierce
Jonathan Davenport
Tim McCreadie
Hudson O'Neal
Stormy Scott
Dennis Erb Jr.
Zack Dohm
Ricky Weiss
Tyler Erb
Brandon Sheppard
Garrett Alberson
Dustin Nobbe
Tim Lance
Daulton Wilson
Spencer Hughes
Mike Marlar
Adam Stricker
Devin Moran
Josh Rice
Kody Evans
Blake Creech
Darrell Lanigan
Castrol FloRacing Night in America Point Standings

Hudson O'Neal maintains a 24-point lead over Bobby Pierce as the Castrol Series with Tim McCreadie (-63), Jonathan Davenport (-63) and Ricky Thornton Jr. (-79) rounded out the top-five.
Brandon Sheppard (-81), Dennis Erb Jr. (-136), Mike Marlar (-147), Devin Moran (-192) and Tanner English (-204) make up the top-10.
Last Race: May 17 - Castrol FloRacing Night in America at Davenport Speedway

Next Race: Sept. 12 - Castrol FloRacing Night in America at Fairbury Speedway