2023 Show-Me 100 at Lucas Oil Speedway
Inside Devin Moran's Drama-Filled Show-Me 100 Victory
Inside Devin Moran's Drama-Filled Show-Me 100 Victory
Devin Moran ruffled some feathers on his way to Saturday's bizarre Show-Me 100 win where apparent victor Ricky Thornton Jr. failed postrace tech.
May 30, 2023
by Kyle McFadden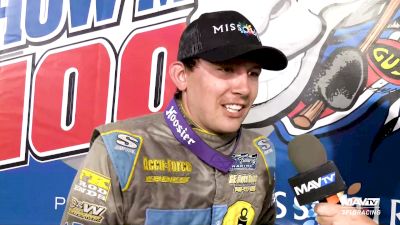 WHEATLAND, Mo. (May 28) — Devin Moran didn't know how to fully internalize the path to Saturday's stunning Show-Me 100 victory at Lucas Oil Speedway. The natural response for a driver winning their first crown jewel would be partying well into the night.
But Moran? Nothing about Saturday felt normal, nor worth partying over. He'll drink a few celebratory beers and reap the benefits of the $50,000 payday inherited from apparent winner Ricky Thornton Jr., whose deck-height violation in postrace tech handed Moran the victory. But the feeling for being declared the winner of the 31st annual event despite not leading a single lap, much less barely contend until the final laps of 100-lap feature?
"It's a numb feeling … a weird feeling," said Moran, who only ran second for a total of four laps. "Yeah, it's weird. I don't know. It's a weird deal. The droop rule causes random s--- to happen. I guess tonight was one of those nights.
"It's just a sucky way for someone to lose. I feel like Ricky's been the best car all weekend. (Jonathan Davenport) won both nights, and Ricky was right there both nights. He should be the one with the $50,000 check tonight. It's a sucky way for him to lose and for me to win. But, I mean, I guess we got to go by the rules they give us. Tonight, he had a parts failure that was out of his control on a rough racetrack. I don't know. It's a sucky deal at times."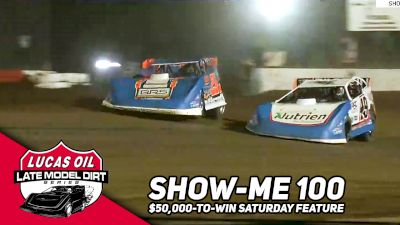 WATCH: Highlights from Saturday's Lucas Oil Late Model Dirt Series Show-Me 100 at Lucas Oil Speedway.
In terms of sheer chaos, Moran says Saturday goes down as "the top-three craziest" of races he's not only competed in, but witnessed. Atop Moran's list of unhinged races is the 2017 Dirt Million at the now-defunct Mansfield (Ohio) Motor Speedway when Earl Pearson Jr. overcame a wreck, flat tire, and three midrace pit stops for the richest win of his career at $202,940. A mechanical issue sidelined Moran seven laps into the 2017 Dirt Million, and he remembers watching the craziness of the race unfold as an onlooker.
Saturday wasn't just chaotic because of Thornton's astonishing denial of the Show-Me title. Thirteen cautions made the century grind even longer as 17 of the 31 starters failed to go the distance. In fact, the feature lasted so long — an hour and 20 minutes— Davenport ran out of fuel with two laps to go.
"The track was wild," Moran said. "I didn't expect to be that rough and fast that long. I thought it'd slick up and we'd be moving around and everything. We didn't. And it was just awesome."
Whether apologetically or unapologetically enough, Moran contributed to the drama of Saturday's messy feature, specifically stirring trouble with Tim McCreadie and Brandon Overton on his way up the leaderboard.
The first incident came on the lap-49 restart when Moran resumed the race in fifth and pulled the trigger on an eyebrow-raising slide job that forced McCreadie to slam on the brakes to avoid a likely collision.
"I didn't see (Moran) near me for half the race, then all of sudden, here comes a flash (sliding across the track) on a restart," said McCreadie, who called Saturday's race "a glorified demo derby" that deserves better.
"He destroyed (Overton). He did it to a lot of guys. I can thank Devin. If it wasn't for him crashing (Overton), I'd probably have gone over the bank (and) lost 10 spots (on a mistake with five laps to go that was erased by Overton's caution). He destroyed that dude for second, and got me back to make some money. I mean, I'll get over it. But it's just ignorant.
"That's the new way of racing," McCreadie added. "A lot of it is a product of the track. Hey, man, he's cashing the check, so he's happy. I'm supposed to test with him (as a Longhorn Chassis client) this week. He can figure out testing on his own for a while."
Moran, who "thought I was pretty clear" of McCreadie, said the motive was to get back to the top of the racetrack on the restart more than anything.
"(McCreadie) was a little upset. I don't know," Moran said. "It's one of them deals, the way the track was tonight, my crew guys said you have to get to the top no matter what. If you don't get to the top, you're not going to win. That's what I did. I thought I hit a couple people, but after watching the video, I didn't. And we rocked and rolled with it."
Moran's ordeal with Overton was more conspicuous than his dustup with McCreadie, and it actually turned out being the race-winning maneuver. Initially it appeared that Moran collided with Overton, who shot off the cushion and went crashing into wall at the top of the frontstretch. But Moran's car never made contact with Overton, who got too high exiting turn four.
"I thought I hit him, but I watched the video and it looked like he caught that rut," Moran said. "And, man, it was so treacherous off of four. He caught that rut and it just jerked to the right. He stayed in the gas because he knew I was right there and smoked the wall. Obviously we were cutting it close and racing like heck. That was for second at that point. I about did it 10-15 times; I knocked the spoiler off a couple times, and it's just the way it was."
When asked if he felt wronged by the move, Overton replied: "No, it's probably more of my fault than it is his.
"He's just racing hard. That's how he drives, you what I mean? It just sucks because I don't hit anybody. I (freaking) don't run into anybody out here. I don't do anything stupid … I don't know. I'm the one over here with the whole ass knocked off of it. He didn't hit me. He put me in a situation where you lift or either stay in it and junk your s---."
In Moran's defense, Overton said he's not mad, and that the track's on-edge conditions more so dictated the messiness. A happy-go-lucky racer who sticks to the motto "Work Hard, Play Hard" that's emblazoned on the roof of his race car, Moran did what he had to do to execute.
"I was running hard," Moran said. "I'm telling you, like I said, with 15 to go, I was all but wide open. If I could hit (this groove) right, man, I could make hay. But if I hit it wrong, it was like, we're going to flip over. Luckily everything worked out in our favor."
Starting fifth, Moran didn't think a victory was far-fetched. On the other hand, he wasn't a favorite either as he looked subpar in two eighth-place finishes in the prelims on Thursday and Friday. It wasn't until he wrested fourth from McCreadie on lap 49 that he thought he had a real chance.
After that, "I started getting into this rhythm, like when I got into third or fourth," Moran said. "Oh, man, I could hit (turns) one and two perfect. Three and four I was laying my right-rear right into that berm and I could make hellacious time. It was awesome once we did that. I was catching Brandon and J.D., and I was like, holy s--- I can get to second.
"I couldn't see Ricky, but I was like, I'm making good laps; I know I am. And then the caution came out (with five laps to go). It was, like, I don't know. It's not the most satisfying win I've ever had, but we'll take it for sure."
The victory snaps a 31-race winless stretch for Moran, who has mostly struggled since he started the season and his tenure at Double Down Motorsports with back-to-back January victories at Volusia Speedway Park in Barberville, Fla. No matter the fashion of the victory, it serves as a pivotal reset for Moran and his team.
"Yes, 100 percent," said Moran, who also tied his largest payday in a single feature, matching last year's $50,000 third-place run in the Eldora Million.
Moran actually said a "reset" is what the team had in mind this week. After the Lucas Oil Late Model Dirt Series swing in Iowa, the Double Down team made the long tow to North Carolina to work with Longhorn Chassis engineers, namely Kevin Rumley, "to try and get our stuff better."
For Moran and company, it was, though oddly enough, mission accomplished.
"It was a hectic few days that's for sure," Moran added. "My guys have been working their asses off. We kind of reset this week. Hell yeah. We'll take it. It's still kind of surreal, you know? It's a sucky way to win, but at the end of the day, we'll take the money and this trophy back to Dresden, Ohio, and move onto next weekend."