2023 Tezos ASCoC Bob Weikert Memorial at Port Royal Speedway
Lance Dewease Wins Bob Weikert Memorial At Port Royal Speedway
Lance Dewease Wins Bob Weikert Memorial At Port Royal Speedway
Lance Dewease earned his 122nd feature win at Port Royal Speedway during Sunday's Bob Weikert Memorial for the Tezos All Star Circuit of Champion.
May 29, 2023
by Tyler Burnett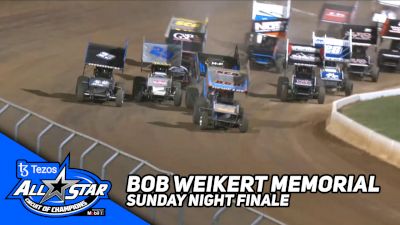 For the second time in three tries, Lance Dewease is a Tezos All Star Circuit of Champions presented by Mobil 1 feature winner, doing so in fantastic fashion with a $29,000 payday in the annual Bob Weikert Memorial at Port Royal Speedway in Port Royal, Pennsylvania. Dewease, who was victorious in Williams Grove's Doug Esh Tribute just two nights prior, led all 29 circuits in the Weikert main event, increasing his All Star win tally to 46-career, 15 at the Port Royal "Speed Palace." In addition, the National Sprint Car Hall of Famer bumped his Port Royal career total to 122, three of which occurring in Bob Weikert Memorial winning fashion.
Only one caution interrupted action on Sunday night, that taking place on lap 18. The momentum shift erased a near-five second lead for Lance Dewease, forced to eventually fend off the "Legend" Mike Wagner and Bob Weikert Memorial night one winner, Anthony Macri. Macri, who started ninth, would power to second immediately following the restart, but a clear path and clean air allowed Dewease to maintain control.
Winning Quote From Lance Dewease
"Well, I knew where Anthony [Macri] wanted to run, and I knew where Mike [Wagner] wanted to run. That was probably the most nervous I've ever been at the start of a race…just didn't know if I had enough for these guys, I wanted to make sure I didn't follow any lapped cars too closely. Luckily enough, we got here. To have Davey Brown with us here tonight is really special, For his age, he works really hard on this race car…everyone does. These guys really revitalized my career and we're going to ride this wave for as long as we can."
Tezos All Star Sprints At Port Royal Sunday Results
1. 69K-Lance Dewease[1]; 2. 39M-Anthony Macri[9]; 3. 55W-Mike Wagner[6]; 4. 29W-Danny Dietrich[4]; 5. 23-Devon Borden[2]; 6. 55-Hunter Schuerenberg[14]; 7. 26-Zeb Wise[7]; 8. 45H-Jeff Halligan[17]; 9. 7BC-Tyler Courtney[10]; 10. 15H-Sam Hafertepe Jr[11]; 11. 1-Logan Wagner[13]; 12. 6-Ryan Smith[12]; 13. 11-Cory Eliason[3]; 14. 19-Brent Marks[5]; 15. 12-Blane Heimbach[26]; 16. 33M-Gerard McIntyre Jr[25]; 17. 17B-Steve Buckwalter[16]; 18. 33W-Michael Walter[19]; 19. 47K-Kody Lehman[21]; 20. 91-Kyle Reinhardt[20]; 21. 97-JJ Hickle[18]; 22. 70-Scotty Thiel[15]; 23. 11T-TJ Stutts[23]; 24. 29-Sye Lynch[24]; 25. 5-Dylan Cisney[8]; 26. 51-Freddie Rahmer[22] LAP LEADERS: Lance Dewease (1-29)
2023 Tezos All Star Circuit of Champions Points Standings
Tyler Courtney stretched his lead in the driver point standings during this week's trip to the Northeast and now leads Chris Windom by 92 points. Hunter Schuerenberg, Tim Shaffer and JJ Hickle complete the top five.
LAST RACE: Tezos All Star Sprints at Port Royal Speedway - May 27
NEXT UP: Tezos All Star Sprints at Dodge County Fairgrounds June 2