2023 Show-Me 100 at Lucas Oil Speedway
Devin Moran Inherits Show-Me 100 Victory After Ricky Thornton Jr. Penalized
Devin Moran Inherits Show-Me 100 Victory After Ricky Thornton Jr. Penalized
Devin Moran was declared the winner of the Show-Me 100 after Ricky Thornton Jr. failed postrace deck-height requirements.
May 28, 2023
by FloRacing Staff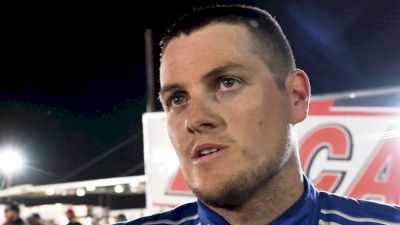 WHEATLAND, Mo. — Devin Moran of Dresden, Ohio, inherited a $50,000 victory at Saturday's Lucas Oil Show-Me 100 when apparent winner Ricky Thornton Jr. was tagged with a deck-height infraction after the Lucas Oil Late Model Dirt Series event at Lucas Oil Speedway. The victory becomes the richest of Moran's career.
Thornton, the series points leader, grabbed the lead on the 58th lap after a wild, mid-race duel with prelim-dominating Jonathan Davenport, built a big lead and held on amid late-race restarts. Davenport, who had led 142 feature laps between Thursday and Friday prelims along with the first half of Saturday's feature, ended up 11th after running out of fuel rounding the backstretch with two laps to go.
Thornton failed the so-called droop rule that governs deck heights on the Lucas Oil Series and other tours, resulting in a four-position penalty that put him fifth in the finishing order. The Martinsville, Ind., native said a parts failure caused his deck height to be off by 3/8-inch.
Thirteen cautions slowed the action, including a lap-99 caution for a sputtering Davenport when he ran out of fuel. That yellow came two laps after second-running Brandon Overton got too high exiting turn four and smacked the wall.
The first single-car yellows came between laps 20-22 for Chris Simpson, Boom Briggs and Larry Ferris. A lap-35 caution appeared for Ross Robinson pointing the wrong way in turn two. A lap-38 caution was for a multicar scramble including Robinson, Tyler Erb, Daulton Wilson and others. Chris Simpson slowed for a lap 42 yellow. Ferris and Robinson tangled exiting turn four on the 45th lap. Sixth-running Jimmy Owens slowed on lap 48. Jeff Herzog spun for a yellow at halfway. Hudson O'Neal came from 20th to eighth but retired on lap 67 because of an engine issue.
The 11th caution appeared on the 97th lap when MLRA points leader Chad Simpson pounded the backstretch wall after contact from Tyler Erb.
Saturday's Lucas Oil Late Model Dirt Series Highlights At Lucas Oil Speedway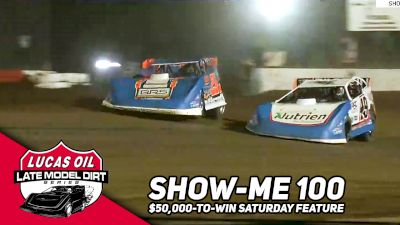 VIDEO: Watch highlights from Saturday's Lucas Oil Late Model Dirt Series at Lucas Oil Speedway.

Winning Quote From Devin Moran

"What the hell. I mean, I don't know. This is like the best-worst win of my life, you know? I just won the Show-Me 100 ... $50,000. But, like, Ricky (Thornton) was the best car in the field. And I drove like an idiot and wrecked (Brandon Overton), and I'm probably going to get a black eye when I walk back to the pits. Hell with it, we won the race I guess."
Saturday's Lucas Oil Late Model Dirt Series Results At Lucas Oil Speedway
Devin Moran
Tim McCreadie
Spencer Hughes
Chris Ferguson
Ricky Thornton Jr.
Dillon McCowan
Tyler Erb
Garrett Alberson
Daulton Wilson
Ricky Weiss
Jonathan Davenport
Max Blair
Jimmy Owens
Daniel Hilsabeck
Earl Pearson Jr.
Jeff Herzog
Brandon Overton
Chad Simpson
Tyler Bruening
Hudson O'Neal
Mason Zeigler
Chris Simpson
Kylan Garner
Trevor Gundaker
Ross Robinson
Larry Ferris
Boom Briggs
Dustin Hodges
Payton Looney
Justin Duty
Tyler Stevens
Lucas Oil Late Model Dirt Series Point Standings

Despite failing post-race technical inspection and dropping to fifth in the finish, Ricky Thornton Jr. extended his lead to 115 points in the championship standings.
The top 15 drivers in the standings following the Show-Me 100 earned bonus payouts and locked themselves into the battle for the 2023 championship.
1. Ricky Thornton Jr. (2,900); 2. Hudson O'Neal (2,785); 3. Brandon Overton (2,750); 4. Tim McCreadie (2,560); 5. Devin Moran (2,515); 6. Jonathan Davenport (2,435); 7. Daulton Wilson (2,355); 8. Max Blair (2,330); 9. Tyler Erb (2,325); 10. Earl Pearson Jr. (2,280); 11. Spencer Hughes (2,255); 12. Jimmy Owens (2,185); 13. Garrett Alberson (2,115); 14. Tyler Bruening (1,950); 15. Ross Robinson (1,860).
Last Race: May 26 - Lucas Oil Late Model Dirt Series at Lucas Oil Speedway
Next Race: June 2 - Lucas Oil Late Model Dirt Series at West Virginia Motor Speedway