2023 Tezos All Star Circuit of Champions at Williams Grove Speedway
Lance Dewease Tops All Star Sprints Friday At Williams Grove Speedway
Lance Dewease Tops All Star Sprints Friday At Williams Grove Speedway
Lance Dewease beat Anthony Macri and the Tezos All Star Circuit of Champions to claim the win Friday night at Williams Grove Speedway.
May 27, 2023
by Tyler Burnett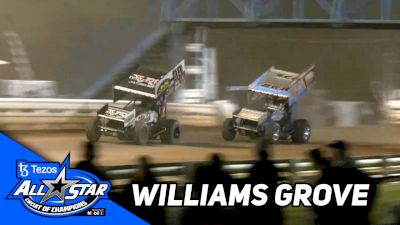 National Sprint Car Hall of Famer, Lance Dewease, padded the stat book yet again on Friday night at Williams Grove Speedway in Mechanicsburg, Pennsylvania, scoring the Doug Esh Tribute against the Tezos All Star Circuit of Champions presented by Mobil 1 for a $10,000 top prize. The victory, accomplished from the inside of row four, was secured on lap 19, driving by Dillsburg's Anthony Macri in a drag race to the flagstand.
The win bumps Dewease's All Star win count to 45 total, ten of which occurring at the famed Williams Grove Speedway. In addition, the triumph increased Dewease's Williams Grove career total to a whopping 113, simultaneously propelling car owner Don Kreitz Jr. to the all-time winning car owner position at the Mechanicsburg oval.
"Double-D" Danny Dietrich, who pressured Dewease late before a caution on lap 27 cleared slower traffic, charged his way from 11th to finish second in the All Stars' lone visit to Williams Grove this season, followed by Anthony Macri, Devon Borden, and Kyle Moody.
It was Lance Dewease at the end of the 30-lapper, but Chase Dietz led early, commanding the first ten circuits before losing control in turns three and four on lap 11. Dietz' spin allowed Anthony Macri to inherit the top spot. That, of course, all changed on lap 19.
Winning Quote From Lance Dewease
"Things are better, but I'm still not sure we have everything figured out yet. We caught some breaks here tonight that helped us out. Little Freddie [Rahmer] may have been the fastest car here tonight. Clean air was helpful. We were really struggling with the lapped cars racing down on the bottom. Not sure we were the fastest tonight, but we'll take it. This win goes to Davey Brown. He hasn't been feeling well so he couldn't make it here tonight, but I know he's at home watching it. This one's for him."
Tezos All Star Sprints At Williams Grove Friday Results
1. 69K-Lance Dewease[7]; 2. 48-Danny Dietrich[11]; 3. 39M-Anthony Macri[4]; 4. 23-Devon Borden[2]; 5. 99M-Kyle Moody[8]; 6. 44-Dylan Norris[5]; 7. 1W-Jim Siegel[12]; 8. 11-Cory Eliason[17]; 9. 26-Zeb Wise[18]; 10. 19-Brent Marks[22]; 11. 67-Justin Whittall[15]; 12. 45-Tim Shaffer[3]; 13. 1X-Chad Trout[13]; 14. 91-Kyle Reinhardt[21]; 15. 8-Freddie Rahmer[10]; 16. 11T-TJ Stutts[14]; 17. 15H-Sam Hafertepe Jr[9]; 18. 30-Lucas Wolfe[20]; 19. 4-Chris Windom[25]; 20. 55-Hunter Schuerenberg[23]; 21. 39T-Cameron Smith[19]; 22. 70-Scotty Thiel[24]; 23. 12-Billy Dietrich[16]; 24. (DNF) 7BC-Tyler Courtney[6]; 25. (DNF) 2D-Chase Dietz[1]; 26. (DNF) 28M-Conner Morrell[27]; 27. (DNF) 35-Austin Bishop[26] LAP LEADERS: Chase Dietz (1-10), Anthony Macri 11-18), Lance Dewease (19-30)
2023 Tezos All Star Circuit of Champions Points Standings
Chris Windom closed the gap on current points leader Tyler Courtney, but Sunshine still leads by 82 points. Tim Shaffer is third, Hunter Schuerenberg is fourth and Scotty Thiel is fifth.
LAST RACE: Tezos All Star Sprints at Bridgeport Motorsports Park - May 25
NEXT UP: Tezos All Star Sprints at Port Royal Speedway - May 27