2023 Show-Me 100 at Lucas Oil Speedway
Recent Show-Me 100 Winners Take Lumps On Opening Night
Recent Show-Me 100 Winners Take Lumps On Opening Night
The past three Show-Me 100 champions, Chris Ferguson, Payton Looney and Hudson O'Neal, all struggled in Thursday's Show-Me 100 opener at Lucas Oil Speedway.
May 26, 2023
by Kyle McFadden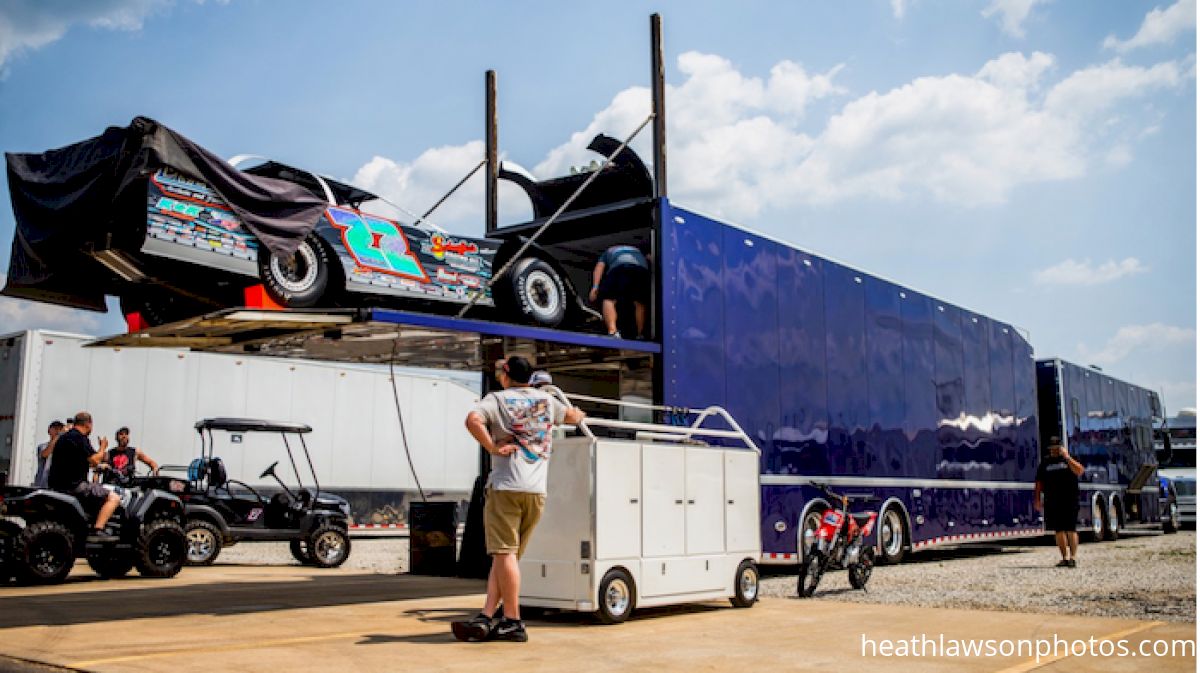 WHEATLAND, Mo. (May 25) — Thursday's Cowboy Classic wasn't particular kind toward the trio of previous Show-Me 100 winners Chris Ferguson, Hudson O'Neal and Payton Looney.
Mount Holly, N.C.'s Ferguson and Republic, Mo.'s Looney failed to make the 45-lap, $6,000-to-win Lucas Oil Late Model Dirt Series feature while Martinsville, Ind.'s O'Neal slogged to a 21st-place finish, finishing a lap down to winner Jonathan Davenport.
"Our sport, it's fun when you're on top. But it's not afraid to kick you down and let you know it can be over just like that," said Ferguson, whose Thursday's problems included brake issues in hot laps and time trials. "As I said, you want to go to work, but at the end of the day, you can unload the exact same thing tomorrow and be on the pole. We just have to ride it whether the waves are high or whether you're down low."
Though Ferguson and Looney (fuel pump and oil line issues) fought gremlins that contributed to keeping them out of the feature, O'Neal's performance was the most offbeat in the 59-car field. The 2021 Show-Me 100 winner needed a timely pass of Morgan Bagley with two laps remaining in the third consolation race to make the feature lineup (no provisional starting spots are available on Show-Me 100 preliminary nights). Then came the rare phenomenon of DirtonDirt.com's top-ranked driver being lapped.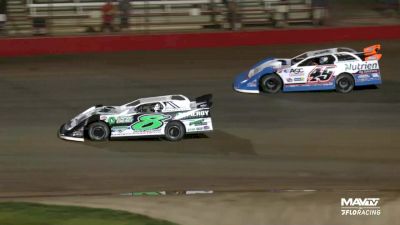 Unlock this video, live events, and more with a subscription!
Get Started
Already a subscriber? Log In
WATCH: Thursday's highlights of the Show-Me 100 weekend opener at Lucas Oil Speedway.
"It just shows these places change fast, and the night can be determined on a lot of different things, not just the race car," said O'Neal, the Rocket Chassis house car driver and Lucas Oil title contender. "I think that's where we were tonight.
"It stings. Whenever you're a good team, one bad night feels like 10," O'Neal added. "It definitely sucks. But like you said, we've had a good race car all year. We have to remember that. … Maybe some of these places will take something different. We'll try to make the right changes and see if we can get a little better."
While it'll likely be nothing to stress over, Thursday's the first stumbling block in O'Neal's journey with Rocket1 Racing since he began his rise to the nation's top-ranked driver in February. In his previous 24 starts, O'Neal won seven races and was on the podium 16 times. And his only two finishes outside the top-10 — 12th on April 18 at Ohio's Eldora Speedway and 16th on May 13 at Fairbury (Ill.) Speedway — were under extenuating circumstances. O'Neal cut a tire while leading at Eldora and miscalculated a pass for the lead at Fairbury that wrecked he and Dennis Erb Jr.
So what was O'Neal's downfall for the Cowboy Classic?
"A lot of things. First off, our race car wasn't where it needed to be," said O'Neal, whose Show-Me 100 victory came in his previous ride for Double Down Motorsports. "We drew bad (for time-trial order), which didn't help. We were the last car out. But you can name 100 different things. At the end of the day, our race car wasn't good enough. I don't know.
"This place is tricky, man. You come here one time, think you have a good grasp on it. You come here the next and you just struggle. This is the first time I've ever been here with these guys. Hopefully we can get it figured out. We have two more days. I have some of the best guys in the pit area. I know they'll do everything they can to get me rolling."
As for Ferguson and Looney, they'll have an uphill climb locking themselves into the top 18 guaranteed starters for Saturday's 100-lap, $50,000-to-win finale. Ferguson finished seventh in Thursday's third consolation while Looney had a myriad of issues and never even started his consy.
Looney simultaneously broke a fuel pump and oil line in hot laps, "a crazy sequence of events at the same time," he said. The issues kept him from qualifying.
"I've never had either one of those happen," Looney said. "In the way it did, it (shut off) the motor, which was fortunate the way it did because it didn't blow all the oil out of it. It saved a motor, but it sucks that both happened at the same exact time. If it would have been one of the issues, we would have made it for qualifying. And we're probably not in that situation to be wrecked like that (in the heat race)."
Looney raced to third from 10th in the first heat before an incident with Jeremy Shaw ended his night.
"I think I had a right (to not be happy)," Looney said. "I didn't do anything that I regret. Sometimes when stuff like that happens, you do a lot of stuff you probably shouldn't. I didn't do anything like that. I was definitely upset with him; getting fenced, threw the whole deck out of it. We tried making it for the B-main, but didn't quite didn't get it done."
Ferguson, on the other hand, is fine-tuning his Team Zero Race Car while his Longhorn Chassis — the same car he won March 5's $20,000 top prize at Cherokee Speedway in Gaffney, S.C. — is on the mend.
"We built this car in like two days … threw it together, went out to practice and didn't have brakes. Had spongy brakes in qualifying," said Ferguson, who qualified 23rd of 29 cars in Group B's time trials. "It was kind of the perfect storm that didn't really work out. We were behind the 8-ball all night. Didn't really move forward in the heat race."
Ferguson spun on the first lap of the B-main, then drove from 13th to finish seventh in the 10-lapper.
"In the B-main there, I drove in there too hot, spun out," Ferguson said. "Then I actually had speed coming from the back. Ran quicker times than (Chad Simpson) that won. It was a little frustrating because by the end of the night, we had our wheels under us. Just going to have to contend for a win tomorrow night. That's the only way we can get ourselves in contention to win here on Saturday."