2023 Tezos All Star Circuit of Champions At Bridgeport Motorsports Park
Tyler Courtney Starts All Star Sprints East Coast Swing With Bridgeport Win
Tyler Courtney Starts All Star Sprints East Coast Swing With Bridgeport Win
Tyler Courtney mastered Bridgeport Motorsports Park in New Jersey to win his second points race of the Tezos All Star Circuit of Champions season.
May 26, 2023
by Tyler Burnett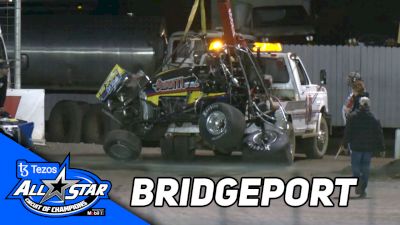 Tyler Courtney has officially mastered the Garden State, leading all 30 circuits at Bridgeport Motorsports Park in Swedesboro, New Jersey, to record the 20th Tezos All Star Circuit of Champions presented by Mobil 1 victory of his career, snagging a $10,000 payday in the process. Courtney, ace of the Clauson Marshall Racing/NOS Energy Drink No. 7BC, started from the outside-pole position and never looked back, holding off New Jersey's own Kyle Reinhardt and a tail-charging Anthony Macri at the final checkers. The win bumps Courtney's season tally to two during points competition, four total when including pre-season action in sunny central Florida.
Although flawless from the front row, Courtney still faced a series of challenges, some in the form of cautions and others in the form of lapped traffic. A red flag on the initial start forced a complete restart, quickly followed by a long stretch of green flag competition. Traffic entered the picture for the first time on lap 11, but Courtney was able to maintain control, always keeping a car or two between himself and the rest of the podium.
Cautions on laps 19 and 23 stacked the field once again, but despite the pair of momentum shifts, Courtney continued his course, never pressured from the rest of the field.
Winning Quote From Tyler Courtney
"Top fives are great for winning championships, but the ultimate goal is to win. My guys work too hard to not get to victory lane, I felt like we gave one away on Sunday at Weedsport. I still wasn't sure what to do tonight in turn four, so I just kept doing what I was doing and it ended up being the right thing to do.I didn't want any more yellows at the end because you never know what can happen, We got the car in victory lane tonight where it belongs. This place is awesome. They've really made this place into a top-notch facility."
Tezos All Star Sprints At Bridgeport Thursday Results
1. 7BC-Tyler Courtney[2]; 2. 91-Kyle Reinhardt[4]; 3. 39M-Anthony Macri[5]; 4. 55-Hunter Schuerenberg[3]; 5. 11-Cory Eliason[11]; 6. 26-Zeb Wise[6]; 7. 19-Brent Marks[7]; 8. 23B-Devon Borden[12]; 9. 67-Justin Whittall[17]; 10. 48-Danny Dietrich[13]; 11. 00K-Kyle Spence[19]; 12. 45-Tim Shaffer[16]; 13. 4-Chris Windom[15]; 14. 15H-Sam Hafertepe Jr[10]; 15. 70-Scotty Thiel[9]; 16. 28M-Conner Morrell[20]; 17. 4B-Jon Brennfleck[24]; 18. 51-Freddie Rahmer[1]; 19. 44-Dave Brown[22]; 20. 13-Justin Peck[8]; 21. 97-JJ Hickle[14]; 22. 5-Tyler Ross[18]; 23. 11A-Austin Bishop[21]; 24. 55M-Domenic Melair[23]; 25. (DNS) 29-Sye Lynch LAP LEADERS: Tyler Courtney (1-30)
2023 Tezos All Star Circuit of Champions Points Standings
After his Bridgeport win, Tyler Courtney stretched his points lead over Chris Windom to 102 points. Hunter Schuerenberg sits 110 points behind in third.
LAST RACE: Tezos All Star Sprints at Weedsport - May 21