2023 USAC Week of Indy at Circle City Raceway
Kyle Cummins Takes USAC Sprints Circle City Salute
Kyle Cummins Takes USAC Sprints Circle City Salute
Kyle Cummins cemented his status at the top of the USAC National Sprint Car point standings by winning Thursday night at Circle City Raceway.
May 26, 2023
by Tyler Burnett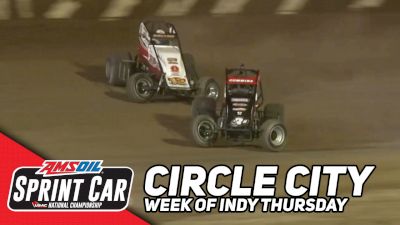 One night after assuming the USAC AMSOIL Sprint Car National Championship point lead for the first time in seven seasons, Kyle Cummins made sure to cement his status as the series' top dawg at the moment on Thursday night at Indianapolis, Indiana's Circle City Raceway.
The Princeton, Ind. native once again demonstrated the type of roll he's been on of late, taking over the race lead just five laps into the 40-lap contest before going on to capture his second $10,000 main event victory of the series season in his Rock Steady Racing/Avanti Windows & Doors – Tim Mason ReMax/Mach-1/Stanton Chevy.
To give you an indication of the success Cummins has accrued of late, consider this screenshot. It was his eighth top-five finish in nine USAC starts this season, and his third consecutive top-two finish in as many nights this week. In his last 22 USAC starts dating back to last year, Cummins owns 21 top-tens and 18 top-fives.
It's a highly envious start for anybody chasing the series' title, but for Cummins, it's a quest he remains unsure of pursuing due to his day-to-day duties as the owner of NewTech Precision Group, a machine shop in his hometown of Princeton, Ind. While the season long championship race isn't exactly top of mind in the Month of May, it does bring a curious scenario for Cummins to now face all thanks to his early season success that has put him at the top of the heap.
Winning Quote From Kyle Cummins
"We don't even know if we're running the whole series yet, We just came out to run some races, and so far, it's been going pretty good," Cummins understatedly explained. "It's a long season, and with my job, it makes it super stressful and super hard to be able to come out here and race. But to knock off two seconds and a first this week, it kind of makes me itch a little bit thinking about (running for the championship)."
USAC National Sprint Car Series At Circle City Raceway Results
1. Kyle Cummins (2), 2. Jake Swanson (3), 3. Brady Bacon (8), 4. Emerson Axsom (7), 5. Matt Westfall (9), 6. Daison Pursley (14), 7. Chase Stockon (18), 8. Thomas Meseraull (5), 9. C.J. Leary (17), 10. Mitchel Moles (15), 11. Logan Seavey (19), 12. Tye Mihocko (12), 13. Justin Grant (6), 14. Robert Ballou (1), 15. Rylan Gray (13), 16. Kevin Thomas Jr. (11), 17. Jadon Rogers (21), 18. Dave Darland (20), 19. Carson Garrett (4), 20. Charles Davis Jr. (10), 21. Jake Scott (16), 22. Sterling Cling (22). NT
USAC National Sprint Car Standings
With the win Kyle Cummins extends his points lead over Brady Bacon, CJ Leary, Jake Swanson and Justin Grant. Cummins has a 22-point gap on the four-time champ as the series heads to Knoxville Raceway.
Full USAC Sprints Points Standings
Last Race: USAC Sprint Cars At Circle City Raceway - May 24
Up Next: USAC Sprint Cars Cornbelt Clash At Knoxville Raceway - June 2