2023 Show-Me 100 at Lucas Oil Speedway
Jonathan Davenport Gets 'Back On A Roll' At Lucas Oil Speedway
Jonathan Davenport Gets 'Back On A Roll' At Lucas Oil Speedway
Jonathan Davenport returned to Lucas Oil Late Model Dirt Series victory lane for the first time since January 30 on Thursday at Lucas Oil Speedway.
May 26, 2023
by Kyle McFadden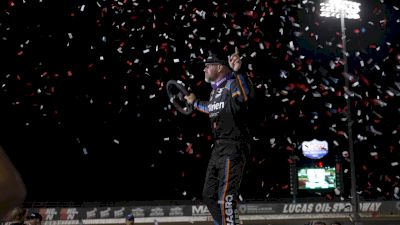 WHEATLAND, Mo. — Turning back Ricky Thornton Jr.'s late-race challenge, Jonathan Davenport of Blairsville, Ga., returned to his winning ways with a flag-to-flag victory in Thursday's nonstop 45-lap Cowboy Classic to kick off Show-Me 100 weekend at Lucas Oil Speedway.
The three-time Lucas Oil Late Model Dirt Series champion beat Thornton by 0.967 of a second for his second win on the national tour this season, the latest worth $6,000. Davenport's only other Lucas Oil Series victory of the year came at Florida's Bubba Raceway Park on Jan. 30. It's Davenport's 67th career Lucas Oil Series win and sixth overall win of 2023, but first since April 1 with the Lucas Oil Midwest Late Model Racing Association at Lucas Oil Speedway.
Despite starting 10th, Thornton had multiple chances to overtake Davenport in the final five laps but finished 0.967 of a second behind. Tyler Bruening, Tim McCreadie and Spencer Hughes rounded out the top-five. Pole-starting Dillon McCowan held on to finish in front of a hometown crowd. The 19-year-old McCowan lives 20 minutes from Lucas Oil Speedway in Urbana, Mo.
Former Show-Me 100 winners Chris Ferguson and Payton Looney were among those that failed to qualify for Thursday's feature.
Thursday's Lucas Oil Late Model Dirt Series Highlights At Lucas Oil Speedway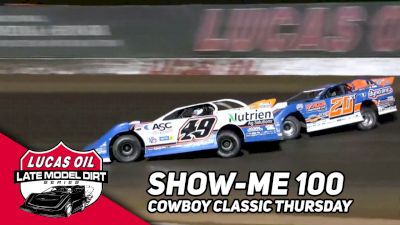 VIDEO: Watch highlights from Thursday's Lucas Oil Late Model Dirt Series at Lucas Oil Speedway.

Winning Quote From Jonathan Davenport

"Thanks to my guys. ... This is awesome. It's good to get back on a roll in front of them, maybe. We've been off a little bit. Actually, (Chris) Madden called me today and me and him and gave each other a little pep talk, I think. I saw he won the WoO race (at Ohio's Sharon Speedway). That was cool."
Thursday's Lucas Oil Late Model Dirt Series Results At Lucas Oil Speedway
Jonathan Davenport
Ricky Thornton Jr.
Tyler Bruening
Tim McCreadie
Spencer Hughes
Dillon McCowan
Chris Simpson
Devin Moran
Tyler Erb
Jimmy Owens
Garrett Alberson
Mason Zeigler
Ricky Weiss
Brandon Overton
Chad Simpson
Earl Pearson Jr.
Max Blair
Daulton Wilson
Tyler Stevens
Justin Duty
Hudson O'Neal
Daniel Hilsabeck
Larry Ferris
Tony Jackson Jr.
Lucas Oil Late Model Dirt Series Point Standings

Ricky Thornton Jr. leads Hudson O'Neal by 40 points atop the Lucas Oil Series standings, with Brandon Overton (-90) and Tim McCreadie (-365) holding down the all-important third and fourth positions.
Devin Moran (-430), Jonathan Davenport (-435), Daulton Wilson (-525), Max Blair (-535), Tyler Erb (-565), and Earl Pearson Jr. (-570) complete the top-10.
Last Race: May 20 - Lucas Oil Late Model Dirt Series at 34 Raceway

Next Race: May 26 - Lucas Oil Late Model Dirt Series at Lucas Oil Speedway