2023 USAC Week of Indy at Circle City Raceway
Jake Swanson Wins First Indiana USAC Feature At Circle City Raceway
Jake Swanson Wins First Indiana USAC Feature At Circle City Raceway
Jake Swanson has been searching for his first USAC Sprint Car win in Indiana and finally got it Wednesday night at Circle City Raceway.
May 25, 2023
by Tyler Burnett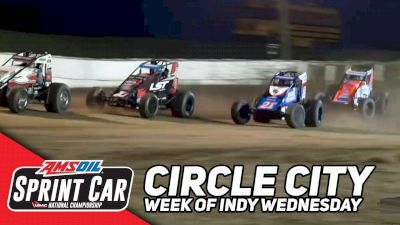 Back in late 2020/early 2021, California-born driver Jake Swanson and Team Arizona packed up their lives, their possessions and their racing equipment, then headed east to make Indiana their new home.
Since then, they've won USAC AMSOIL Sprint Car National Championship points-paying main events in both of their respective home states – in 2021 at California's Perris Auto Speedway and in 2022 at Arizona's Cocopah Speedway.
Yet they had never had the good fortune of winning a USAC feature in their newly adopted home state of Indiana.
On Wednesday, during the opening night of the Circle City Salute, Swanson and Team AZ Racing made Circle City Raceway during the Week of Indy feel like home sweet home.
Swanson, originally hailing from Anaheim, Calif., wheeled his Team AZ Racing/Apache Transport – Stratis Construction – USW Cat Construction/DRC/1-Way Chevy to the lead on lap 12 past Robert Ballou, then sped away to a convincing 2.114 second margin of victory at the quarter-mile dirt oval to earn his first USAC points race victory of the season.
Back in February, Swanson collected a non-points special event triumph down in Florida at Volusia Speedway Park. Additionally, he entered Wednesday's event as the most recent sprint car winner at Circle City, taking a local show held at the track in October of 2022.
No combo in the series has been as red hot lately as Swanson and Team AZ with Circle City being the pairing's third consecutive top-three result following a runner-up finish at Ohio's Eldora Speedway on May 6 and a third place result this past Tuesday at the Terre Haute (Ind.) Action Track.
Yet, as far as a victory lane celebration in USAC competition, this one has been a long time coming, and the general feeling among the group's brethren is that this is just the tip of the iceberg.
Winning Quote From Jake Swanson
"I'm so pumped for my guys on this race team, It's so cool that I've got all these guys from Arizona and we're able to figure out how to win here. We've had help from different guys here and there, but for the most part, it's Mike and Craig (Burkhart) and I week-in and week-out. We're going to make it on stubbornness, and we finally have. It feels really good to finally check that off the list, and now we can just keep racking them up."
USAC National Sprint Car Series At Circle City Raceway Results
1. Jake Swanson (4), 2. Kyle Cummins (3), 3. Brady Bacon (5), 4. Justin Grant (6), 5. Robert Ballou (1), 6. Mitchel Moles (8), 7. C.J. Leary (12), 8. Chase Stockon (10), 9. Daison Pursley (16), 10. Carson Garrett (7), 11. Emerson Axsom (17), 12. Rylan Gray (2), 13. Logan Seavey (9), 14. Charles Davis Jr. (14), 15. Scotty Weir (18), 16. Thomas Meseraull (19), 17. Jadon Rogers (15), 18. Matt Westfall (11), 19. Kevin Thomas Jr. (13), 20. Tye Mihocko (20), 21. Tyler Hewitt (22), 22. Ricky Lewis (21). NT
USAC National Sprint Car Standings
Jake Swanson climbed to fifth in the point standings following his win on Wednesday night. Kyle Cummins now hold a five-point advantage over C.J. Leary at the top of the standings, with Brady Bacon 16 points back and Justin Grant 21 points back.
Full USAC Sprints Points Standings
Last Race: USAC Sprint Cars At Terre Haute Action Track - May 23