2023 USAC Tony Hulman Classic at Terre Haute Action Track
Brady Bacon Gets His First USAC Tony Hulman Classic Rifle At Terre Haute
Brady Bacon Gets His First USAC Tony Hulman Classic Rifle At Terre Haute
Brady Bacon drove to his first career USAC Sprint Car Tony Hulman Classic victory Tuesday night at Terre Haute Action Track.
May 24, 2023
by Tyler Burnett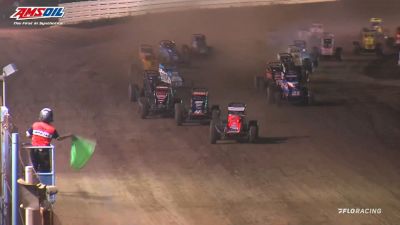 Of the scores of races Brady Bacon has won in his career, a victory in the Tony Hulman Classic had been one that had forever eluded him.
The Broken Arrow, Okla. native had accrued 13 starts in the event since 2006, including a pair of runner-up finishes in both 2013 and 2022, a span in which he claimed a total of four USAC AMSOIL Sprint Car National Championships.
When he crossed the finish line first and held the signature rifle in his hands in victory lane following Tuesday night's 53rd annual edition of the event at the Terre Haute (Ind.) Track, Bacon knew this one was special. He'd won twice before with the USAC National Sprint Cars at the famed half-mile in 2014 and 2018, but this win in this particular event stood just a little bit taller in the book of Bacon.
Winning Quote From Brady Bacon
"We've won here a couple times but none of those races are as big as this one. The Hulman Classic has such a long history with USAC and sprint car racing in general, and it's always tough to get wins on these historical tracks."
Hear From Brady Bacon in Tony Hulman Classic Terre Haute Victory Lane
USAC National Sprint Car Series At Terre Haute Results
1. Brady Bacon (1)
2. Kyle Cummins (2)
3. Jake Swanson (5)
4. Mitchel Moles (6)
5. C.J. Leary (13)
6. Max Adams (4)
7. Emerson Axsom (9)
8. Logan Seavey (12)
9. Daison Pursley (11)
10. Chase Stockon (14)
11. Matt Westfall (17)
12. Kevin Thomas Jr. (7)
13. Charles Davis Jr. (8)
14. Carson Garrett (16)
15. Travis Thompson (21)
16. Ivan Glotzbach (22)
17. Hunter Maddox (20)
18. Justin Grant (3)
19. Brandon Mattox (15)
20. Jadon Rogers (19)
21. Tim Creech (18)
22. Robert Ballou (10)
USAC National Sprint Car Standings
With a top five at Terre Haute, CJ Leary holds down the USAC National Sprint Car points lead with 480 points. Cummins second-place effort puts him second in points only 15 points back at 465. Emerson Axsom, Brady Bacon and Justin Grant complete the rest of the top five in the points standings.
Full USAC Sprints Points Standings
Last Race: USAC #LetsRaceTwo At Eldora Speedway May 5-6