2023 USAC Midgets at Sweet Springs Motorsports Complex
Jacob Denney Claims Second Career USAC Midget Win At Sweet Springs
Jacob Denney Claims Second Career USAC Midget Win At Sweet Springs
Jacob Denny drove to the win and the points lead with the USAC National Midget Series on Sunday night at Sweet Springs Motorsports Complex.
May 22, 2023
by Tyler Burnett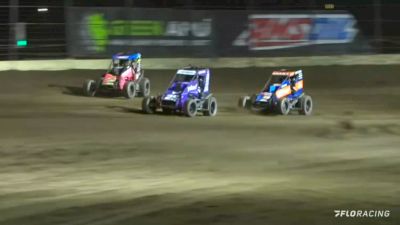 Graduation is a time for a new beginning, a time for rebirth, a time to celebrate the all-around growth attained through the process of receiving an education.
In a way, Jacob Denney's impending high school graduation parallels the transition from his freshman year of midget racing in 2022 to his sophomore season in 2023. It sparked a period of learning interspersed with milestone achievements along the road that have led him from being an upstart Rookie a year ago to a potential championship contender this year.
As he was in the process of winning Sunday night's USAC NOS Energy Drink Midget National Championship feature at Missouri's Sweet Springs Motorsports Complex, the Galloway, Ohio driver stood just five days away from graduation day at Shekinah Christian School in Plain City, Ohio.
His racing progression has displayed a constant upward trajectory from his days as a USAC .25 Midget champion to two-time USAC Midwest Thunder SpeeD2 Midget titlist and to becoming a first-time winner on the USAC National Midget trail.
Denney's victory in the John Hinck Championship is the latest such revelation from Denney, which elevated him to the top of the series points race, albeit just three events into the season, making him the first Ohio driver since Mike Streicher in 1991 to lead the USAC National Midget standings. For Streicher, the 1991 season concluded with a series title – a reality that Denney would also like to "graduate" toward by season's end.
To be in that sort of position and in the discussion amongst the elite, a driver must win, and when not winning, must be consistent. Through the first weekend of the season, Denney has put together runs of 8th, 4th and 1st, culminating in a 40-lap victory at the 1/6-mile dirt oval aboard his Tom Malloy/Trench Shoring – Rodela Specialty Fabrication/King/Ed Pink Toyota.
Denney's second career USAC driving victory on Sunday was the first series triumph for the Malloy team since capturing the Turkey Night Grand Prix at Ventura (Calif.) Raceway with driver Logan Seavey in November of 2021. It was a proud moment for both parties who competed on occasion in 2022 before embarking on a full tour in 2023.
Winning Quote From Jacob Denney
"I just didn't drive like myself on Friday night, (Crew chief) Jerome (Rodela) told me that it makes the car ride home much better if you win. I was giving her all she had and about turned it over a couple times, but that probably looked way cooler for the people sitting in the stands with those close calls there. Lapped traffic got really tough, but I just tried to hold my line and not do anything dumb, and it ended up working out. We got a couple cautions at great times when I was stuck in traffic. Everything just seemed to go our way tonight."
Hear From Jacob Denney in Sweet Springs Victory Lane
USAC National Midgets At Sweet Springs Results
1. Jacob Denney
2. Daison Pursley
3. Thomas Meseraull
4. Taylor Reimer
5. Bryant Wiedeman
6. Chase McDermand
7. Justin Grant
8. Kameron Key
9. Jade Avedisian
10. Gavin Miller
11. Jerry Coons Jr.
12. Logan Seavey
13. Brady Bacon
14. Cannon McIntosh
15. Ryan Timms
16. Jake Andreotti
17. Mitchel Moles
18. Mariah Ede
19. Chance Crum
20. Ava Gropp
21. Hayden Reinbold
22. Andrew Felker
23. Ethan Mitchell
USAC National Midget Point Standings
After three points races this weekend for the USAC National Midget Series, Jacob Denney has a seven-point lead over Daison Pursley. Jade Avedisian is nineteen points back in third, while Bryant Wiedeman and Thomas Meseraull sit fourth and fifth.
Full USAC National Midgets Points Standings
Last Race: May 20, 2023 - Belleville Short Track
Up Next: June 4, 2023 – Tri-State Speedway – Haubstadt, Indiana – 19th Annual Indiana Midget Week – 1/4-Mile Dirt Track