2023 Tezos All Star Circuit of Champions at Weedsport Speedway
Cory Eliason Back In All Star Sprints Victory Lane At Weedsport Speedway
Cory Eliason Back In All Star Sprints Victory Lane At Weedsport Speedway
Cory Eliason drove to the front and held off Zeb Wise to win his first Tezos All Star Circuit of Champions feature of the season at Weedsport Speedway.
May 22, 2023
by Tyler Burnett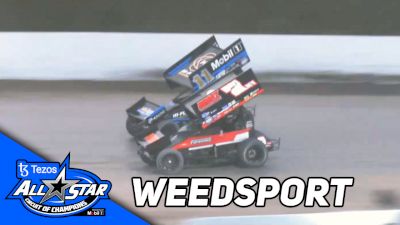 Visalia, California's Cory Eliason, the new gun for Crouch Motorsports, came out swinging on Sunday night at Weedsport Speedway in Weedsport, New York, securing his first Tezos All Star Circuit of Champions presented by Mobil 1 victory of the season and nailing down an $8,000 payday in the process. The victory came in just his fifth start with Crouch Motorsports, utilizing the highside to take command from race-long leader Matt Farnham on lap 26. A dramatic ending to his pursuit to Weedsport's Victory Hill, the only caution of the 30-lapper occurred on the final circuit forcing a one-lap dash to the finish; it was a smooth final lap for the Californian.
Eliason, now a nine-time Series winner, may have taken the final spotlight, but it was all Matt Farnham and Tyler Courtney earning the mid-race highlights, as Courtney, who battled into the runner-up spot on lap 14, commenced chase on Farnham immediately after. Courtney inched closer to Farnham with every circuit, but before he could pounce on the New York native, Eliason swooped in from the topside and grabbed second on lap 25, then the lead on lap 26.
Winning Quote From Cory Eliason
"I really thought it was going to take us a little bit longer to get our first win together. That just goes to show what this team is capable of, I've watched a lot of videos on this place and if you can get through one and two without getting up into the wall, it's going to work. I was probably more nervous than my crew during that one lap restart. I used up my brakes. Regardless, I'm very grateful for this. They give us the tools to be successful and I'm happy to be here."
Hear From Cory Eliason In Victory Lane
Tezos All Star Sprints At Weedsports Sunday Results
1. 11-Cory Eliason
2. 26-Zeb Wise
3. 7BC-Tyler Courtney
4. 70-Scotty Thiel
5. 7NY-Matt Farnham
6. 10-Paulie Colagiovanni
7. 99L-Larry Wight
8. 01-Danny Varin
9. 9P-Parker Price Miller
10. 97-JJ Hickle
11. 29-Sye Lynch
12. 28F-Davie Franek
13. 45-Tim Shaffer
14. 4-Chris Windom
15. 98-Joe Trenca
16. 66-Jordan Hutton
17. 5W-Lucas Wolfe
18. 5H-Chris Hile
19. 88C-Chad Miller
20. 28M-Conner Morrell
21. (DNF) 55-Hunter Schuerenberg
22. (DNF) 4P-Chase Moran
23. (DNF) 2-Dave Axton
24. (DNF) 11T-Cory Turner
2023 Tezos All Star Circuit of Champions Points Standings
Tyler Courtney continues to lead the points after two races in New York. He has a 41-point advantage on Parker Price-Miller. Chris Windom is third in points, 76 points behind Courtney.
LAST RACE: Tezos All Star Sprints at Outlaw Speedway - May 19
NEXT UP: Tezos All Star Sprints at Bridgeport Motorsports Park - May 25