2023 USAC Midgets Silver Crown at Belleville High Banks
Brady Bacon Wins Wild USAC Silver Crown Race On Bellleville Highbanks
Brady Bacon Wins Wild USAC Silver Crown Race On Bellleville Highbanks
Brady Bacon emerged victorious after a battle with Justin Grant to win his first USAC Silver Crown race since 2019 at Belleville Highbanks.
May 21, 2023
by Tyler Burnett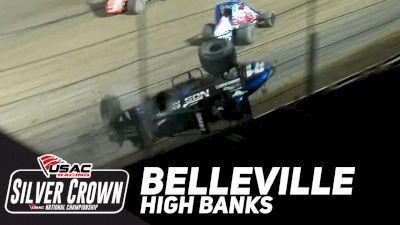 By definition, there's pretty much nothing on planet Earth more "macho" than winning a race at the Belleville (Kan.) High Banks.
It seemed fitting then that in the USAC Silver Crown National Championship's return to the fabled north central Kansas dirt track for the first time in eight years, it was the driver nicknamed The Macho Man who ultimately prevailed.
In a frenzied highwire showcase of skill, speed, machismo and bravery, Brady Bacon outlasted the competition on Saturday night at the half-mile dirt oval, earning his first career Belleville High Banks win at a track he first competed at as an upstart 16-year-old in 2006.
To accomplish the feat, he went toe-to-toe and locked horns with longtime rival Justin Grant as the two engaged in a most classic duel that shocked and awed the throng of fans that filled the century-plus old facility, which at once, saw Grant flipping into the front straightaway and Bacon getting airborne before landing on all fours en route to a monumental score.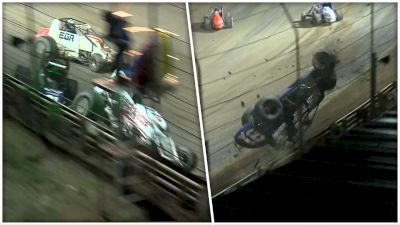 VIDEO: Justin Grant flips Silver Crown car at Belleveille while battling for win with Brady Bacon
Bacon led the final eight laps of the 50-lapper to score his third career USAC Silver Crown victory, all of which have come at some of the sport's most famed and illustrious half-mile dirt ovals: Pennsylvania's Williams Grove Speedway, Ohio's Eldora Speedway and now Kansas' Belleville High Banks.
Winning Quote From Brady Bacon
"That was the hardest I've ever driven a Silver Crown car. This place is really intense. I knew we were probably going to struggle in qualifying, which we did, I think we had a car capable of winning the pole, but we didn't come here to sit on the pole; we came here to win the race and here we are. We got it done thanks to a team for having an engine, working hard to change it and giving me the tools that I needed to win."
Hear From Brady Bacon in Belleville HighBanks Victory Lane
USAC Silver Crown Series At Belleville Highbanks Saturday Results
1. Brady Bacon
2. Kody Swanson
3. Chase Stockon
4. Shane Cottle
5. Logan Seavey
6. Shane Cockrum
7. Matt Westfall
8. Kaylee Bryson
9. Trey Burke
10. Taylor Ferns
11. C.J. Leary
12. Mitchel Moles
13. Travis Welpott
14. Gregg Cory
15. Bryan Gossel
16. Patrick Bruns
17. Justin Grant
18. Tyler Roahrig
19. Dave Berkheimer
20. Wayne Johnson
21. Mario Clouser
22. Kevin Thomas Jr.
23. Danny Long
24. Chris Fetter
USAC Silver Crown Point Standings
Kody Swanson set fast time and finished on the podium to begin the Silver Crown points season and has taken the lead by three points over Brady Bacon. Chase Stockon is in third in the standings, nine points back.
Full USAC Silver Crown Points Standings
Up Next: May 26, 2023 – Lucas Oil Indianapolis Raceway Park – Brownsburg, Indiana – .686-Mile Paved Oval – 66th Hoosier Hundred / Carb Night Classic Presented By Protective Insurance