2023 Lucas Oil Late Model Dirt Series at 34 Raceway
Ricky Thornton Jr. And Family Okay After Highway Wreck Following Win
Ricky Thornton Jr. And Family Okay After Highway Wreck Following Win
Ricky Thornton Jr. and his family are okay following a highway wreck after his Lucas Oil Late Model victory at 300 Raceway.
May 20, 2023
by Tim Truex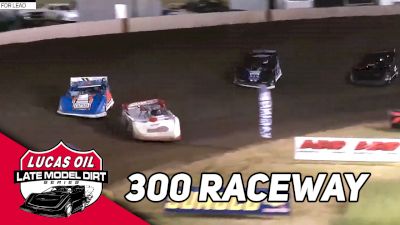 Ricky Thornton Jr. enjoyed a perfect Friday night at 300 Raceway in Farley, Iowa: overall fast time, heat win, $12,000 victory in the Lucas Oil Late Model Dirt Series-sanctioned You Call We Haul 50.
The only blemish for the 32-year-old native of Chandler, Ariz., who now lives in Martinsville, Ind., came shortly after he left the track — and it was definitely a buzzkill.
As Thornton was driving his motorhome toward 34 Raceway in West Burlington, Iowa, for Saturday's Lucas Oil Series event, about 20 minutes from the track his apparel trailer behind the camper slipped off the roadway as he was rounding a corner. The trailer broke off at the hitch and flipped, leaving it "junk," according to Thornton, and the merchandise inside it a mess.
Fortunately, Thornton's RV didn't go over with the trailer and thus wasn't damaged, while RTJ and his three young children — two sons and an infant daughter riding with him — weren't injured. His wife, Shae, was just ahead of the motorhome and trailer driving her car.
Thornton thanked "everyone that stopped" at the scene of the accident and added that "we are all safe and that's what matters most." His mangled trailer was towed away by fellow racer Jason Rauen, who is from Farley, Iowa.
The incident certainly wiped away some of the post-race glow from Thornton's superb outing at the 3/8-mile Farley oval, where he overtook Mason Zeigler of Chalk Hill, Pa., for the lead on lap 11 and maintained command for the remainder of the distance.
"We got to lapped traffic and it was hairy there for a little bit," Thornton said of the race, "but it worked out for me."
The triumph was Thornton's series-leading fourth in Lucas Oil action this season and his seventh overall of 2023, continuing his best campaign since the longtime open-wheel modified ace switched to regular Late Model competition in 2020 with the SSI Motorsports team.
"It's been a really incredible year for us," said Thornton, who moved into sole possession of second in the Lucas Oil points standings. "Hopefully we can keep it going."