2023 High Limit Sprint Series at Wayne County Speedway
Kyle Larson Finds Greater Satisfaction In High Limit Win At Wayne County
Kyle Larson Finds Greater Satisfaction In High Limit Win At Wayne County
Kyle Larson's first win on the High Limit Sprint Car Series at Wayne County Speedway wasn't the sweetest moment of the series promoter's night.
May 18, 2023
by Kyle McFadden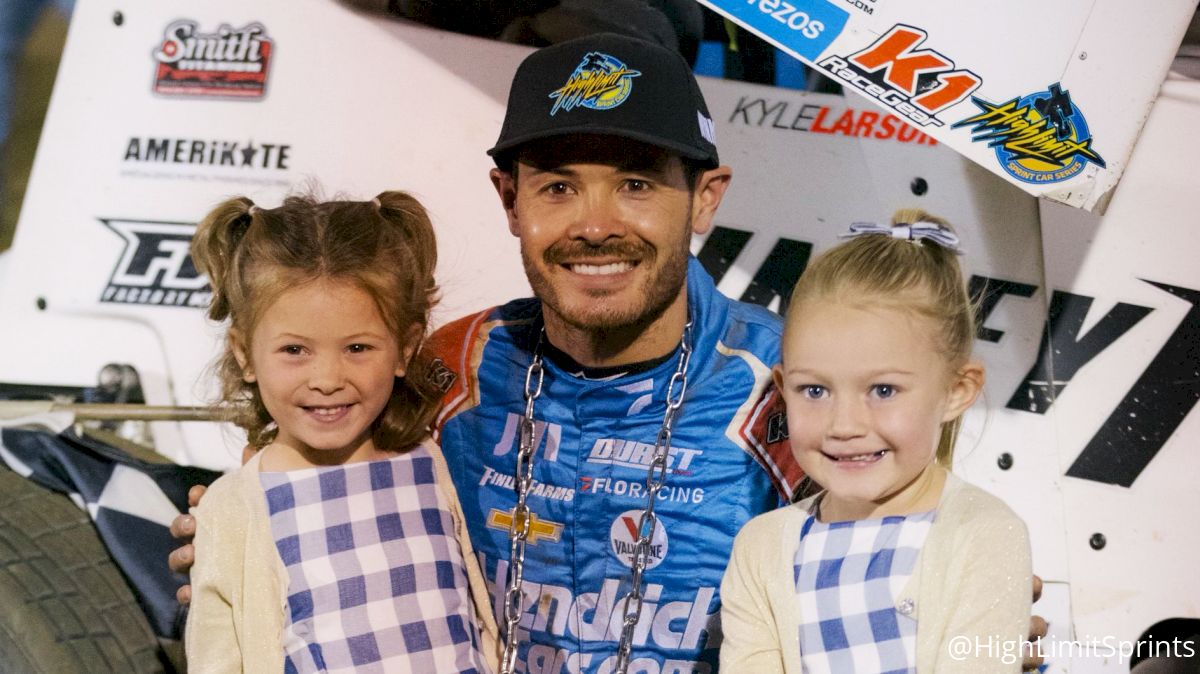 ORRVILLE, Ohio — Kyle Larson's first win on the High Limit Sprint Car Series in and of itself Tuesday at Wayne County Speedway wasn't the sweetest part of the former NASCAR Cup Series champion's night.
Not long into his victory lane interview, Larson deflected the moment away himself and onto his view of the packed frontstretch grandstands.
"It means a lot, I think, when we see the fans," said Larson, the $32,023 victor. "I think to see all these places that are packed, see the car counts, too. It's been since COVID, I feel like, since you've seen car counts in the 50s. I think the teams really appreciate what Brad and I are doing. It's more than just Brad and myself. (Josh Peterman) does a lot.
"Everybody at FloSports and FloRacing with what they do to support this series and put on a great show for you fans, and a great broadcast for the fans at home. I hope everybody enjoys it. We're trying our best to build it up."
Just like the trio of races before, the fourth race in High Limit history left its own mark beyond Larson's popular victory. The crowd pulsated with so much energy that Larson could actually hear chants of Sheldon Haudenschild's name during a red flag with eight laps to go.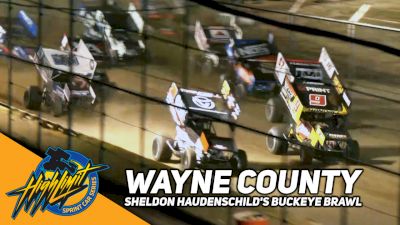 WATCH: High Limit Sprint Car Series feature highlights from Wayne County Speedway.
Haudenschild, the hometown favorite and event promoter of the race dubbed Sheldon Haudenschild's High Limit Buckeye Brawl, finished ninth.
"You guys had me nervous under the red. I could hear you guys chanting Sheldon's name," Larson said toward the crowd during his victory lane interview. I saw the board and got a little nervous there. Glad to just be patient there early on. … Thank you to all you fans, too, for coming out. This is an amazing crowd."
Wayne County's been nice to Larson through the years, too. He won his second-ever All Star Circuit of Champions feature at the track in June 2012, in addition to feature wins in '17, '18, '21 and now '23.
"I've got a decent amount of experience here, (Ohio) Speedweeks and stuff," Larson said. "I've been thankful to be leading a lot of them because, man, you need to be. Once you catch traffic, you're literally blind for at least a quarter of the track. I got nervous once I got to traffic and it's like, man, you still have to run hard against the wall and kind of feel where the cushion is because you can't see it."
While racetracks in Ohio often catch a bad rap for its widespread dustiness, Larson embraces the visual challenge.
"That's just Wayne County and I think that's also part of what makes it fun, unique," Larson said. "Why you see certain guys do well here because you honestly have to have big balls to run here and commit in traffic. Awesome track. They added some banking in three and four … I feel it's really helped this end to be against the fence."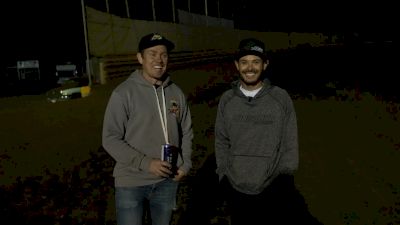 WATCH: High Limit Series cofounders Brad Sweet and Kyle Larson after the checkers at Wayne County Speedway.
Larson, who started third, didn't know how his car would react on the initial start, admitting he "was a bit nervous on the launch" because "I felt like I would spin (the tires) all the down the frontstretch."
But Larson, finding an advantage through turns one and two, quickly moved into second once the green flag dropped and pounced on early leader Chase Randall on lap eight.
"I could rip pretty good through one and two and get down the backstretch OK," Larson said. "Just a great car. We're always really good when we come to Wayne County. These types of tracks really suit the 57: elbows up type of places where you have to run the cushion."
Through three races this season, the High Limit Series has garnered car counts of 56, 51 and 54, in that order. Larson, along with his series cofounder and brother-in-law Brad Sweet, has all the reasons to believe High Limit progressing at a healthy rate.
"Brad, I don't know how he does what he does and wins Outlaw races every week because he's way more focused on the promoter's side of things than he is racing," Larson said. "That just shows where his heart's at … as a whole, it's growing this sport. I think it shows. When you have fields like this, crowds like this, and great racing, too. I think that's what makes the High Limit Series great.
"I felt like (Tuesday's) program went really well," Larson added. "We got a little bit slow when we had to run the water in for the C-main. But other than that, we were done at a decent hour, I feel like. Everything went smooth. Yes, we had some cautions and red flags in the main event, but that's just part of it. Yeah, I thought it was great. At least from my side of the racetrack, I think, there's some things that Brad mentioned to probably clean up. This is what, our fourth night? I think we're doing pretty well. I think the teams are all enjoying it and the crowd was awesome."