2023 Castrol FloRacing Night in America at Davenport Speedway
Dennis Erb Jr. Wins Castrol FloRacing Series $23,023 At Davenport Speedway
Dennis Erb Jr. Wins Castrol FloRacing Series $23,023 At Davenport Speedway
Dennis Erb Jr. drove Davenport Speedway's bottom to perfection for Wednesday's victory on Castrol FloRacing Night in America.
May 18, 2023
by Kyle McFadden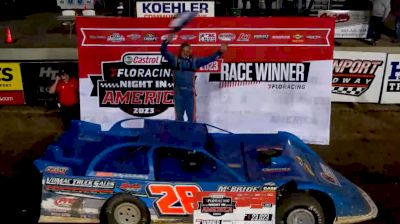 Smooth-riding the bottom of Davenport (Iowa) Speedway's quarter-mile oval, Dennis Erb Jr. of Carpentersville, Ill., paced 30 of 50 laps Wednesday to pick up the $23,023 top prize on Castrol FloRacing Night in America. Erb topped seventh-starting Hudson O'Neal by 1.145 seconds, as early leader Mason Zeigler (20 laps led) fell to eighth.
Dennis Erb Jr.'s third career Castrol Series win ties Bobby Pierce, Jonathan Davenport and Hudson O'Neal for most all-time through the tour's three-year history. Wednesday's win was also the third of Erb's 2023 season, adding to May 10's Castrol victory at Spoon River Speedway in Banner, Ill., and March 10's Tuckasaee Toilet Bowl Classic triumph at Clarksville (Tenn.) Speedway, worth $3,000.
Mike Marlar of Winfield, Tenn., set a track record in qualifying with his lap of 13.321 seconds and ran as high as second in the 50-lap main event before a lap-15 incident in the lead battle with Zeigler spiraled him down the leaderboard. Marlar finished 19th and was the lone caution of the evening.
Among those that failed to qualify: Boom Briggs, Daulton Wilson, Garrett Alberson, Ross Robinson, and Tyler Erb.
Castrol FloRacing Night In America At Davenport Speedway Highlights
VIDEO: Watch highlights from Castrol FloRacing Night in America at Davenport Speedway.
Winning Quote From Dennis Erb Jr.

"We're just back where we need to be right now. It's good to have these races close to home, a place that we run at a lot. Our car's just been working really good. We've had some good runs here; off a little bit a couple nights. All in all, I think our car is right back in shape."
Castrol FloRacing Night In America At Davenport Results
Dennis Erb Jr.
Hudson O'Neal
Bobby Pierce
Brandon Overton
Ricky Thornton Jr.
Kyle Bronson
Jonathan Davenport
Mason Zeigler
Brandon Sheppard
Ryan Gustin
Jimmy Owens
Chad Simpson
Chris Simpson
Tanner English
Tim McCreadie
Earl Pearson Jr.
Frank Heckenast Jr.
Cade Dillard
Mike Marlar
Max Blair
Spencer Hughes
Devin Moran
Castrol FloRacing Night In America Standings After Davenport Speedway

Wednesday's runner-up Hudson O'Neal widened his lead atop the standings to 33 points over Bobby Pierce, who overtook Tim McCreadie for second after the Oakwood, Ill., driver finished third.
Brandon Sheppard (-67), McCreadie (-70) and Jonathan Davenport (-73) round out the top-five. Dennis Erb Jr., meanwhile, moves into eighth, 130 points behind, with the victory.
Last Race: May 17 - Castrol FloRacing Night in America at Davenport Speedway
Next Race: May 31 - Castrol FloRacing Night in America at Florence Speedway