2023 High Limit Sprint Series at Wayne County Speedway
Kyle Larson Captures First High Limit Sprint Car Series Win At Wayne County
Kyle Larson Captures First High Limit Sprint Car Series Win At Wayne County
High Limit Sprint Car Series promoter Kyle Larson won his first race with the tour in front of Tuesday's packed Wayne County Speedway.
May 17, 2023
by Kyle McFadden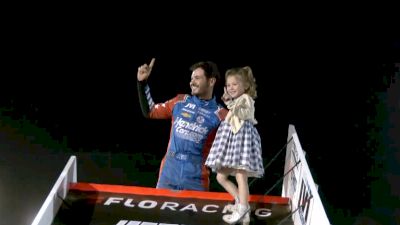 Kyle Larson of Elk Grove, Calif., led 28 of 35 laps to capture Sheldon Haudenschild's Buckeye Brawl on Tuesday with the High Limit Sprint Car Series at Wayne County Speedway in Orrville, Ohio.
It's Larson's first career win with the four-race-old High Limit Series, which cashed out a whopping $35,023 when including the $3,000 bounty for topping hometown favorite and race promoter Sheldon Haudenschild.
Justin Sanders of Aromas, Calif., finished 1.358 seconds behind Larson as Justin Peck of Monrovia, Ind., came from 12th to finish third. Brian Brown of Higginsville, Mo., earned hard-charger by starting 25th and finishing fourth.
Tyler Courtney, who entered Tuesday's third-round of High Limit's inaugural season tied with Larson atop the series standings, finished 22nd when he flipped out of the sixth position with eight laps to go. Haudenschild, who grew up 15 minutes down the road in Wooster, Ohio, started 10th and finished ninth.
High Limit Sprint Car Series At Wayne County Speedway Highlights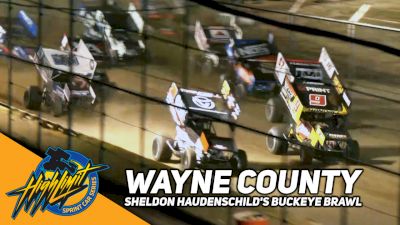 VIDEO: Watch highlights from High Limit Sprint Car Series at Wayne County Speedway.

Winning Quote From Kyle Larson

"It means a lot, I think, when we see the fans. I think to see all these places that are packed, see the car counts, too (59 on Tuesday). It's been since COVID, I feel like, since you've seen car counts in the 50s. ... Everybody at FloSports and FloRacing, what they do to support this series, and put on a great broadcast for you and the fans at home. I hope everybody enjoys it. We're trying our best to build (High Limit) up."
High Limit Sprint Car Series At Wayne County Results
Kyle Larson
Justin Sanders
Justin Peck
Brian Brown
Rico Abreu
Chris Windom
Aaron Reutzel
Brent Marks
Sheldon Haudenschild
James McFadden
Danny Dietrich
Brandon Spithaler
Brady Bacon
Cole Macedo
Anthony Macri
Buddy Kofoid
Parker Price-Miller
Sye Lynch
Ryan Timms
Chase Randall
Tyler Gunn
Tyler Courtney
Cory Eliason
Hunter Schuerenberg
Scotty Thiel
Blake Hahn
High Limit Sprint Car Series Standings After Wayne County Speedway

With Tuesday's win, Kyle Larson extends his lead to 27 points over Anthony Macri, who overtakes Tyler Courtney for second. Brian Brown (-30), Justin Sanders (-31) and Courtney (-33) round the top-five, while Rico Abreu (-39), Brent Marks (-43), Justin Peck (-46), Buddy Kofoid (-49) and Parker Price-Miller (-58) make up the top-10.
Last Race: May 16 - High Limit Sprint Car Series at Wayne County Speedway

Up Next: June 6 - High Limit Sprint Car Series at Eagle Raceway