2023 Castrol FloRacing Night in America at Marshalltown Speedway
Hudson O'Neal Dazzles Again, Wins Castrol Series $23,023 At Marshalltown
Hudson O'Neal Dazzles Again, Wins Castrol Series $23,023 At Marshalltown
Hudson O'Neal won his second straight Castrol FloRacing Night in America feature at Marshalltown (Iowa) Speedway on Tuesday.
May 17, 2023
by Kyle McFadden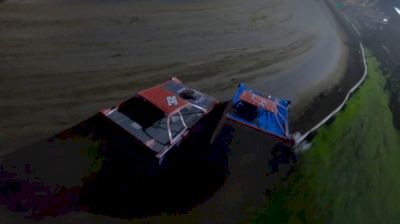 Hudson O'Neal and Rocket1 Racing have undeniably found the winning formula of late, especially when they show up at Marshalltown Speedway.
The Martinsville, Ind., driver who earlier Tuesday reigned another week atop DirtonDirt.com's Top 25 poll maintained the status quo at the entertaining Iowa oval, leading 48 of 50 laps for a second straight Castrol FloRacing Night in America triumph at the track. O'Neal kept Pierce 1.112 seconds behind for the $23,023 payday.
It's O'Neal's seventh overall win of the year and second straight on the FloRacing Series. O'Neal now has three career FloRacing Series wins, which ties Jonathan Davenport and Bobby Pierce for most all-time in the series three-year history.
Seventh-starting Brandon Overton of Evans, Ga., rounded out the podium in third. Third-starting Max Blair led laps two and three before fading to finish eighth.
Castrol FloRacing Night In America At Marshalltown Speedway Highlights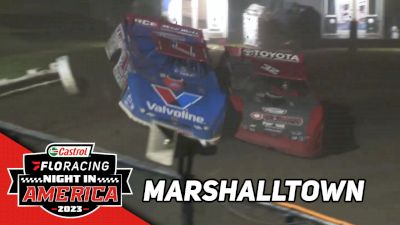 VIDEO: Watch highlights from Castrol FloRacing Night in America at Marshalltown Speedway.
Winning Quote From Hudson O'Neal
"This race car was awesome. We were able to get out front early there and really move around on the racetrack. I was pretty good on the bottom and it just widened out really wide, and you either had to be way up, or way down there. They said Bobby was coming. Yeah, it's awesome, man. Marshalltown has been good to me. Hopefully we can come back next year and have the same success."
Castrol FloRacing Night In America At Marshalltown Results
Hudson O'Neal
Bobby Pierce
Brandon Overton
Ricky Thornton Jr.
Tim McCreadie
Dennis Erb Jr.
Cade Dillard
Max Blair
Chris Simpson
Spencer Hughes
Brandon Sheppard
Devin Moran
Earl Pearson Jr.
Tanner English
Daulton Wilson
Chad Simpson
Jonathan Davenport
Tyler Bruening
Daniel Hilsabeck
Tyler Erb
Jimmy Owens
Mike Marlar
Castrol FloRacing Night In America Standings After Marshalltown Speedway

With Tuesday's win, Hudson O'Neal leapfrogs Mike Marlar atop the standings with 369 points.
Tim McCreadie trails O'Neal by 27 points, with Bobby Pierce (-30), Brandon Sheppard (-42) and Jonathan Davenport (-54) filing behind. Marlar fell from the leader to sixth in the standings, 60 points behind, after his 22nd- and last-place feature finish.
Last Race: May 16 - Castrol FloRacing Night in America at Marshalltown Speedway
Up Next: May 17 - Castrol FloRacing Night in America at Davenport Speedway