2023 USAC #LetsRaceTwo at Eldora Speedway
The Facts Machine: #LetsRaceTwo With USAC Sprints At Eldora Speedway
The Facts Machine: #LetsRaceTwo With USAC Sprints At Eldora Speedway
#LetsRaceTwo presents two nights of full programs, culminating in a pair of $10,000-to-win USAC National Sprint Car main events at Eldora Speedway.
May 2, 2023
by FloRacing Staff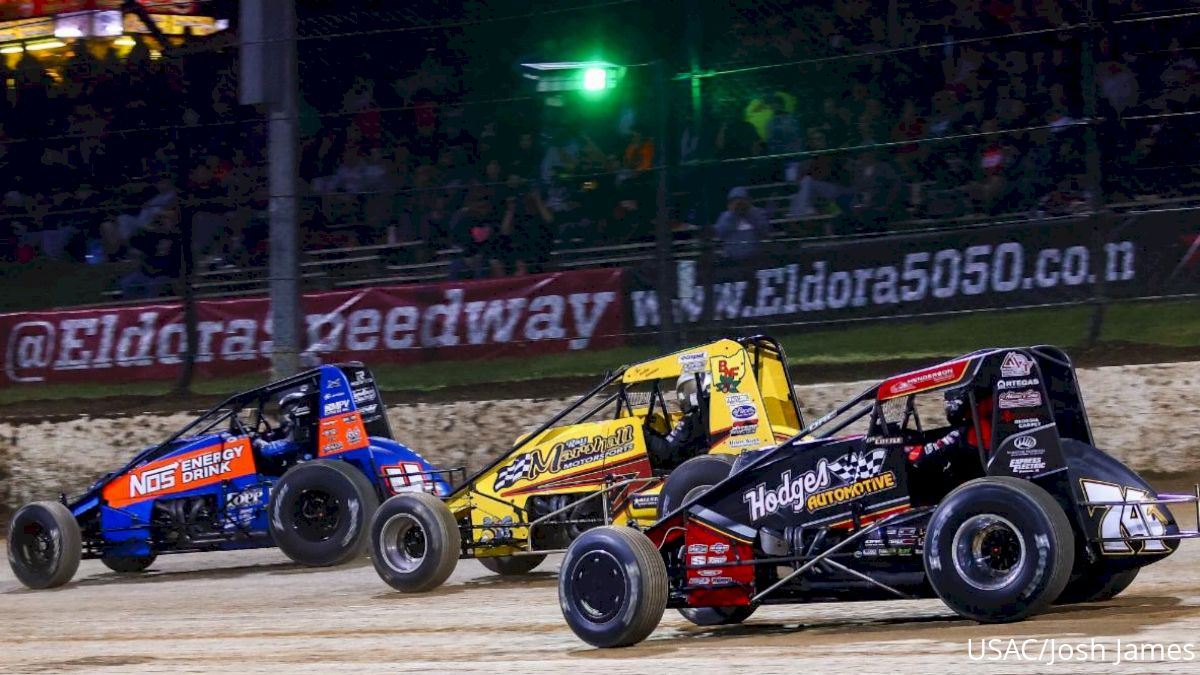 It almost seems as if it has been an eternity since we last saw the USAC AMSOIL Sprint Car National Championship in action.
After feeling the wrath of Mother Nature for four consecutive events last week, the sight of Rossburg, Ohio's Eldora Speedway on the horizon is more than a feeling; it's a sight for sore eyes; it's a sight to behold.
The mantra from yours truly for the weekend states that, "April showers bring May horsepower."
#LetsRaceTwo presents us all with two consecutive nights of full programs (Friday and Saturday), culminating in a pair of $10,000-to-win USAC National Sprint Car main events at the famed half-mile dirt oval, which has hosted more USAC National Sprint Car events than any other venue since 1962 with 204.
Saturday's event also will be the first race of the Bubby Jones Master of Going Faster, a 10-race miniseries presented by Spire Sport + Entertainment, which will reward the champion driver with a $10,000 prize and the title-winning crew chief with a $2,500 bonus.
Three Past #LetsRaceTwo Winners
The seventh edition of #LetsRaceTwo is a welcome sight for more than just the aforementioned.
This weekend will mark the first installment of the event since 2021. Last year's races were marred by the pesky spring weather.
No driver owns more #LetsRaceTwo USAC Sprint Car wins than Robert Ballou, who is one of three past #LetsRaceTwo USAC winners competing in this weekend's field, along with Justin Grant and Brady Bacon.
Ballou (Rocklin, California) boasts six USAC Sprint wins at Eldora dating back to 2007, tied for sixth all-time alongside Rollie Beale, Tom Bigelow, Tyler Courtney and Bubby Jones.
The latest of Ballou's six victories came in the most recent #LetsRaceTwo event, where he scored in an epic late-race duel.
He returned from devastating injuries to win #LetsRaceTwo in 2017 and even captured the inaugural running of the event during his championship season of 2015.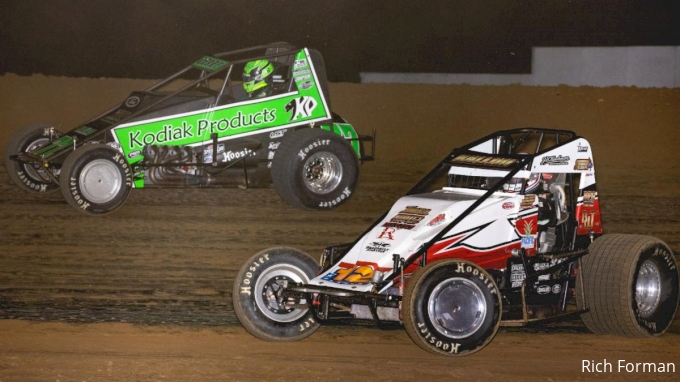 Ballou also holds the eight-lap track record for USAC Sprint Cars at Eldora with a time of 2:05.51, set on April 21, 2012.
Grant of Ione, California, is the current point leader and reigning USAC National Sprint Car champion. He's also the reigning winner on the series trail at Indiana's Tri-State Speedway in mid-April and the reigning USAC Sprint Car feature winner at Eldora, taking his fourth career Big E sprint triumph at the tail end of 2022.
His 30-lap run on the second night of #LetsRaceTwo in 2015 came as a track record at 8:26.25, which also came on a last-lap pass in traffic.
Grant scored again at #LetsRaceTwo in 2017 with another 30-lap feature victory and was the fastest qualifier in 2019.
The reigning champ is back on top. 📈@JustinGrant40 leads the USAC @AMSOILINC Sprint Car National Championship standings entering Friday's event at @EldoraSpeedway.

He's won 4⃣ times with the USAC Sprints at Eldora, including twice during #LetsRaceTwo in 2015 & 2017. pic.twitter.com/lK7IyL2syG

— USAC Racing (@USACNation) May 2, 2023
Bacon, a four-time USAC National Sprint Car champion from Broken Arrow, Oklahoma, won the #LetsRaceTwo opener in 2018.
He's won twice at Eldora in USAC Sprint Car competition in his career, also taking a 4-Crown matinee in 2014. He added a Silver Crown score in 2019.
Bacon has finished inside the top-6 in each of his past seven #LetsRaceTwo starts, including third in 2017, fourth in 2018 and a pair of thirds in both 2019 runs.
In the event, he also finished as the runner-up and fifth in 2016 and was the fastest qualifier on both nights in 2017 and in the 2021 opener.
Cracking The Code In The Month Of May
C.J. Leary (Greenfield, Indiana) has won both a USAC Sprint Car and Silver Crown feature at Eldora, in 2017 and 2018, respectively, but, as of yet, hasn't cracked victory lane at #LetsRaceTwo.
He's been close over the years in the event, finishing second four times, including 2015, 2016 and on both nights in 2019.
The 2019 USAC National Sprint Car king has been the fastest qualifier on three occasions in the event, in 2018 and twice in 2019, and also owns a third-place result in 2015 and a fourth in 2016.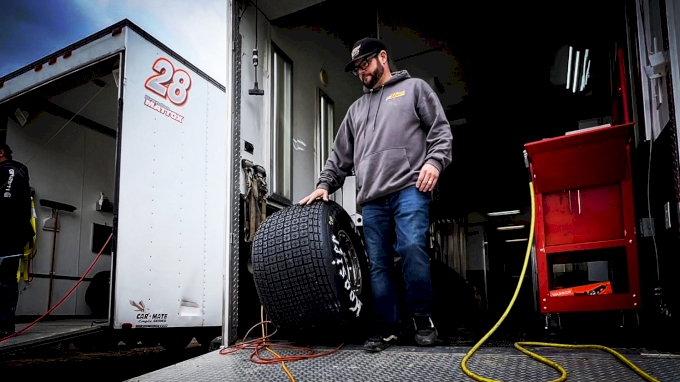 Matt Westfall's success at Eldora runs the gamut from open wheel cars to fendered machines.
The Pleasant Hill, Ohio, driver won his lone USAC National Sprint Car feature at Eldora in 2006. He backed that up with a pair of Eldora track championships in a modified in 2014 and in a late model in 2015.
His 2019 #LetsRaceTwo run resulted in his best finish in the event, a sixth. More recently, he garnered a ninth in the 2021 opener. He was eighth in 2018.
The 1998 NAMARS Midget titlist is also the holder of USAC's six-lap Sprint Car track record at Eldora, a 1:37.56 set on June 19, 2004.
Translating Eldora Success
Logan Seavey (Sutter, California) has been a stud in the past two USAC Silver Crown events at Eldora, winning in both 2021 and 2022.
Seavey's lone #LetsRaceTwo appearance thus far resulted in a 10th- place finish in 2021.
Also in 2021, he ran second at the 4-Crown Nationals with the USAC Sprint Car.
Seavey even possesses Eldora experience in a NASCAR Truck, leading a race-high 53 laps, before finishing eighth.
He'll be behind the wheel of the 2B Racing machine owned and operated by Scott Benic, who scored a USAC Sprint Car triumph at Eldora via an above-the-cushion ride by Levi Jones in 2005.
The first time Mitchel Moles ever raced at Eldora, he won the thing. That came in a USAC NOS Energy Drink Midget National Championship event in September 2022.
Moles (Raisin City, California) was impressive in his lone USAC Sprint Car appearance at Eldora that same weekend, charging from 10th to first to win his heat, then climbed to seventh in the feature.
Checking The Eldora Box
When a driver speaks about winning at Eldora, they say there's not really anything that can compare to it. It just hits differently.
Several USAC stars are keen on experiencing that feeling for themselves for the first time this weekend at #LetsRaceTwo.
Chase Stockon (Fort Branch, Indiana) has only finished outside the top 10 twice in 12 career #LetsRaceTwo starts, anchored by a personal-best third-place result in 2018 and fourth-place runs in 2017 and 2019, plus a sixth in 2017, seventh in 2018 and 2019, eighth in 2021, ninth in 2015 and 2016 and a 10th in 2015.
Stockon twice has been the fastest qualifier at #LetsRaceTwo, occurring on back-to-back nights in 2015, and he is the most recent USAC Sprint Car fast timer at Eldora, doing so in September 2022 during the 4-Crown.
Kevin Thomas Jr. (Cullman, Alabama) is another driver eager to experience that breakthrough moment to win his first USAC race at Eldora.
He's finished second twice in the Silver Crown series (2018 and 2019). His third-place result in 2017 is the best of his #LetsRaceTwo finishes.
KTJ was fifth in 2018, sixth in 2018 and 2019, seventh in 2021, eighth in 2019 and 10th in 2015. He's garnered fast time honors twice at #LetsRaceTwo in 2018 and 2021.
Emerson Axsom (Franklin, Indiana), the 2022 USAC National Sprint Car Rookie of the Year, made his first Eldora USAC Sprint Car voyage at Eldora in late 2022 with a 13th-place finish.
He'll pilot a car for Clauson Marshall Racing, which has won six of the past eight Eldora USAC Sprint Car events dating back to 2019, all with Courtney in the seat. Axsom's best Eldora run of them all so far came in a midget, finishing eighth in 2021.
Kody Swanson (Kingsburg, California) last made a USAC National Sprint Car start in 2019, but he's back in the seat aboard the Wedgewood Motorsports No. 98 for this weekend's Eldora contest.
The seven-time USAC Silver Crown champ returns to the site where he recorded his best career dirt USAC Sprint finish of second during the 2015 4-Crown.
Swanson also pegged a pair of top 10s during #LetsRaceTwo in 2016, finishing seventh and 10th.
Jadon Rogers (Worthington, Indiana) made his first career #LetsRaceTwo start a fine one in 2021 as he tallied a solid third-place finish under the sunlight.
4⃣✖️4⃣

In the first 4⃣ races, the 2023 USAC @AMSOILINC National Sprint season has already seen:

4⃣ different winners
-Bacon, Cummins, Leary & Grant

4⃣ different fast qualifiers
-McDougal, Stockon, KTJ & Grant

It's the first time both have occurred in the same year since 2012. pic.twitter.com/BlL5bQrlAO

— USAC Racing (@USACNation) April 24, 2023
Kyle Cummins (Princeton, Indiana), already a USAC Sprint winner in 2023, picked up ninth- and 10th-place #LetsRaceTwo results in 2018, which were his most recent appearances in the event.
Jake Swanson (Anaheim, California), a Florida special event winner this past winter, grabbed eighth at #LetsRaceTwo in 2021.
Dallas Hewitt (Troy, Ohio) nearly won his first career USAC Sprint Car race at Eldora's #LetsRaceTwo in 2017, finishing second. He also corralled a fourth in the 2016 event and a 10th in 2018.
Scotty Weir (Marion, Indiana) compiled a ninth at #LetsRaceTwo in 2017 and 10th in 2016.
Matt Goodnight (Winchester, Indiana) came home 15th in 2015.
Brandon Mattox (Terre Haute, Indiana) finished 17th in 2021, while Ryan Barr (Piqua, Ohio) took 22nd on this weekend in 2021.
#LetsRaceForTheFirstTime
Several first-time #LetsRaceTwo feature starting hopefuls are in this weekend's field, including leading USAC National Sprint Car Rookie of the Year contender Daison Pursley (Locust Grove, Oklahoma), a sixth- and seventh-place finisher with the USAC National Midgets at Eldora in 2021.
Reigning USAC East Coast Sprint Car champion Briggs Danner (Allentown, Pennsylvania) will make his first foray to Eldora's high banks this weekend in the Hogue Enterprises No. 39.
The young standout nearly won his first USAC National Sprint Car event in 2022, finishing second at Pennsylvania's Grandview Speedway.
Also making #LetsRaceTwo debuts are Carson Garrett (Littleton, Colorado), 2019 USAC CRA Sprint Car Rookie of the Year Eddie Tafoya Jr. (Chino Hills, California), Dalton Stevens (Scurry, Texas), Zack Pretorius (Yorktown, Indiana), Aric Gentry (Robards, Kentucky), Hunter Maddox (Bedford, Indiana), Evan Mosley (Lapel, Indiana), Tim Creech (Greenfield, Indiana), Keith Sheffer II (Jerome, Michigan) and Jack James (Harlan, Indiana).
Race Details
#LetsRaceTwo features two-straight nights of full racing programs (Friday and Saturday), featuring the USAC AMSOIL Sprint Car National Championship and the NOS Energy Drink World of Outlaws Sprint Cars.
On both days, ticket sales begin at the main gate, Turn 4 and pit gate at 1:30 p.m. Eastern.
The grandstands will open at 2 p.m. The drivers meeting will take place at 5:15 p.m. Cars will be on the track at 6 p.m., with qualifying and racing for both divisions immediately following.
Advance tickets are on sale now. Purchase them here.
For ages 14 and up, general admission tickets are $34, while reserved seats are $39. For ages 13 and under, general admission tickets are free, while reserved seats are $9.
Pit passes are $40 each night ($75 for a two-day pit pass).
The USAC AMSOIL National Sprint Car portion of the event from Eldora can be watched LIVE on FloRacing on both nights. Watch here.