USAC
35 Drivers Entered for Sunday's USAC Silver Crown Opener at Terre Haute
35 Drivers Entered for Sunday's USAC Silver Crown Opener at Terre Haute
Thirty-five USAC Silver Crown drivers are entered for the 20th Sumar Classic, scheduled for this Sunday at The Terre Haute (Indiana) Action Track.
Apr 13, 2023
by FloRacing Staff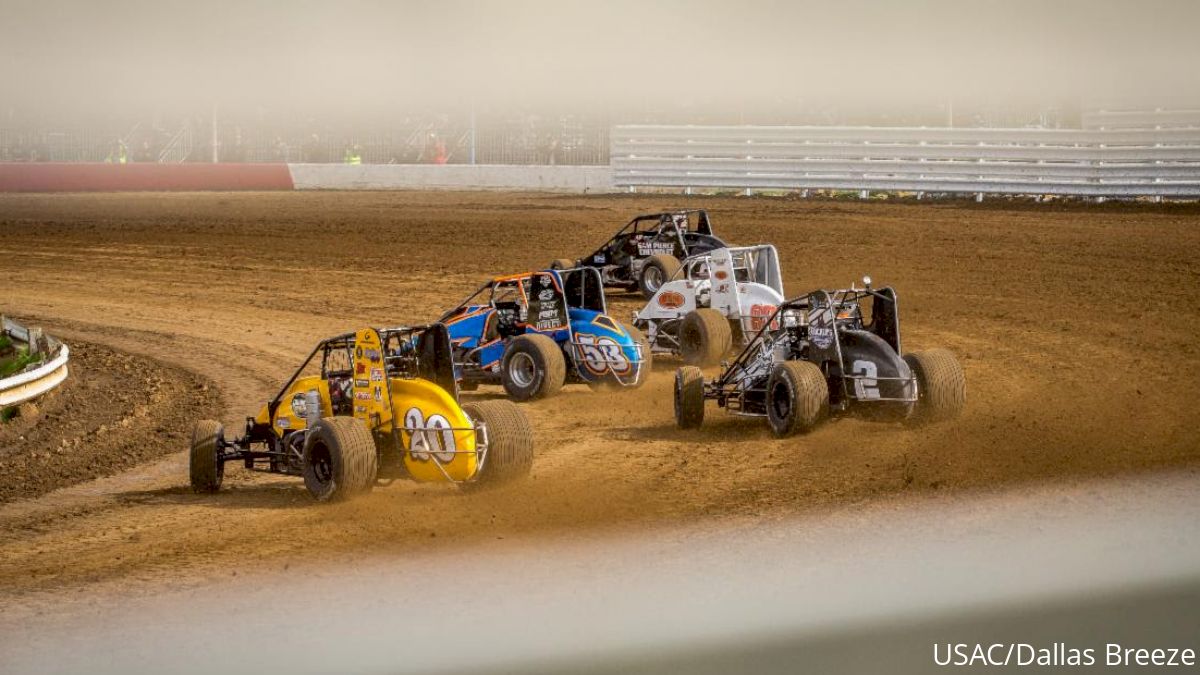 Thirty-five USAC Silver Crown drivers and cars are entered for the 20th running of the Sumar Classic, scheduled for this Sunday at The Terre Haute (Indiana) Action Track.
Of the 35 entries, four are previous Sumar Classic winners: Kody Swanson (2014), Shane Cockrum (2015), C.J. Leary (2016), plus two-time winner and defending champion Justin Grant (2018 & 2022).
Swanson, a seven-time titlist from Kingsburg, California, and Grant, the 2020 series king from Ione, California, are the two past Silver Crown champs in the Sumar Classic field, which also features nine Silver Crown race winners: Swanson, Grant, Cockrum, Leary, Brady Bacon (Broken Arrow, Oklahoma), Logan Seavey (Sutter, California), Russ Gamester (Peru, Indiana) and Shane Cottle (Kansas, Illinois).
They'll be joined by the likes of past Terre Haute USAC AMSOIL Sprint Car National Championship feature winners Kevin Thomas Jr. (Cullman, Alabama) and Chase Stockon (Fort Branch, Indiana), plus USAC National series feature victors Matt Westfall (Pleasant Hill, Ohio), Jake Swanson (Anaheim, California) and Davey Ray (Davenport, Iowa), all first-time Silver Crown win seekers.
Two women are entered to make their run at the Sumar Classic, Taylor Ferns (Shelby Township, Michigan) and rookie-of-the-year contender Kaylee Bryson (Muskogee, Oklahoma), both of whom own top-5 finishes with the series but are eying a first career win.
Bryson is one of 10 Silver Crown rookies in the field, along with 2022 USAC National Sprint Car Rookie of the Year Emerson Axsom (Franklin, Indiana), 2022 USAC National Midget Rookie of the Year Mitchel Moles (Raisin City, California), 2021-2022 Anderson Little 500 winner Tyler Roahrig (Plymouth, Indiana) and ASCS Sprint Car great Wayne Johnson (Oklahoma City).
USAC CRA Sprint Car standout Matt Mitchell (Yorba Linda, California) will make his first Silver Crown appearance in 16 years, but he still retains rookie status for 2023. He is joined by veteran and former Terre Haute USAC Sprint Car track record holder Dave Peperak (Clinton, Indiana).
Making their first Silver Crown appearances during the Sumar will be Trey Burke (Alvin, Texas), Ryan Thomas (Indianapolis) and John Tosti (High Ridge, Missouri).
The list of Silver Crown veterans in the lineup consists of Kyle Steffens (St. Charles, Missouri), Patrick Lawson (Edwardsville, Illinois), Chris Fetter (Troy, Missouri.), Austin Nemire (Sylvania, Ohio), Travis Welpott (Pendleton, Indiana), Dave Berkheimer (Mechanicsburg, Pennsylvania), 2022 Silver Crown Rookie of the Year Gregg Cory (Shelbyville, Indiana), Brian Ruhlman (Clarklake, Michigan), Mario Clouser (Auburn, Illinois), Korey Weyant (Springfield, Illinois) and Tom Paterson (Argos, Indiana).
Race Details
The 20th running of the Sumar Classic features the USAC Silver Crown National Championship along with the UMP Modifieds will take place Sunday at the Terre Haute Action Track 1/2-mile dirt track in Terre Haute, Indiana.
The pits will open at 1 p.m. Eastern, grandstands will open at 3 p.m. and the drivers' meeting will be at 4 p.m. Practice will begin at 5 p.m., followed immediately by qualifications and racing.
General admission tickets are $30 for ages 11 & up and free for kids age 10 & under. Infield tickets are $20 for ages 11 & up and free for kids age 10 & under.