2023 CARS Tour at Florence Motor Speedway
CARS Tour At Florence Motor Speedway: How To Watch And What To Expect
CARS Tour At Florence Motor Speedway: How To Watch And What To Expect
How to watch the 2023 CARS Tour Aaron's 125 at Florence Motor Speedway on Saturday, March 25.
Mar 23, 2023
by Brandon Paul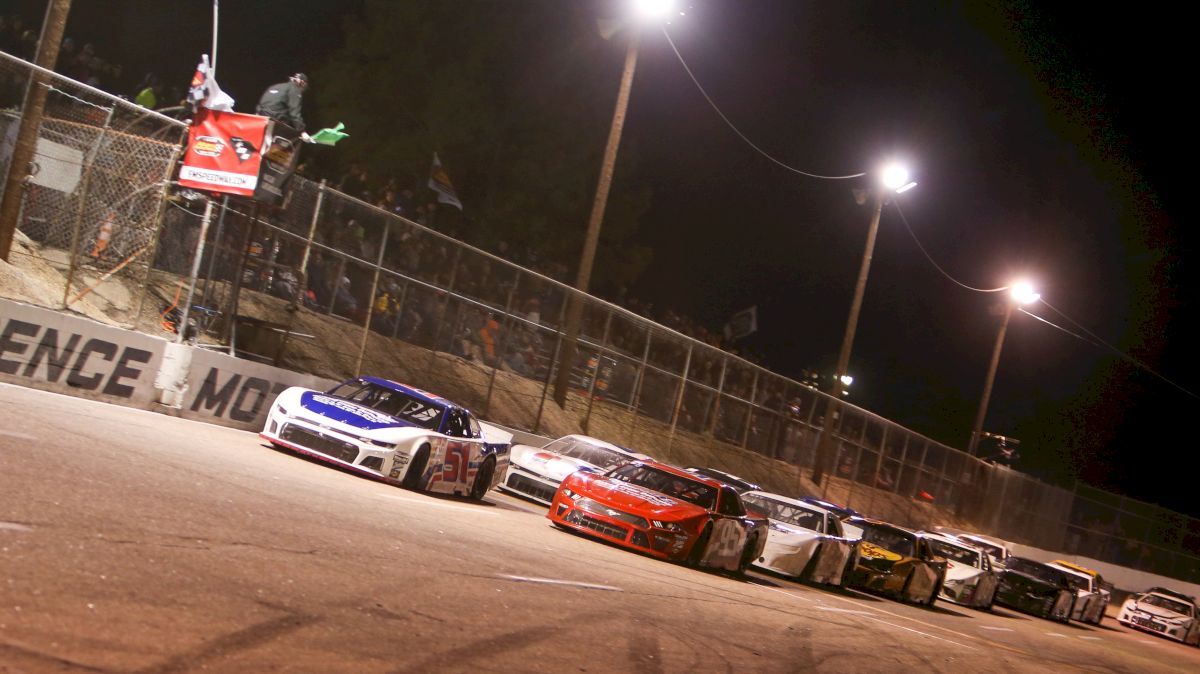 The 2023 CARS Tour continues on Saturday, March 25 at Florence Motor Speedway. The CARS Tour Aaron's 125 will feature a 125-lap race for CARS Tour Late Model Stock Cars.
Saturday's race will be the second of 16 races for the CARS Tour Late Model Stock Cars in 2023.
The Aaron's 125 will be the third CARS Tour Late Model Stock Car race held at Florence Motor Speedway. Nolan Pope (2020) and Kaden Honeycutt (2021) won the previous two CARS Tour races at the track.
What Is The CARS Tour?
The Championship Auto Racing Series (CARS) is a Late Model touring series that competes at race tracks in North Carolina, Virginia and South Carolina.
The CARS Tour is currently owned by prominent motorsports figures Dale Earnhardt, Jr., Kevin Harvick, Jeff Burton and Justin Marks. Jack McNelly, the previous owner and founder, currently oversees operations and events.
Throughout its history, the series has been known by a variety of names including the USARacing Hooters Pro Cup, CARS Pro Cup Series, Rev-Oil Pro Cup Series and CARS X1-R Pro Cup Series. In 2014, the series transitioned to a two-division series with Late Model Stock Cars and Super Late Models. The Super Late Model division was discontinued in 2021 and replaced with Pro Late Models for the 2022 season.
Where To Watch The CARS Tour Live
The full CARS Tour schedule will be streamed live on FloRacing in 2023. This includes 10 combination events, six standalone CARS Late Model Stock Car events and three CARS Pro Late Model only events.
FloRacing is accessible online, as well as through the FloSports app on streaming platforms such as Roku and Apple TV. The FloSports mobile app can also be downloaded on your phone and other handheld devices.
Join FloRacing today to access the very best in motorsports coverage, including live events, exclusive on-demand content and one-of-a-kind documentaries. If you're not a FloRacing subscriber, click here to sign up today.
What To Expect At Florence Motor Speedway
Florence Motor Speedway is known as a track that is very abrasive on tires. As a results, you can expect to see many different strategies from teams as they try to reach the finish line first after 125 laps around the 4/10-mile oval.
In addition to Kaden Honeycutt, the 2021 CARS Tour winner at the track, you can expect to see a number of drivers contending for the race win. Brenden Queen is the defending winner of the South Carolina 400 at the track, while Chad McCumbee knows his was around Florence and is a former winner of the track's Icebreaker race. CARS Tour regulars such as Carson Kvapil, Jared Fryar and Deac McCaskill, the winner of the season opener at Souther National, will also be drivers to keep an eye on.
CARS Tour Entry List For Florence Motor Speedway
| | |
| --- | --- |
| Car # | Driver |
| 03 | Brenden Queen |
| 08 | Deac McCaskill |
| 09 | Riley Gentry |
| 0 | Landon Pembelton |
| 1 | Andrew Grady |
| 2 | Brandon Pierce |
| 2w | Ryan Wilson |
| 4 | Dylon Wilson |
| 5 | Bryant Barnhill |
| 8 | Carson Kvapil |
| 8b | Chase Burrow |
| 8F | Tate Fogleman |
| 14 | Jared Fryar |
| 15 | Ryan Millington |
| 16 | Chad McCumbee |
| 20 | Joshua Dickens |
| 22 | Cale Gale |
| 24 | Mason Diaz |
| 32 | Zach Miracle |
| 42 | Carson Brown |
| 44 | Conner Jones |
| 55 | Isabella Robusto |
| 59 | Blake Lothian |
| 67 | Cameron Bolin |
| 77 | Connor Hall |
| 81 | Mini Tyrrell |
| 95 | Jacob Heafner |
| 97Z | Jason Kitzmiller |
CARS Tour 2023 Schedule
| | | |
| --- | --- | --- |
| Date | Track | Division |
| March 11 | Southern National Motorsports Park - Kenly, NC | LMSC/PLM |
| March 25 | Florence Motor Speedway - Florence, SC | LMSC |
| April 22 | Hickory Motor Speedway - Hickory, NC | LMSC/PLM |
| May 5 | Ace Speedway - Altamahaw, NC | LMSC/PLM |
| May 17 | North Wilkesboro Speedway - Wilkesboro, NC | LMSC/PLM |
| May 27 | Tri-County Motor Speedway - Granite Falls, NC | LMSC/PLM |
| June 3 | Langley Speedway - Hampton, VA | LMSC |
| June 10 | Dillon Motor Speedway - Dillon, SC | PLM |
| June 17 | Dominion Raceway - Thornburg, VA | LMSC |
| June 28 | Caraway Speedway - Sophia, NC | LMSC/PLM |
| July 8 | Wake County Speedway - Raleigh, NC | PLM |
| July 29 | Hickory Motor Speedway - Hickory, NC | LMSC/PLM |
| August 11 | Ace Speedway - Altamahaw, NC | LMSC |
| August 19 | Florence Motor Speedway - Florence, SC | PLM |
| August 26 | Wake County Speedway - Raleigh, NC | LMSC |
| September 9 | New River All American Speedway - Jacksonville, NC | LMSC |
| October 7 | South Boston Speedway - South Boston, VA | LMSC/PLM |
| October 21 | Tri-County Motor Speedway - Granite Falls, NC | LMSC/PLM |
| November 4 | Caraway Speedway - Sophia, NC | LMSC/PLM |