2023 Kyle Larson Late Model Challenge at Volunteer Speedway
Kyle Busch Enters Kyle Larson Late Model Challenge At Volunteer Speedway
Kyle Busch Enters Kyle Larson Late Model Challenge At Volunteer Speedway
NASCAR Cup Series driver Kyle Busch will compete in the Kyle Larson Late Model Challenge at Volunteer Speedway before Bristol Dirt on Thursday, April 6.
Mar 23, 2023
by Brandon Paul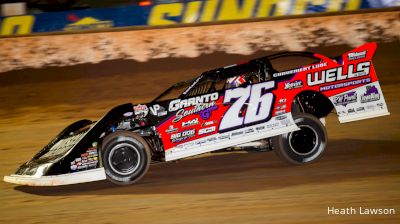 Kyle Busch isn't afraid to take on a challenge. The two-time NASCAR Cup Series champion will face a new challenge on Thursday, April 6 when he competes in the Kyle Larson Presents, FloRacing Late Model Challenge at Volunteer Speedway.
Busch will participate in the $20,000-to-win dirt late model race in Bulls Gap, Tennessee prior to making his way to Bristol Motor Speedway for the NASCAR Food City Dirt Race.
Busch will compete in the race alongside 2021 NASCAR Cup Series champion Kyle Larson and a stout field of the best dirt late model racers in America. "Rowdy" will drive a No. 76B dirt late model prepared by Brandon Overton and the Wells Motorsports team.
"It's definitely cool. You grow up watching all of these guys. I've never met him, so I'm excited for that," Overton said. "I've watched him pretty much my whole life. To say he's going to be driving one of my race cars… I think I'm going to be more nervous watching him than I am when I'm racing out there. We're looking forward to it. We're just going to try to give him a good hot rod."
While Busch doesn't have a lot of experience racing dirt late models, he's not a complete stranger to the division. Driving for Scott Bloomquist in 2012, Busch won the final running of the Prelude to the Dream at Eldora Speedway. Most recently, he competed in the Bristol Dirt Nationals at Bristol Motor Speedway in 2021.
Larson, the co-promoter of the race, established the race in 2022 with the goal of attracting some of NASCAR's biggest stars to dirt late model racing. Last year, William Byron competed in the race. This time around it will be Busch's chance to take on the best that dirt late model racing has to offer.
Jonathan Davenport, Brandon Overton, Brandon Sheppard and defending race winner Mike Marlar are just a few of the dirt late model stars who will be seeking the $20,000 winner's check.
Hot laps are scheduled to begin at 6:30 p.m. ET with racing action to follow. Tickets are currently on sale at the following link: https://tickets.flosports.tv/events/latemodelchallenge
Fans unable to attend the race will be able to watch live on FloRacing. If you're not already a FloRacing subscriber, click here to sign up today.