World of Outlaws Sprint Car Series
Sprint Car Notebook: Borden's Belief Shines At Lincoln As Schatz Struggles
Sprint Car Notebook: Borden's Belief Shines At Lincoln As Schatz Struggles
Among World of Outlaws headlines from Lincoln include Devon Borden's near-breakout win and Donny Schatz's ongoing mechanical woes.
Mar 22, 2023
by Kyle McFadden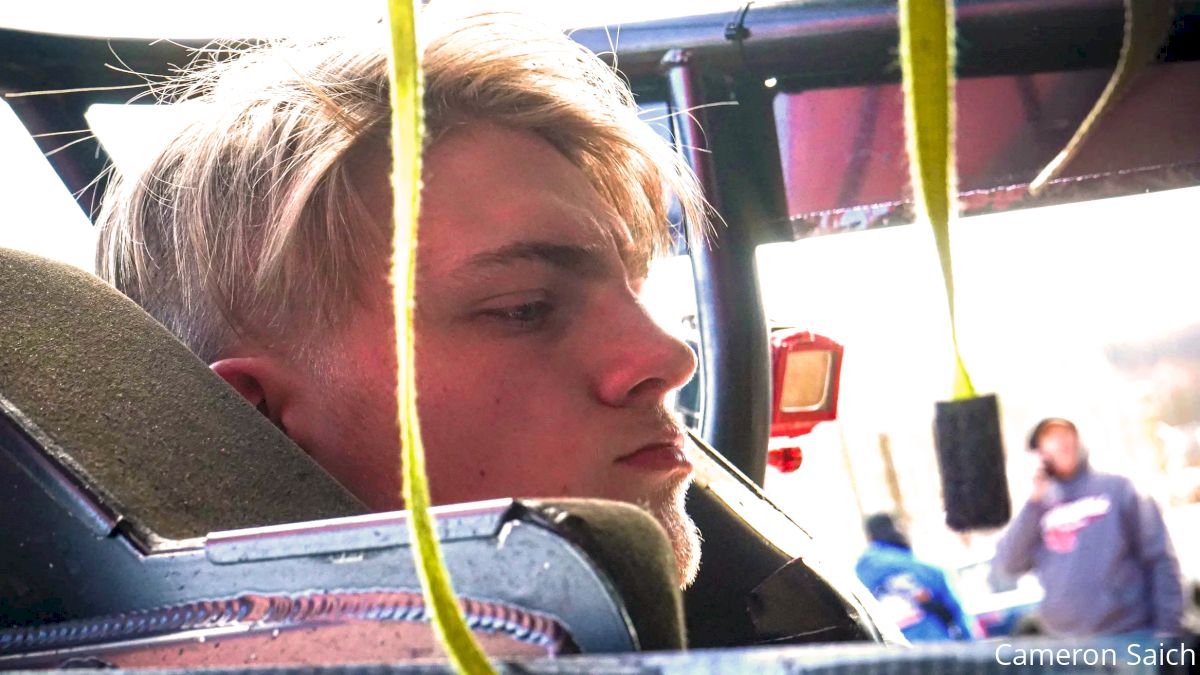 A lot has changed for Devon Borden in a two-year span. This time in 2021, the Raymond, Wash., native didn't know exactly where his fledgling Sprint Car talents were heading.
Then, an extended stay in Central Pennsylvania during Pennsylvania Speedweek that summer changed everything. And now, after two partial seasons aboard Mike Heffner's No. 27 machine made famous by the late Greg Hodnett, the 20-year-old transplant from what many Pennsylvania Posse fans consider enemy territory — the West Coast — is forming quite the name for himself in winged Sprint Car country.
On Saturday at Lincoln Speedway in Abbottstown, Pa., he added to his growing reputation by way of his first career podium with the World of Outlaws NOS Energy Drink Sprint Car Series. In his third-place run, he went pound-for-pound with Brad Sweet and even took the lead at one brief point before the four-time series champion turned away Borden's charge.
"It's pretty crazy. I never would have thought I would have been battling Brad Sweet for an Outlaw win this soon," Borden said. "It's just crazy how quick everything has happened. I really feel like we're getting going now, really getting into the swing of things. Think it really just shows we're meant to be out here, capable of being one of the absolute best.
Rightly so, Borden has lofty goals for himself and the Shuttlesworth-Stehman No. 23 team this year. Late last summer, Jimmy Shuttlesworth — the crew chief behind the rapid rise of Anthony Macri and his countrywide-leading 23-win season in 2022 — joined forces with existing Central PA-based car owner John Stehman, thus ending his four-year tenure with the Macri.
Shuttlesworth first and only driver he wanted had been Borden. As much as he appreciated Heffner's helping hand, Borden couldn't resist the offer.
"Honestly, I want to win 10 races this year. That's the goal I set," said Borden, whose three of four wins last year came with his new team. "I think it's very doable with this team. I'm just super blessed and thankful, as I said, to be in this deal. Really just going to try and make it happen for these guys. Taking a big chance on me and they've been behind me 110 percent. It's just super cool. I really have to make it happen this year."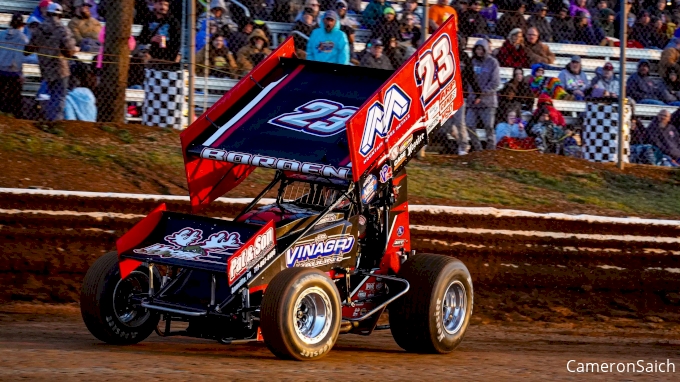 Devon Borden steers the Shuttlesworth-Stehman No. 23 down Lincoln Speedway's straightaway (Cameron Saich)
What Shuttlesworth offers Borden are the very same race cars — brandname-wise in engines, chassis, shocks, torsion bars, etc. — that Macri won in 43 times over a three-year span. Shuttlesworth's coach-like presence, the skill of managing emotions, is a priceless ability bound to further Borden's development, too.
"What we worked on all winter is believing in himself, being able to do this," Shuttlesworth said. "He was beat down pretty good at other racing deals that he was at. I think the kid is just learning and learning, and absorbing. We're just really working hard at getting him better, and teaching and believing in himself. It's no different than any other athlete. If you believe you can do things, you can do it. Honestly, he really believes he can do this now.
"It's teaching and learning. We all need to get together and make this happen. It doesn't happen with me. Everybody on this team works hard at trying to make this kid better and teaching. He's just getting way better. I see it every time we race. (Saturday) was really a good night for this kid. He drove really good and had a shot. That's all you can ask for. There was a point there where we could possibly win this thing.
"It's more about believing whether you're going to be terrible or successful with something," Shuttlesworth said. "If you believe you won't be successful at something, you won't be. I always believed that. You can see it even when I helped with Anthony (Macri), how he got better and better, because he believe he could do it. That's one thing we talked about — seeing yourself winning. We talk about that all the time: seeing yourself winning. The vision of just being part of it. If you think you're going to be terrible, you will."
Shuttlesworth's maxims helped bring out Borden's potential on Saturday, where on lap 16 he unseated the pace-setting Sweet even if it was only for a moment. Borden could live with the win falling by the wayside because he has a feeling those opportunities won't be few and far between.
"He's just as much a mentor as he is a crew chief. He's really helped me in that aspect of things as well," Borden said. "Really believing you can do it; getting your mindset in the right set. That's what a lot of this is about. He's definitely done a lot for me. He's taught me a lot. We just keep growing and getting better.
"I just feel like, I kind of got to the halfway point there and, I don't know, we started fading. We didn't have the drive and stick like we had in the beginning. That's really the only place I felt like we were lacking. We had a great car. We all just have to get better and improve, which I think you're definitely going to keep us doing."
Schatz's Ongoing Struggles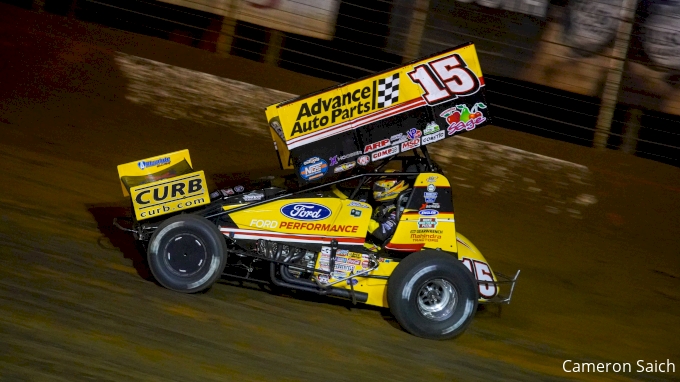 Donny Schatz finished 20th or worse for the third time in eight starts this 2023 season Saturday at Lincoln (Cameron Saich)
Statistically speaking, Donny Schatz is off to his worst start in a World of Outlaws season since 2001, his 11.7 average finish through a half-dozen races the highest in recent memory.
The sourness of this slow start was amplified Saturday at Lincoln where the 10-time series champion needed an uncharacteristic provisional only to finish 20th in the 35-lap feature, a night again encumbered by mechanical issues.
When asked how his offseason had been in an icebreaking interview question, Schatz responded succinctly and with sarcasm: "Offseason was great. I wish it was still the offseason actually. Maybe it'll be the permanent offseason soon for me, who knows."
Schatz isn't being serious, of course. It does reveal a bothersome reality though, that the early season mechanical woes which put him ninth in the series standings — 92 points behind David Gravel — haven't been fun to navigate.
According to Schatz, his Tony Stewart Racing team went through five motors in seven nights at Volusia Speedway Park in Barberville, Fla., counting 24th-place and runner-up finishes with the All Star Circuit of Champions.
"We're just having too many things go wrong," Schatz said. "Fuel pickup problems … the fuel pump came out at Volusia. All these things that can't happen and are happening. We hurt a motor every night we raced at Volusia … five motors. You can't do that and continue on. We're changing motors so fast, you're not going to get consistent changes changing the motor everyday.
"I don't know what that is. My job is to drive the car and do what I can, give feedback. Some days I'm giving feedback and they look the other way on it. At some point, that's got to change. That's just life. If this was easy and if there wasn't drama involved in it, I guess everyone would be doing it. But there's a select few of us that are."
With a whole season still ahead, there's plenty of time for Schatz to right the ship. But after winning the Knoxville Nationals last summer and ending the season on back-to-back World Finals wins, Schatz feels the wind's been taken from his sails. Rekindling enthusiasm and getting through this weekend's races at Talladega Short Track in Eastaboga, Ala., and Magnolia Motor Speedway in Columbus, Miss., are top priorities.
"We had some stuff we built on last fall with motor stuff and obviously that showed when we got to Charlotte," Schatz said. "When we got to Volusia, we were pretty damn decent and hurt that one, then hurt the next one … hurt the next one … hurt the next one. Thank God we had a break in the there to go back and get things straightened back up.
"Then we went back (to Volusia) and did the same thing, hurt two motors in two nights. I'm not even the car owner. I'm not paying the bills. I'm just the driver. We come here wanting to win. Everybody wants to win, but unfortunately we're just not getting the job done. We're going to have to find a way to fix that."
On top of shoring up car failures, Schatz and his Tony Stewart Racing team — like everyone else in Sprint Car racing — are adjusting to Hoosier Racing Tire's new rear tires. Schatz anticipates the redesigned tire to play to his liking and put more of an emphasis on throttle control
"They unhook the cars a lot. I think it's good for racing," Schatz said. "Lincoln isn't a place where you see a ton of passing, but there was some decent racing (on Saturday). Maybe it was because everybody was new to it. There's a lot of things we used to do back in the day because the tires were unhooked that we're probably going to have to go back to now. Until you run them a little bit, you just don't know.
"Obviously, now that we have tires, we're probably going to go test somewhere, see how we're going to get connected the way we want. I was behind guys that could hit the throttle and go. I couldn't do that. I didn't have that sort of transfer and the ability to go the way I wanted. We'll just keep working on it until we get it."
Gravel's Three-Win Start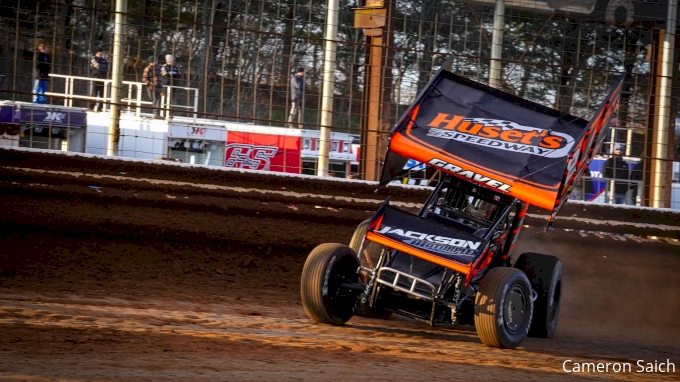 David Gravel rolls through turn two at Lincoln Speedway in Abbottstown, Pa., on Saturday (Cameron Saich)
It's been so far, so good for David Gravel. Through six races of the World of Outlaws season, Gravel has a trio of wins, a kind of start to the season that was last accomplished by Donny Schatz in 2018.
For the record, Schatz went on to win the title that season, so the ball is in Gravel's court from now until the World Finals in November. And the 30-year-old trying for his first World of Finals championship is going to do everything he can to build upon his 12-point lead starting this weekend at Talladega Short Track in Eastaboga, Ala., and Magnolia Motor Speedway in Columbus, Miss.
"Yeah, things are going well," Gravel said. "We kind of fell apart at the end of the race (at Lincoln to finish ninth), but I mean, we still have three wins already. We've been in the hunt every night. We were up there, just kind of fell back in the second part of the race. But you'll have that. We'll keep working.
"(Saturday was) freezing cold in Pennsylvania or whatever. We'll never be in PA at a cold Lincoln, so this is kind of a one-off thing. Now, we're going to Talladega and Magnolia, so it's going to be completely different there as well. Yeah, we'll take it one race at a time and try to give it our best every night."
If Friday's race at Williams Grove Speedway in Mechanicsburg, Pa., wasn't a washout, perhaps Gravel would have four series wins by now. Since 2017, the Watertown, Conn., driver has seven wins at the tricky half-mile. But even then, Gravel would like to see the World of Outlaws take a hiatus in mid-March in light of the recently nixed West Coast swing and three of the tour's four scheduled races in Central Pennsylvania being washouts.
"Yeah, it's a terrible time to race, it seems like," Gravel said. "You have to race Florida or even south Georgia — Senoia and stuff like that. It's just really tough to race this time of year.
"(This weekend at Talladega and Magnolia) feels like it's going to be cold and rainy, so hopefully the weather will be OK. Who knows, man. We're just going to take it day-by-day. This part of the year is so hard to get going. Hopefully we get some good weather and get some races going."