2023 ASA & CARS Tour at North Wilkesboro Speedway
Kevin Harvick To Compete In CARS Tour Race At North Wilkesboro Speedway
Kevin Harvick To Compete In CARS Tour Race At North Wilkesboro Speedway
NASCAR Cup Series driver Kevin Harvick will compete in the CARS Tour Late Model Stock Car race at North Wilkesboro Speedway on Wednesday, May 17.
Mar 22, 2023
by Brandon Paul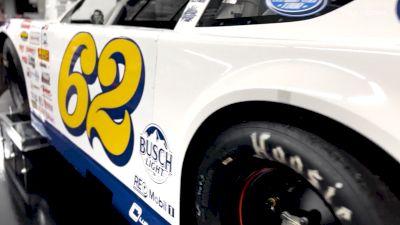 Kevin Harvick is going to make his final NASCAR All-Star Race Week a memorable one. The 2014 NASCAR Cup Series champion announced Wednesday that he will be competing in the CARS Tour Late Model Stock Car race at North Wilkesboro Speedway on Wednesday, May 17.
"I'm excited to get to North Wilkesboro and compete in the CARS Tour," said Harvick. "I've watched Dale (Earnhardt, Jr.) go out and have fun racing with these guys and I've been kind of jealous watching from the sidelines. I want to go out, have fun, get to know the racers who compete in these series regularly and see how I can help the drivers with my racing knowledge.
"Short-track racing really is the root that feeds into the higher series and everything we do in racing. The best way to make sure that continues and is strong is to be a part of it and racing at North Wilkesboro is just one of those steps. It's going to be a great week with all we have planned between the late model and the Cup car."
Harvick, a 60-time NASCAR Cup Series winner, will drive a No. 62 Hunt Brothers Racing Ford prepared out of the Kevin Harvick, Inc. shop in Harrisburg, North Carolina. The scheme on the car will be a throwback to the car he drove to the 1993 Late Model championship at his home track of Mesa Marin Speedway in Bakersfield, California.
Continuing a legacy built by his late father-in-law, John Paul Linville, Harvick will pilot the No. 62 for the CARS Tour race. The number is also being used by Kevin and DeLana's son Keelan as he competes in the No. 62 throughout the United States, previously in go karts and now in Legend Cars. Linville's racing career spanned more than 30 years. He started on the local short tracks of North Carolina and competed in multiple series, including what is today's NASCAR Xfinity Series.
"I grew up watching my dad compete for our family-owned team and traveling to the race track every week with him," said DeLana Harvick. "When it was time for Keelan to pick a number, he wanted the No. 62 to remember his Paw Paw John and to set himself apart from Kevin. He really wants to be known as his own racer. To see my dad's number running again with Keelan and now with Kevin, is really special to our family."
March 22, 2023
While Harvick is no stranger to driving Late Models, it has been nearly 13 years since his last Late Model start. Harvick's most recent Late Model start on record came in 2010 when he competed in the Denny Hamlin Short Track Showdown at Southside Speedway.
In addition to his track championship at Mesa Marin, Harvick added a crown jewel win to his resume in 2008 when he won the prestigious Oxford 250 at Oxford Plains Speedway.
In December, Harvick teased a potential return to Late Model racing when he posted photos using the hashtag #KHIReturn on Twitter following a test session at Caraway Speedway.
Today was a good day! Thank you @RodneyChilders4 for the idea and effort to make this happen!! Appreciate everyone's help and I guess we are looking for a race now @CARSTour ! #62 #KHIreborn pic.twitter.com/pTczStlGPY

— Kevin Harvick (@KevinHarvick) December 22, 2022
"With where we are on the management side, the ownership in the CARS Tour and with Keelan's racing, it felt like the right time to bring KHI back," said Harvick. "For now it'll be a place for us to run races to gain experience for our KHI Management, LLC (KHIM) drivers,compete in the CARS Tour to better understand how we can help make changes for the better and ultimately, have some fun racing."
A few weeks after the test at Caraway, it was announced that Harvick would be part of a new CARS Tour ownership group that also included Dale Earnhardt, Jr., Jeff Burton and Justin Marks.
The CARS Tour event on Tuesday, May 17 will serve as Harvick's debut at North Wilkesboro Speedway. However, Harvick did participate in a test at North Wilkesboro in 2011.
Race fans unable to make it to North Wilkesboro Speedway will be able to watch the race live on FloRacing. If you're not already a FloRacing subscriber, click here to sign up today.