World of Outlaws Sprint Car Series
Lance Dewease's Grove Win Streak Faces Unique Test Against The Outlaws
Lance Dewease's Grove Win Streak Faces Unique Test Against The Outlaws
Lance Dewease's five-race winning streak at Williams Grove Speedway takes on the World of Outlaws amid a new tire rule.
Mar 17, 2023
by Kyle McFadden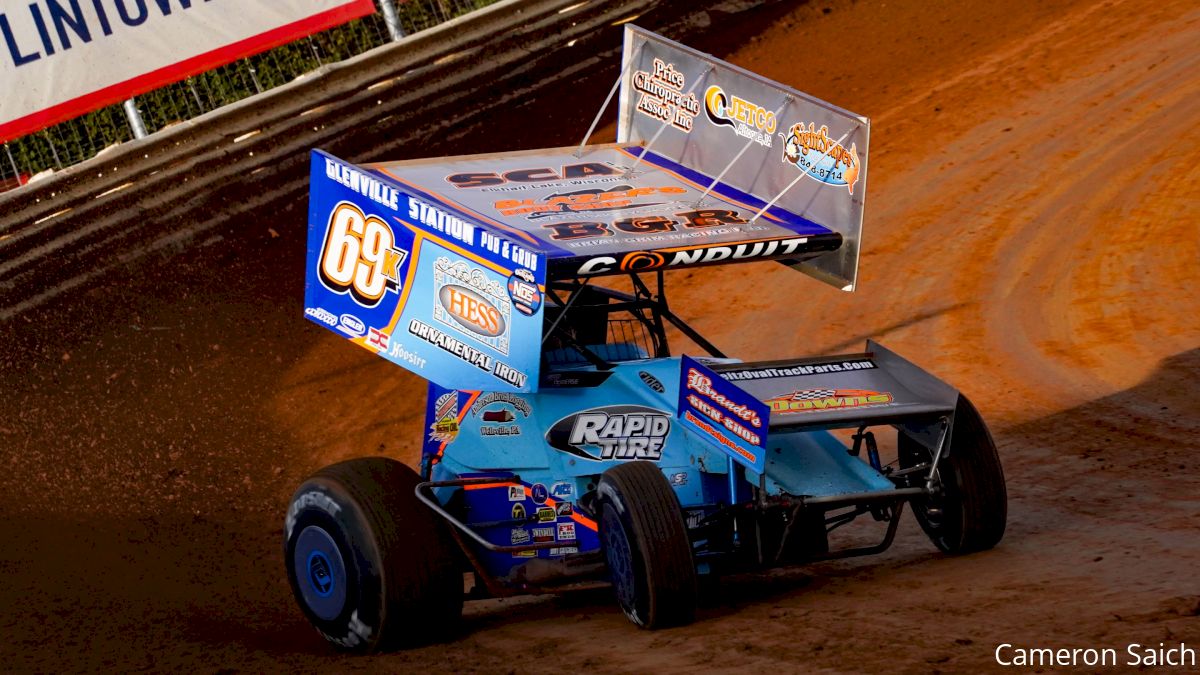 MECHANICSBURG, Pa. — As for the vast majority, Lance Dewease never thought he'd see a day where Williams Grove Speedway would host a season opener with the World of Outlaws NOS Energy Sprint Car Series.
"You never pictured that for our area," Dewease said of Friday's Opening Day program at the half-mile being the World of Outlaws' sixth race of the year. "(The series) worked on their schedule, trying to please some of their teams, and they figured to try our area (in March instead of the West Coast). It's a hard show to put on this time of year because of the weather. But it rains in July and October and stuff, too. And May."
Though rain could again be a threat Friday night, combative Mother Nature isn't in the foreground of Dewease's concerns. The National Sprint Car Hall of Famer boasts five-straight wins at Williams Grove, an impressive mark that not only goes toe-to-toe with the Outlaws, but is further tested by the unknowns of Sprint Car racing's newly designed rear tires.
In short, the new left- and right-rear tires feature an updated symmetrical tread pattern designed for greater durability and, ultimately, less inventory among teams. The Fayetteville, Pa., native hasn't lost a race at Williams Grove since August 26 and last year won eight of his 10 races at the half-mile.
But even then, Dewease isn't sure how he might fare on Friday. Some of the doubts are also because he hasn't won on Williams Grove Opening Day since 2006.
"I think anybody could win tomorrow — anybody that shows up," Dewease said. "Opening days at racetracks are, sometimes, not indicative of how good you are or how bad you are because it's not going to be that way a month from now. It's not going to be that way when the Outlaws show back up. It's so different opening day at racetracks. This time of year, the ground is so much wetter. It's just a different animal. It's going to be interesting to see because nobody's raced yet, and then you throw in the new tires into the mix. It's going to be interesting."
As the years press on, Dewease's unpretentious ways become all the more appreciable. Since 2016, the 57-year-old has the sixth-most wins in the 410 winged Sprint Car: Donny Schatz tops that list at 99 with Danny Dietrich (80), David Gravel (76), Brad Sweet (74), Kyle Larson (69) and Dewease (68) filing behind.
The last three years have also produced three meaningful moments: a record seventh Tuscarora 50 at Port Royal (Pa.) Speedway in 2020, an unprecedented 100th victory at Williams Grove in '21, and a fifth Williams Grove National Open in four different decades last year.
With 121 wins at Port Royal, Dewease is likely, at least, another two productive seasons from tying and/or surpassing Keith Kauffman's all-time mark of 129. As for a standard in 2023, "expectations are the same for us every year," Dewease asserts, and that's contending in the high-profile races.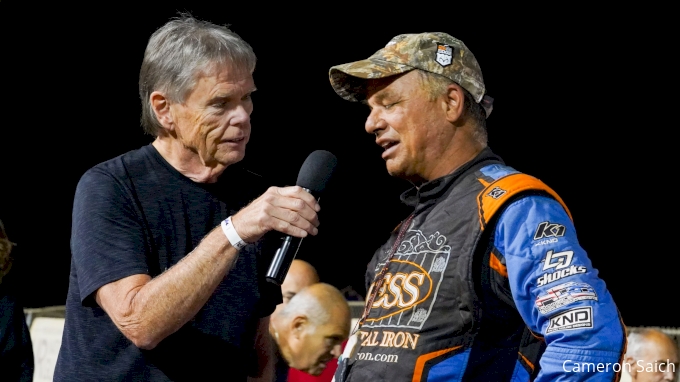 Lance Dewease (right) with Williams Grove Speedway announcer Bruce Ellis (left).
First, he must figure out the new tire rule. The previous open competition RD12 and spec H12 tires in the left-rear consolidates into one hybrid construction now dubbed the D12A. The new right-rear, meanwhile, comes in two compounds, the D15A and MEDIUM. The D15A replaces the H15 and features a firmer compound. The MEDIUM compound, on the other hand, remains the same.
Through conversations among those in the industry, Dewease is led to believe the new tire stipulations will spur noticeable change.
"We're hearing stories that it's a half-second slower," Dewease said. "I don't know if that's true or not. If it's a half-second slower than the other tire, that's a lot to me. If it is, that means it's unhooking the race car. That'd make it very interesting to me if it is doing that that much."
The tires unhooking the race car, as Dewease termed it, means less grip will be readily available from tires alone, which "would benefit me a little more," said Dewease, who paused briefly before ending that thought with "maybe."
"If the car is unhooked, it's a lot harder to drive and it's not just holding the pedal down to the floor, and just gassing it up," Dewease said. "So, it would benefit me, Schatz, Sweet … guys that have really good throttle control. It'd benefit the older guys, I'd say.
"But until you truly race them, I know (Kasey) Kahne was tire testing the other day. Until you truly race it, you're not going to know what it's truly like, and that's where you need to figure out your adjustments and what you need to do. Some people will hit quicker than others and others it may take a year to half a year to hit it. If it's as much as we're hearing on the stopwatch, that's a good bit of change. It's changing something on the cars a good bit. It's going to be interesting."
"You just don't know what it's going to be like," Dewease added. "But if it unhooks the race car, it will separate people. It should separate times a little bit more. If it does do that, it should — and I'm just using that in quotation marks — making the racing better. That doesn't mean it will. Nobody knows."
"So, a good example: NASCAR (Cup) took away 35 percent of its downforce on short-track and road-race cars," Dewease continued. "It didn't look like much of a different race at Phoenix (Raceway in Avondale, Ariz.) compared to before. Was it the track or what? You don't know. The comments most of the drivers, they liked the direction it went. You just have to wait to see, just like our tires. You have to let it play out and see how it goes."
Dewease currently has 38 races planned on his tentative schedule, most of them being at Port Royal and Williams Grove. Ultimately, all scheduling matters are fluid and contingent upon a few factors, the newly designed rear tires being one.
"(Our schedule) could change with the new tires and stuff," Dewease said. "As long as I'm healthy, as long as I'm capable of winning, as long as I'm enjoying it and as long as Donald wants to race, we're going to race.
"This past year, I wasn't very good at Port Royal in the Tuscarora 50. But last year, we were really good at Williams Grove. In previous years, we were really good at Port Royal and OK at The Grove. … This year is going to be really different, I think. The tire, we'll have to see if it'll be a huge difference or not. If it is, it can change a lot of things for a lot of people. It's going to be interesting."
Notes
– When asked if he's pondered how many years he has left in a Sprint Car, or if he's thought of an exit strategy, a candid Dewease responded, "We haven't thought of that one bit. We're going to race and have fun. As long as I'm having fun and enjoying it, and as long as (car owner) Donald (Kreitz) wants to race, we're going to race. That could be three years … it could be one year … it could be another month … it could be five years. We haven't really thought about that any. We've been too busy to think about that. I'm really enjoying it still. That has a lot to do with it."
— Speaking on the level of an ambassador for the Pennsylvania Posse scene, Dewease extolled some of its rising drivers: "Justin Whittall has made some huge progress over the last year or so. Anthony (Macri) has made a ton of progress. Brent (Marks has) been very good for a number of years. He just had a stellar year (in 2022). That happens when you're good. He has good feelings from last year. Devon Borden is young (and) doesn't have a lot of laps, yet. He's kind of a wait-and-see, to see if he can improve and take that next step with the deal he's in (with Jimmy Shuttlesworth). Like, Anthony's showed it. Brent's showed it. Justin Whittall's the same aspect. He's improving, getting a lot better, but he's still not a (touring) winner, yet. But it takes time. It doesn't happen overnight. It takes time. But, yeah, we have a good, young crop of talent — the kids. Anthony swept the Outlaws at Port Royal. He's doing something special. He and Brent are capable of winning anywhere in the country. It's neat to have that. It's neat to look back and see there are other guys that can win these shows. We like beating the Outlaws. It's neat to see that."
– Dewease intends on competing in the Eldora Million on July 12-13, and in preceding World of Outlaws events at the Big E on May 5-6, as well as the track's All Star Circuit of Champions event on June 16: "We have Eldora on a tentative schedule, a couple shows for us. Yes, we're going to try to get ourselves in a better position," he said. "It's been so long since I've been there — it's been so long that Donald's been there. The place has changed since the last time either one of us has been there. It's a different type of racing now, where it's not knock-the-wall-down … if you look at the guys who are really good there, it's the ones who run the bottom-middle most of the time. It actually puts on some really good racing. We just have to get ourselves in a position to make sure we're on top of our game when we show up."