2023 Tezos All Star Circuit of Champions at Attica Raceway Park
JJ Hickle Relocates To Race Full Time With All Star Circuit Of Champions
JJ Hickle Relocates To Race Full Time With All Star Circuit Of Champions
Washington racer JJ Hickle is moving to Ohio to race for Seeling Motorsports and compete full-time with the Tezos All Star Circuit of Champions.
Mar 16, 2023
by Tyler Burnett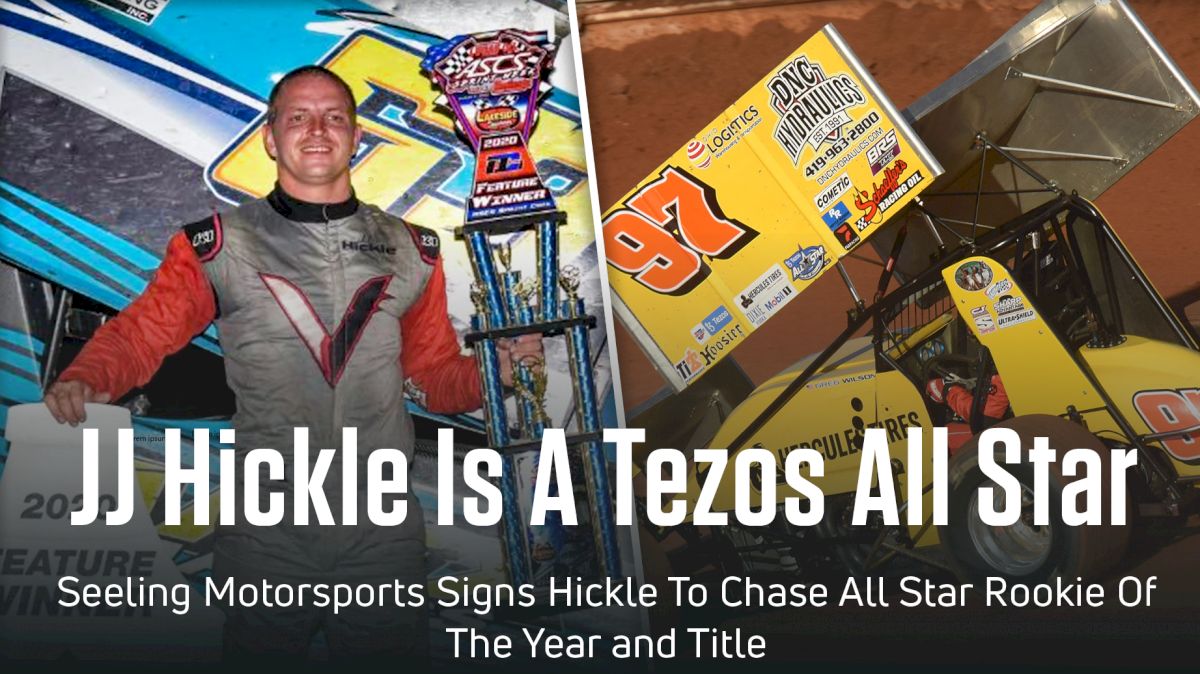 JJ Hickle has shown the west coast and 360 Sprint Car scene that he's a talented driver, but now he's ready to show the 410 Sprint Car world what he's all about. The Quilcene, Washington native has a new home in 2023, and it's with historic Ohio-based team Seeling Motorsports. Hickle has teamed up with car owners Diane and Joe Seeling along with Crew Chief Andy Potter to chase the entire Tezos All Star Circuit of Champions schedule.
"Andy actually asked me to run their car for the Kings Royal in 2021, but I wasn't able to because I was chasing the ASCS National title." Hickle told FloRacing. "So I always kept in touch with Andy and I did meet Joe and Diane at Knoxville really briefly. Just one of those deals where the timing worked out."
Extremely excited for this opportunity! https://t.co/gQ1ofpDtGM

— JJ Hickle (@hickleracing) March 14, 2023
A 2020 American Sprint Car Series (ASCS) champion, Hickle has won big races on the west coast, including a 2019 Skagit 360 Nationals championship, a Grays Harbor Raceway track championship, the 2021 Hockett/ Daniel McMillin Memorial race at Lucas Oil Speedway and a sweep of both the Spring and Winter Nationals at Devil's Bowl Speedway the same year.
Seeling Motorsports is coming off one of their best seasons in team history last season with Greg Wilson behind the wheel. The team won at Fremont Speedway four times during the year and proved to be highly competitive on the national stage when the touring series rolled into town.
"I've seen the last few drivers in this car win races so that was appealing," Hickle said." The biggest thing that brought me here is having a top tier crew chief, being in a great location to race a lot and knowing I'm going to an established team that knows how to race on the road."
Driving for Seeling Motorsports, Hickle will likely become a threat to win Rookie of the Year honors with the Tezos All Stars. As for the remainder of their schedule? The team will also compete at the Eldora Million, along with select High Limit Sprint Car Series races. Hickle is willing to even add races if other car owners are still in need.
"I'm sure we will run some High Limit stuff when it logistically makes sense," Hickle said." We don't have a set schedule quite yet. It's not on our schedule but I'd personally love to go race that High Limit show at Lakeside if you hear of any openings."
Hickle became a free agent for the 2022 season after two competitive years driving the Worden's family No. 63. Last year, he spent the year racing at Knoxville Raceway with Brandon Ikenberry. Now, he has decided the Ohio and Pennsylvania area was the best move in order to advance his career in 410 Sprint Car racing.