2023 CARS Tour at Southern National Motorsports Park
Deac McCaskill, Mike Hopkins Win 2023 CARS Tour Openers
Deac McCaskill, Mike Hopkins Win 2023 CARS Tour Openers
Deac McCaskill and Mike Hopkins claimed wins during the 2023 CARS Tour season opener at Southern National Motorsports Park.
Mar 12, 2023
by FloRacing Staff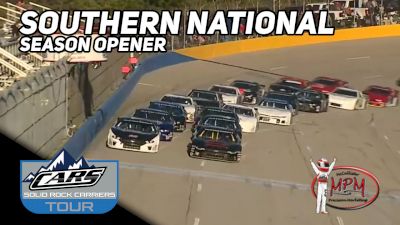 The first race under the Solid Rock Carriers CARS Tour's new ownership group provided plenty of thrills for both drivers and fans.
Southern National Motorsports Park's abrasive surface turned Saturday's Puryear Tank Lines 225 into a tire conservation race, which forced drivers both experienced and inexperienced to be patient and methodical with their strategy in order to progress through the running order.
Two veteran racers ultimately emerged victorious on the afternoon, with 2016 CARS Late Model Stock Car Tour champion taking home a win in front of his hometown crowd while Mike Hopkins claimed a Pro Late Model Tour feature that was dominated by several on-track incidents.
Deac McCaskill Returns to CARS Tour Victory Lane
One of the most successful drivers in the history of Southern National has been Deac McCaskill.
A four-time track champion, McCaskill put together a vintage performance in a brand new black and white livery for the 2023 season. After conserving his tires, McCaskill took the lead from Ryan Millington on a late restart and never looked back to claim his 10th career CARS LMSC Tour victory.
"This is awesome," McCaskill said. "I'm 45 years old, so being able to run with these kids is really special. There are a lot of great teams up and down pit road, but we have great help on our side. It was one of those days where everything worked out good for us."
McCaskill is no stranger to efficient runs at Southern National in the CARS Tour.
During the inaugural LMSC Tour race at the facility in 2015, McCaskill dominated the entire evening before he was passed for the win by Todd Gilliland with three laps remaining. McCaskill brushed off that frustration a couple of months later by leading every single lap at Southern National for his first win in the series.
Only one more of McCaskill's LMSC Tour victories had occurred at Southern National prior to his triumph in Saturday's Puryear Tank Lines 225, but the seasoned veteran was determined to show a stacked field of 32 cars that he could still hang with the best at the .400-mile oval in Lucama, North Carolina.
McCaskill is optimistic his win at Southern National will give him some momentum as he pursues a second LMSC Tour title, but expects the next event at Florence Motor Speedway to be more of a challenge given his relative inexperience at the facility.
"Florence is not one of my best tracks," McCaskill said. "I'm going to have a lot of pressure on me after winning [at Southern National], but hopefully we can pull another win off or at least have a good run. We're a lot better than I was when we went down there a couple of years ago, so I'm excited to see what we got."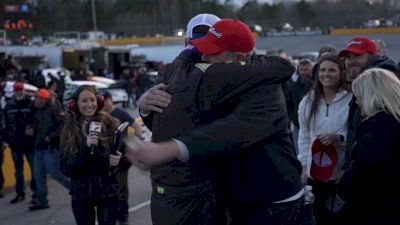 VIDEO: Deac McCaskill reacts after winning Saturday's CARS Tour season opener.
Carson Kvapil Starts Title Defense With Runner Up
Unlike 2022, Carson Kvapil was not able to start his year on Saturday evening with another big money victory.
Despite this, the defending CARS LMSC Tour champion still had plenty to enjoy at the end of the 125-lap feature at Southern National, as he brought his car home in second place after starting on the pole, which provided him an ideal start in his pursuit of a second consecutive title.
"I'm happy with how we ran," Kvapil said. "I honestly thought we were a little better than Deac [McCaskill] at the end, but couldn't get around [Ryan Millington] fast enough and couldn't work lapped traffic like he could. We were just looking to have a good run and kick off the season with some confidence, which we did."
Kvapil intentionally let both Millington and McCaskill past him in the opening stages of Puryear Tank Lines 225 specifically to save tires and get himself in an ideal situation on restarts.
Without the assistance of a second groove up top, Kvapil did everything possible to keep his car glued to the bottom to maintain solid track position. He managed to climb back into the second position but ultimately ran out of laps to challenge McCaskill for the win.
Although he would have preferred a victory, Kvapil emphasized the importance of a strong points day in a field that consists of nearly 20 full-time entries. He added every single mistake is going to prove costly, but trusts himself and JR Motorsports to put together plenty of full weekends just like they did in 2022.
"It's going to be about having days like this," Kvapil said. "I got an extra point for winning the pole and leading a lap. You can't have any races where you wreck out, so you've got to have consistent good finishes. If you can do that, it'll show at the end of the year."
Mike Hopkins Adds CARS PLM Tour Win to Resume
Among the tracks Mike Hopkins has won at during his career include Richmond Raceway, Seekonk Speedway and Jennerstown Speedway.
The Hermon, Maine native added a CARS PLM Tour win at Southern National to that list of accomplishments on Saturday afternoon. He took the lead from Justin Crider on Lap 43 of the 100-lap feature before surviving a chaotic finish to park his car in victory lane.
"This place is phenomenal," Hopkins said. "It's fun, it's racy and there's a good class of cars. [Michael Diaz] does a phenomenal job along with the CARS Tour. This is only my third CARS Tour race, but winning never gets old, especially when you race part-time like myself."
Hopkins' goal for the Puryear Tank Lines 225 was to be smart, as he admitted to losing several races during his career by being too aggressive early on.
Even after effectively conserving his tires and pulling away from the field, a rash of late-race cautions forced Hopkins to fend off drivers like Gavan Boschele and Katie Hettinger for the win. He withstood every challenge that came his way and commended the young competitors for racing his cleanly during the restarts.
Hopkins does not know how many more PLM Tour races he will run in 2023 as he competes for several different sanctioning bodies, but he believes his performance at Southern National on Saturday is a sign that he will be competitive on a consistent basis.
"[My confidence] is pretty high," Hopkins said. "We want to win [as many as we can], but we're at least starting off with a bang."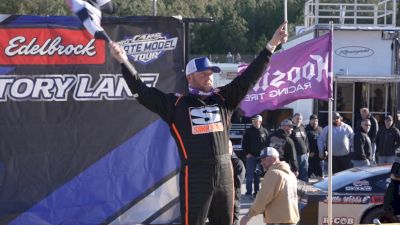 VIDEO: Mike Hopkins discusses his first career CARS Tour Pro Late Model win.
Next Up
The CARS Tour heads from abrasive track to another in Florence Motor Speedway on March 25. Only the LMSC Tour is running during the weekend, as the PLM Tour will not return to action until Hickory Motor Speedway on April 22.
For more information on the CARS Late Model Stock Tour and the CARS Pro Late Model Tour, visit www.carsracingtour.com. Be sure to stay active and social with the tour by liking "CARS Tour" on Facebook, following @CARSTour on Twitter and scrolling through photos on Instagram cars_tour.
Additional series information can be obtained by calling the CARS Tour series office, located in Mooresville, NC, at 704.662.9212.