2023 CARS Tour at Southern National Motorsports Park
CARS Tour Reveals Impressive Entry Lists For Season Opener
CARS Tour Reveals Impressive Entry Lists For Season Opener
Entry lists have been released for the 2023 CARS Tour season opener at Southern National Motorsports Park on Saturday, March 11.
Mar 8, 2023
by Brandon Paul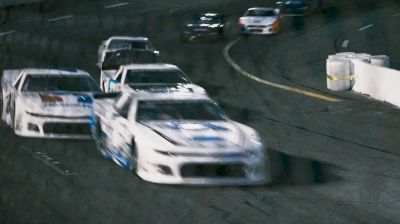 A new season and a new era begins for the CARS Tour this Saturday at Southern National Motorsports Park in Lucama, North Carolina. With a new ownership group that includes prominent motorsports figures Dale Earnhardt, Jr., Kevin Harvick, Jeff Burton and Justin Marks at the helm, excitement for the future of the tour is at an all-time high.
The first event for the series under new ownership will be Saturday's Puryear Tank Lines 225, an event that will feature a 125-lap feature for the CARS Tour Late Model Stock Cars and a 100-lap feature for the CARS Tour Pro Late Models. On Tuesday evening, CARS Tour officials released impressive entry lists for both divisions.
Currently, 33 Late Model Stock Cars are planning to make the trip to Southern National Motorsports Park. The Pro Late Model entry list includes the names of 23 drivers, which is a record number of entries for the second-year touring series.
Complete entry lists for both divisions can be viewed at the bottom of this story.
LATE MODEL STOCK CARS
A mixture of veteran Late Model stars and young rising stars make up the Late Model Stock Car entry list.
Defending CARS Tour champion Carson Kvapil headlines a list that also includes 2016 CARS Tour champion Deac McCaskill, 2020 CARS Tour champion Jared Fryar and three-time CARS Tour champion Bobby McCarty.
One of the hottest Late Model drivers in the country, "Butterbean" Brenden Queen has entered Saturday's season opener and is expected to run the full CARS Tour season in 2023. Queen, the three-time defending Langley Speedway track champion, won last year's Southern Carolina 400 at Florence Motor Speedway and began this year with a win in the Battle of the Stars at New River All-American Speedway.
Brandon Pierce, the winner of the CARS Tour Late Model Stock Car race at Southern National in 2019, is also entered in one of the Lee Pulliam Performance entries.
Other notable drivers on the Late Model Stock Car entry list include former ARCA East winner Ronnie Bassett, Jr., NASCAR Truck Series winner Cale Gale, Martinsville 300 winner Landon Pembleton, three-time CARS Tour winner Kaden Honeycutt, 2021 Hickory Motor Speedway track champion Ryan Millington and former Hickory Fall Brawl winner Mason Diaz.
Young guns Conner Jones and Carson Brown, who both won Pro Late Model races during the World Series of Asphalt Stock Car Racing at New Smyrna Speedway, are also entered for the Late Model Stock Car portion of the event.
PRO LATE MODELS
The CARS Tour Pro Late Model entry list is also filled with some of the brightest young talent in the sport.
Caden Kvapil, the younger brother of Carson Kvapil, will take over behind the wheel of the Highlands Motorsports No. 96 that won last year's championship with Luke Fenhaus. Katie Hettinger, the winningest female driver in Hickory Motor Speedway track history and a recent winner in the Pro Late Model division at New Smyrna, will also be chasing checkered flags with the Anthony Campi Racing team.
Other notable drivers on the Pro Late Model entry list include Tulsa Shootout winner Gavan Boschele, Five Flags Speedway standout Logan Boyett and New Hampshire driver Bryan Kruczek, who has previously won races with ACT, PASS and the Granite State Pro Stock Series.
Racing begins at 3 p.m. ET on Saturday at Southern National Motorsports Park with 100 laps of Pro Late Model racing kicking things off. The 125-lap Late Model Stock Car event will follow.
Fans unable to make it to the Lucama, North Carolina oval will be able to watch the CARS Tour season opener live on FloRacing. If you're not already a FloRacing subscriber, click here to sign up today.
LATE MODEL STOCK CAR ENTRY LIST
| | |
| --- | --- |
| 00 | Deac McCaskill |
| 03 | Ronnie Bassett, Jr. |
| 04 | Brenden Queen |
| 08 | Jody Measamer |
| 0 | Landon Pembleton |
| 1 | Andrew Grady |
| 2 | Brandon Pierce |
| 2w | Ryan Wilson |
| 4 | Dylon Wilson |
| 4F | Jonathan Findley |
| 6 | Bobby McCarty |
| 8 | Carson Kvapil |
| 8b | Chase Burrow |
| 8f | Tate Fogleman |
| 10 | Kaden Honeycutt |
| 14 | Jared Fryar |
| 15 | Ryan Millington |
| 16 | Chad McCumbee |
| 19 | Jessica Cann |
| 20 | Joshua Dickens |
| 22 | Cale Gale |
| 24 | Mason Diaz |
| 29 | Brian Obiedzenski |
| 32 | Zach Miracle |
| 42 | Carson Brown |
| 44 | Conner Jones |
| 55 | Isabella Robusto |
| 59 | Blake Lothian |
| 67 | Cameron Bolin |
| 77 | Connor Hall |
| 81 | Mini Tyrell |
| 95 | Jacob Heafner |
| 97A | Jason Kitzmiller |
PRO LATE MODEL ENTRY LIST
| | |
| --- | --- |
| 03 | Kyle Campbell |
| 5 | Zac Fowler |
| 5b | Gavan Boschele |
| 6 | George Phillips |
| 7 | Tristan McKee |
| 7c | Justin Crider |
| 7t | Tyler Church |
| 8 | Rusty Skewes |
| 9 | Ashton Higgins |
| 13 | Austin MacDonald |
| 15 | Brett Suggs |
| 19 | Bryan Kruczek |
| 24 | Carter Langley |
| 28 | Isabella Robusto |
| 29 | Logan Boyett |
| 43 | Nick Loden |
| 43H | Matt Horniman |
| 44 | Justin Whitaker |
| 48 | Jeff Batten |
| 49 | Luke Morey |
| 77 | Logan Jones |
| 81 | Katie Hettinger |
| 96 | Caden Kvapil |